Over the past year, some incredible restaurants and breweries have opened that we hope are here to stay, forever. Sadly, we've also lost a few beloved West Michigan establishments due to pandemic struggles and staffing issues.
While not fully comprehensive, here's a list of just about every local eatery that's opened and closed since this time last year.
OPENINGS
K-ROK Korean BBQ & Karaoke is now open in every way, offering a full menu, self-cooked Korean BBQ, and private karaoke rooms. The restaurant from the owners of Emonae opened at 169 Louis Campau Promenade in downtown Grand Rapids, across from Z's. Call ahead to reserve a private room and eat, drink and sing the night away.
Shift Coffee + Culture is bringing specialty coffee and a variety of waffle creations to the west side after opening at 616 W. Fulton St., Grand Rapids. Stop into this minority-owned business for an alternative vibe and treats like a S'mores Latte and The Shannon, a waffle with apples, granola, cinnamon and icing.
Brick and Brine opened doors in Kalamazoo's Radisson Plaza Hotel at 100 W. Michigan Ave. This large restaurant with multiple spaces offers "savory New American fare, indulgent desserts, and masterfully crafted cocktails." Steak, seafood, house-made pasta and more create an extensive menu at this gourmet eatery.
Curry Kitchen GR moved away from 28th Street, now located in a clean and modern space (with alcohol!) in Radisson Hotel Grand Rapids Riverfront. Order their delicious Indian food for delivery or stop in to the new space at 270 Ann St. NW, immediately off the highway exit.
The Mitten Brewing Company expanded its footprint with the Mitten Pizza Co. in Rockford, now open at 6051 Belding Rd. NE. Stop in for long-established fan favorites like the Westerdog, a chili-cheese dog pizza, or Curse of the Goat, with house sausage, goat cheese, peppadew peppers and basil. Plus, keep an eye out for a future collaboration with Amore!
Café de Miro is an excellent Kurdish-style Mediterranean restaurant in Breton Village, and has now expanded to the Downtown Market at 435 Ionia Ave. SW, Grand Rapids. The eatery offers gyros, salads, falafel, baba ganoush, and much more flavorful food. For those missing the likes of Marie Catrib's, this is your new lunch spot.
Wahlburgers joined downtown as well, moving in at 10 Ionia Ave. NW, Grand Rapids, sitting on the ground floor of the new Residence Inn by Marriott. This restaurant chain was started by the Wahlburg brothers and has seen resounding success thanks to impressive burgers like the O.F.D. with two beef patties, swiss cheese, bacon, sauteed mushrooms and tomato jam.
Bobcat Bonnie's arrived from across the state in Breton Village, at 1968 Breton Rd SE, Grand Rapids. This beloved Detroit restaurant is known for a fun atmosphere, one-of-a-kind drinks and damn good food. Head into the Grand Rapids location for incredible tots, burgers, sandwiches, comfort food and more — not to mention brunch with legendary Bloody Mary and mimosa bars.
Crown and Cork at 502 W. Loomis St. is located in the former P.M. Steamers restaurant overlooking Pere Marquette Lake. Crown and Cork has a relaxed vibe with unique menu items like beer-battered cauliflower; salt-roasted beets with fresh honeycomb, goat cheese, and arugula; and jumbo shrimp & grits. The restaurant serves dinners and happy hour and features live music, from dueling piano players to jazz. We'll see you in the spring season!
Portico joined the downtown dining scene at 131 Ionia Ave. SW, Grand Rapids — also known as the Canopy by Hilton. This restaurant utilizes the talents of local chef Trimell Hawkins to create an impressive blend of American and French cuisine, such as Cornish Hen & Cornbread, with velouté, bacon lardons, a savory cornbread dressing, and topped with an arugula and grannysmith apple salad. It's a modern experience right downtown, following in the footsteps of sister restaurant Knoop Rooftop Beer Garden.
Archival Brewing joined the Beer City scene on 6266 W. River Dr. NE. This puts it down the road from fellow breweries Bier Distillery and Elk Brewing, but more importantly, Archival focuses on historic-style brews, recreating historic fermented beverages. Check out their Sahti, Catharina Sour, New Zealand Pilsner and more!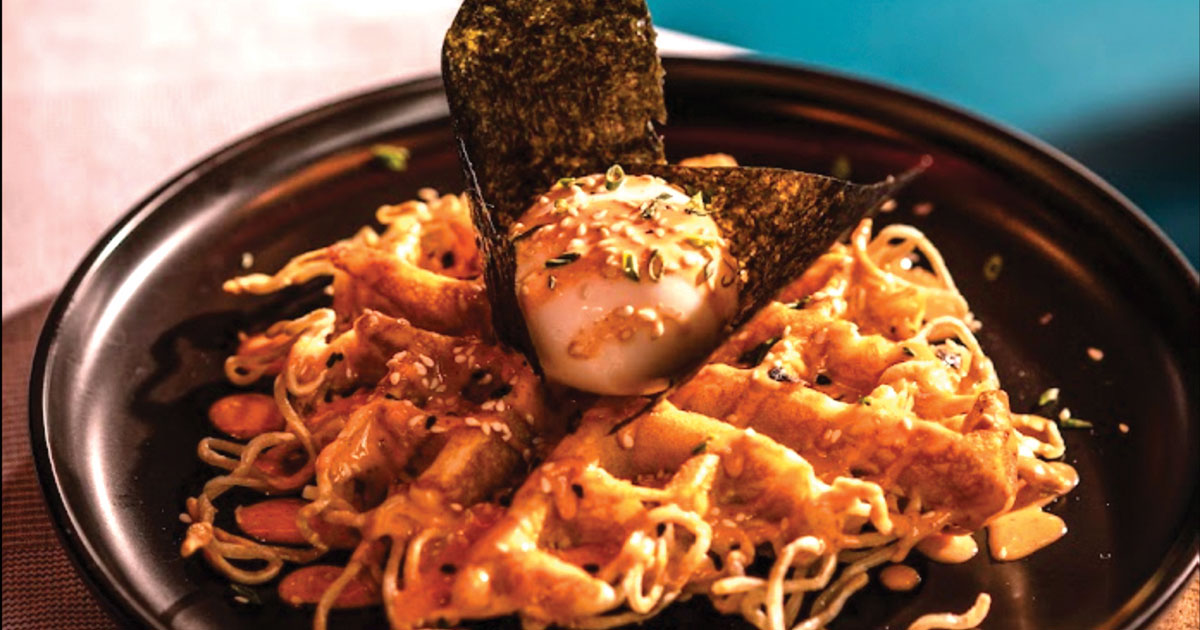 Social Misfits (pictured above) opened on the ground floor of the new Residence Inn by Marriott, at 43 W. Fulton St., Grand Rapids. This eatery welcomes all — the weirder, the better. The menu focuses on the kinds of waffles you've never had before, like the Yasuke, with ramen, soft-cooked egg, scallion, furikake and gojuchang aioli. They also have sweet options, "normal" food, and top-notch coffee/cocktail drinks.
Tamales Mary is a long-beloved food truck, taqueria and tamale restaurant, now with a second location in Eastown at 1551 Wealthy St. SE, Grand Rapids. There's a number of unique tamale options, from spicy chicken to bell peppers & cheese, and even strawberry!
Basalt recently found a storefront in Grand Rapids at 1450 Wealthy St. SE, in Eastown. The menu features handmade, Tex-Mex inspired fare, such as the Mommie Dearest taco, with green chicken chorizo, eggs, hashbrowns and queso fresco. Good morning and buen provecho!
Arktos Meadery finally conquered the red tape to open its new location at 442 Bridge St. NW, Grand Rapids. You may remember the space as Sparrows' former location, but now it's serving up distilled honey rather than coffee and tea. Head in for some mead, goblets, fun and games — there's a reason Arktos has been thriving in the West Michigan mead game for years.
Gaia Café has finally returned, after many years of being out of business. The new space at 1553 Plainfield Ave. NE has seen huge success already, even with an initial limited menu. Looks like Grand Rapids is hungry for vegetarian and vegan food, along with healthy juices, smoothies and coffee. Welcome back!
Pizza At The Wharf is a small, unassuming, veteran-owned eatery now at 2996 28th St. SW, Grandville. They serve pizza, sandwiches, cinnamon sticks and more, all of which has been praised by customers for being outstanding and extremely affordable. They don't make 'em like this anymore — except now, they do.
GRNoir Wine & Jazz Room is bringing cabernet and live music to Grand Rapids at 35 S. Division Ave. Owned by a husband and wife duo, this new space combines a huge variety of wine with live jazz multiple nights a week, along with small plates and dessert. On top of all that, GRNoir aims to educate people on the long history of African-American culture.
Eastown Cereal Cafe is the first of its kind in Grand Rapids, recently setting up shop at 1507 Wealthy St. SE. The new cereal café offers a plethora of cereal and milk choices, alongside milkshake and waffle creations that also feature cereal. In fact, the most popular items so far are a Fruity Pebble-covered waffle and an Oreo O's milkshake. If you're not impressed already, it's also owned and operated by an 18-year-old woman.
Condado Tacos also arrived right down the street at 449 Bridge St. NW. The taqueria offers distinctly unique tacos, such as the Bubba Kush, which starts with a double-decker flour and corn shell, then add bacon refried beans, sour cream, guac, pulled pork, jackfruit BBQ sauce, cilantro, onions, jicama and cabbage slaw, smoked cheddar and pineapple salsa. That's just one taco, and they have 16 more to choose from, or you can easily build your own! Plus: Margaritas.
Pux Cider opened its taproom at 311 Fuller Ave. NE, Grand Rapids. Pux has been making and distributing delicious cider for years, but the tasting room gives a place to gather. The ciders cover a wide range of flavors, including the Pomander, an orange-liqueur soaked bourbon barrel cider with clove. Or try the Minty, with Earl Grey tea and mint leaf. These ciders aren't sugar bombs — they put the fruit in the spotlight.
Café Mamo, a cute little spot at 1601 Plainfield Ave. NE, Grand Rapids. The food menu is best described as ethical, local, delicious, American cuisine — all inspired by grandma's garden. The wine menu is managed by a professional sommelier, so you know it's the good stuff!
Gaby's Gourmandise officially joined the Downtown Market (435 Ionia Ave. SW, Grand Rapids) after years working out of the incubator kitchen. Check it out for authentic, gourmet French food, including delectable sweets and savory handhelds. Squibb Coffee joined the Market as well, bringing their signature specialty beverages and gourmet toasts.
OTHER OPENINGS
MDRD
Dank Street
3 Gatos Brewery
Los Mariscos De Pancho
Keeper's Fish Shack
Creston Brewery
Lazy Dazy Coffee
MI Boba
Stan's Tacos
Tacos El Cuñado Plainfield
Brooklyn Bodega
CLOSINGS
Adobe In & Out Leonard
Ramona's Table
Osteria Rossa
Brick Road Pizza
Art Caribbean Fusion Cuisine
Aggregate 136
Osta's Lebanese Cuisine