You don't have to have food to be a great brewery, but it sure doesn't hurt.
There are plenty of top-tier breweries that go all in on the beer, and we get it — running a restaurant can be grueling work, especially in today's world of staffing issues. Yet, that makes it all the more impressive when a stellar brewery also manages to be a stellar restaurant.
Whether you're a beer lover hoping for a nice dinner or a foodie who enjoys pairing dishes with a quality brew, it's great to have both in one place. Here are just a few of our favorite local options for your next dinner and a drink.
Cedar Springs Brewing Co. | 95 N. Main St. NE, Cedar Springs
When a brewery opens up on main street in a small town, it's bound to turn into a gathering place, even for people who don't drink beer. While Cedar Springs Brewing's new location, Küsterer Brauhaus, doesn't have a kitchen, the original has a full menu ranging the gamut from salads to giant soft pretzels, spätzle mac and burgers. Plus, there's an entire Bavarian menu featuring dishes like wienerschnitzel, leberkäse and more. Prost and guten appetit!
One Eyed Pete's/Coopersville Brewing | 1275 W. Randall St., Coopersville
Due to licensing issues (the woe of many a brewery), Coopersville Brewing's restaurant is technically a separate entity, but the idea for the restaurant actually came first. The brewing and kitchen team both come from the bright lights of Chicago, bringing beer and delicious, mouthwatering BBQ to Coopersville. Come for the smoked meats, stay for the innovative dishes like Brisket Burrito and Smoked White Fish Guacamole.
Brewery Vivant | 925 Cherry St., Grand Rapids
Brewery Vivant is well-known to locals as an incredible restaurant, and it's a must-see for visitors. The Vivant Burger is frequently voted as one of the best in West Michigan, and the Duck Nachos are truly iconic. Then there's Vivant's pastry chef, hard at work creating new memorable desserts. Plus, the historic building full of wood and stained glass sets the perfect mood for a nice dinner with friends—not to mention the outdoor play area for kids.
Harmony Brewing Co. / 1551 Lake Dr. SE, Grand Rapids
I can't even tell you how many times I ordered Harmony's pizza for delivery over the past two years. The cheesy breadsticks drizzled with balsamic are iconic. The pizza is super thin crust and just the right size to either share or keep all to yourself. Harmony excels at pies that don't use the typical red sauce, such as the Handsome Ben: no sauce, with goat cheese and prosciutto, topped with arugula tossed in lemon-infused olive oil and cracked black pepper.
3 Gatos Brewery | 1760 44th St. SW, Wyoming
Thanks to its owners' unconventional life path, 3 Gatos combines Brazilian and German culture in food and beer. There are dishes here you won't find anywhere else in town, like Coxinha, breaded and deep-fried dumplings filled with shredded chicken, onions, garlic and tomato. Or try the Bauru, a Brazilian roast beef sandwich. Or, come in for the weekly burger inspired by the Bob's Burgers cookbook!
City Built Brewing | 820 Monroe Ave. NW, Grand Rapids
City Built has been yet another take-out go-to in recent times, thanks to their consistently excellent food menu inspired by a Puerto Rican heritage. The Yuca Fries are some of the best fries you'll ever have, the Puerto Rican rice is hard to stop eating, and the tacos are simply crave-worthy. Not to mention Li Grand Zombi, a Creole-inspired ghost kitchen serving up dishes like Andouille Po Boy every weekend.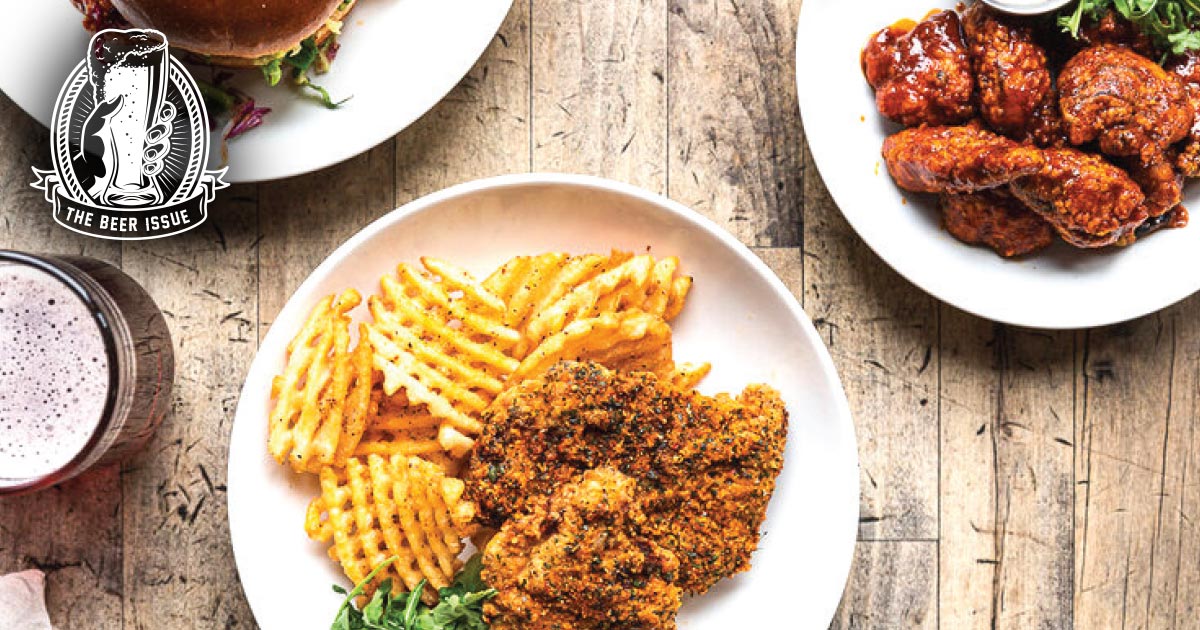 Grand Rapids Brewing Co. | 1 Ionia Ave. SW, Grand Rapids
BarFly is known for combining killer food and drink in one spot, and Grand Rapids' eponymous brewery is no exception. Just like the taplist and game room at GRBC, there's something for everyone on the food menu, from signature waffle fries to chopped steak melts, stone-oven pizza, paratha street tacos and an Asian-style fried chicken sandwich.
Archival Brewing | 6266 W. River Dr. NE, Belmont
Archival takes food seriously, with seasonal, regional dishes made in-house, from scratch every time. They go all out with elevated dishes like the Wagyu Burger or the Salmon Linguine. Head in for even more unique weekly specials like an Asian-style Chicken & Waffles, topped with gochujang sauce, housemade kimchi and mango puree.
One Well Brewing | 4213 Portage St., Kalamazoo
When you're in Kalamazoo, One Well is the perfect one-stop food and beer stop for families, friends and everything in-between. Grab a board game off the wall and play together while enjoying dishes like Out of the Woods Pizza, with a mushroom pesto sauce and premium mushrooms on top. Or try a sandwich, like the Primal Instinct, with savory brisket, charred scallion sauce and house coleslaw.
Rockford Brewing | 12 E. Bridge St. NE, Rockford
Finally, we have to include a brewery that frequently is voted top three Best Wings in Best of the West. The Chicken Drummies, as they call them, can come with guajillo chili honey sauce, sesame sauce, "gentle cowboy" sauce and more. We also love the unique handhelds, like Between the Bahn and Mi, with grilled shrimp, pickled veggies, serrano peppers, daikon radish, cucumber, cilantro and miso mayo on a telera roll.