"Handmade.
Gourmet.
Fast."
It's a rare combination, but Noodlepig in Grand Rapids is making it happen.
Opened just a few months ago in the North Monroe district (next door to SpeakEZ Lounge), Noodlepig is a new ramen restaurant with a mission, elevating the fast-casual concept. Days of work go into every bowl, but the time between ordering your meal and picking it up from the counter is a few minutes at most, which is why founder Chris Wessely calls it "fine-casual."
This isn't the first big project Wessely has rolled out in West Michigan. Around 2008, he started the Grand Rapids Sports & Social Club, which grew from 35 people at the orientation meeting to over 10,000 players each year.
Eventually, Wessely was ready to try something new, and the arrival of COVID accelerated that. He wanted to return to his culinary roots and has been working on Noodlepig ever since. Now it's open and seeing immediate success, so much so that they're eagerly seeking out new staff to help with the demand.
Applicants should be willing to work in a kitchen and on a line right out in the open, "onstage," where customers can see everything you're doing. The team works together in every position, pooling tips across the entire staff to make sure everyone is being treated and paid equally.
"Every part of the job, from day prep to dishwashing to noodlemaking, is an integral part of the process of creating the experience for the audience," Wessely said.
In this way, Noodlepig is a unique space, and one of very few local fast-casual (or fine-casual) concepts.
You order at the counter off a menu of both pre-designed ramen bowls and build-your-own-bowls, along with boba, katsu sando and more. Not long after, your order is ready at the other end of the counter. Then you're free to enjoy your meal in Noodlepig's hip, bright, industrial setting.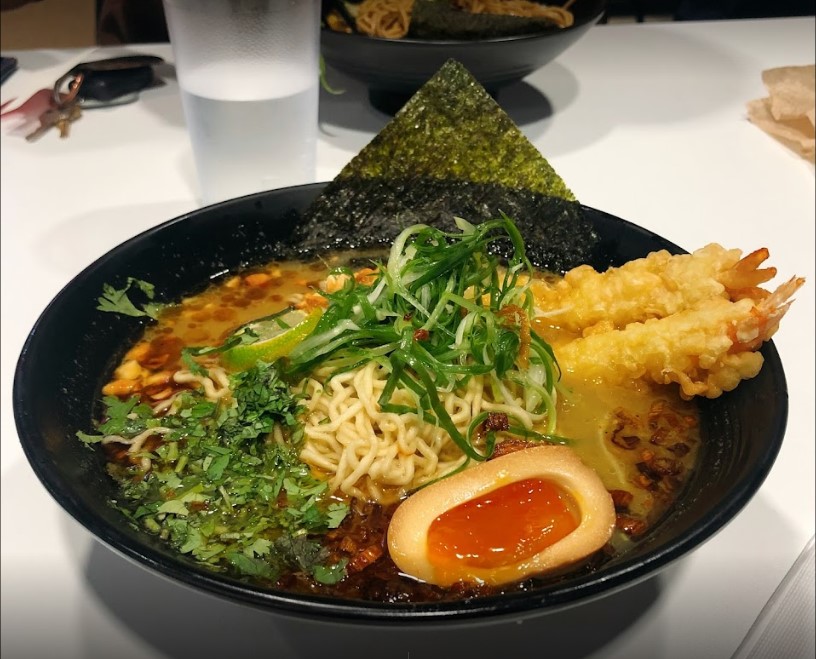 While the bowls may come together quickly, your ramen's journey began long before. The bone and vegetable broths, as well as flavor bases (tare), are made from scratch and take anywhere from 20 hours to multiple days to make. The wheat noodles are produced in-house, where everyone can see. A Japanese-imported noodle machine helps create traditional, square-cut noodles, as well as a unique Noodlepig-style, using a custom three-flour blend.
The signature bowls feature traditional styles going back to Wessely's family heritage, alongside inventive styles like Japanese-Indian fusion. Your typical bowl will include noodles, broth, protein, kikurage (wood-ear mushrooms), aji-tama (seasoned egg), Naruto (fish cakes), scallions and nori (seaweed). Then there's dozens of variations to choose from, including protein like baby back ribs, toppings like fried leeks and roasted bok choy, and finishing sauces like black garlic and furikake butter.
I personally tried the Shio 42 on my visit, made with a lighter, simple, clean broth that really allows the ingredients to shine. It didn't take long to devour the entire bowl. I paired this with a boozy Mai Tai boba beverage, which was bold in every way, and hit the spot as dessert.
We've given a hundred reasons to visit Noodlepig already, but haven't even mentioned the best part: For every bowl of ramen you buy, three hungry kids are fed.
This mission to fight child hunger began with Wessely's "brother from another mother," who start feeding people in his parents' village after returning to Southern India to find them in 2003. That grew into a nonprofit, Faith In Deeds, which inspired Wessely to do more with his business.
He decided to give to Faith In Deeds for every bowl sold, then realized he'd like to feed kids at home as well. On the national level, Noodlepig works with No Kid Hungry. On the local level, they work with Hand2Hand, which helps feed kids when they're not in school—complementing the work of Kids' Food Basket, which feeds students.
Ending childhood hunger is such a big part of Noodlepig's mission, there's a screen above the counter that says exactly how many kids have been fed, both that day and a running total since the eatery opened.
Wessely's mission is to grow the concept beyond Grand Rapids eventually, bringing high-quality, housemade ramen to people all around the world, and feeding children on a huge scale. He'd even love to bring Noodlepig back to Japan.
"My dream is to take our style ramen and eventually go back to Japan and sell it back to them, and have this American version of ramen that they love. They do fall in love with a lot of American things, so hopefully they would embrace it."
For now, those of us in West Michigan get to enjoy it. Noodlepig plans to roll out online ordering and more non-soup offerings in the future, but the menu is already full of every kind of ramen you could hope for, not to mention beer, cider, sake and wine.
So head on in, grab a bowl and a boba, and feel good knowing you've fed not just yourself, but three hungry children.
Noodlepig
601 Bond Ave. NW, Grand Rapids
noodlepig.com