Bartenders play many roles, depending on the bar and the patron — armchair psychologist, liquid pharmacist, philosopher of debauchery and so on. Between all these roles, they play a valuable (crucial, even) part in the community. Ask pretty much any bargoer their favorite barkeep and the name of at least one enigmatic drink-slinger will rise to the top. It's someone who makes them feel welcome, excited, comforted or special in some particular way. They're the light in the dark, the face that gets the night started off right.
Earlier this year, Revue asked West Michigan that very question with our Best of the West survey. These are the names that rose to the top.
Rychel Roach, Stella's Lounge
You'll know the Duchess of Fun is behind the bar the moment you walk in.
"I'm super loud and obnoxious," Rychel Roach said proudly and without hesitation.
Known to Stella Lounge's customers by her surname — and unmistakable thanks to her booming voice, gregarious personality and pile of dreadlocks — Roach took first place in Revue's Best of the West survey earlier this year in the bartender category. Roach attributes her win to the rapport she has developed with customers at Stella's, both the weekend regulars and the newbies who instantly take to her.
"I try to treat them like my friends," she told Revue on a recent afternoon, while sipping a Coke at the bar in Stella's side room to remedy a hangover that comes as a professional hazard. The only way to wipe the perma-smile from her face is to act entitled or impolite. Do not, in other words, snap your fingers at her (or any bartender, ever, because … come on).
"Don't check your manners at the door," Roach said.
Roach hails from St. Ignace. She first moved to Grand Rapids in 2006 and, after a stint out west for a few years, returned and began working at Stella's as a server when the downtown whiskey joint, restaurant and video arcade opened in 2010.
Her favorite drinks to serve fit nicely within the bar's business plan.
"I love pouring PBRs and shots of cheap whiskey," Roach said.
She has no plans to leave Stella's, but if she were to move on and open her own place, it would be of the hole-in-the-wall, unironic dive variety.
As far as what role Roach plays as a bartender, she firmly belongs to the Andrew W.K. wing of the profession.
"On the weekends, I never feel like I'm missing the party, because the party comes to me," she said.
Alex Calley, The Winchester
The Winchester bartender Alex Calley has a simple request of his customers that, in a zen-like way, doubles as a guiding principle for basically any aspect of life.
"Don't be a dick. That's my mantra," Calley said.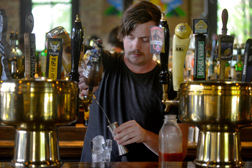 In his nearly five years at The Winchester, Calley has found that, more often than not, his patrons don't need the reminder. The restaurant and bar attracts a cross-section of nearby residents, sports fans, downtown professionals on happy hour, and suburban visitors to the booming East Hills dining/drinking corridor. And while Calley said he was surprised to land among the top three bartenders in Best of the West, he agrees he's built an uncommonly strong rapport with the bar's patrons.
"I've made friends with my customers here. They're actually people I hang out with after work," Calley said. "I've had the same regular customers for the five years I've worked here. This is my social life, really."
Calley, a Milford native, started at The Winchester as a dishwasher and now is one of the longest-serving employees. He prefers serving cheap beers with whiskey shots, and many of his favorite customers are fellow industry people who frequent The Winchester because its kitchen stays open late.
"They're usually the most needy customers, but also the best tippers," he said.
His perfect bar environment would be a hybrid of The Winchester and something with a little more grit.
"I'm a sucker for dive bars, like on the west side," Calley said. "I like my bars to be kind of dirty."
His keys to success include quickness, proficiency at giving high-fives and, when his mantra is put to the test, knowing how to respond: "Know how to be a dick when you have to."
Brian DenBoer, Harmony Brewing Company
In nearly four years behind the bar at Harmony Brewing Company in Eastown, Brian DenBoer has learned that the art of conversation is as big a part of the job as mixing drinks and pouring beers.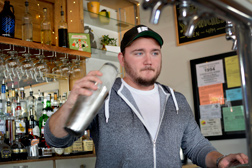 "I'm pretty OK talking about anything, and I think that's my main strength," said DenBoer, who also landed in the top three for the bartender category in Best of the West. "If you like books, I love talking about books. You like video games, I'll talk about video games. If you like drinking beer, I'll talk about drinking beer."
DenBoer is from Houghton Lake, moving to Grand Rapids eight years ago for school, work and friends. He was employed at TGI Friday's when a former coworker recruited him to join the staff of the cozy, popular brewery and pizza restaurant. He came aboard Jan. 1, 2013, and soon was promoted to bartender, where he quickly endeared himself to Harmony regulars.
"I know most people's first and last names when they walk through the door," DenBoer said. "You need the ability to remember people when they sit at your bar, and have a conversation and make their night memorable."
DenBoer is an enthusiast of Grand Rapids' craft-beer scene in general — he spoke to Revue by phone while visiting Atwater Brewing's new downtown location. He most enjoys pouring from Harmony's rotating beer selection, but also points out that the brewery's spirits selection is deeper than the tap list. DenBoer recommends both the fisticuffs (a twist on the Moscow Mule) and the dizzybird (a twist on the Negroni, named for the local record label).
He projects a mellow, unflappable demeanor, but certain behaviors do get under DenBoer's skin, like customers dropping names of employees, thinking it will get them served quicker. Still, the vibes at Harmony, he said, are almost always strong.
"I love working in a small place with good people," DenBoer said. "Harmony is one of those places where people get along really well."
Brian DenBoer and Alex Calley photos: Katy Batdorff