When helping to create Buffalo Traders Lounge, Grand Rapids' latest cocktail bar, Duncan McCargar decided that we as a city had skipped a step in our zeal for specialty spirits. "It was like we tried to be New York's inventive cocktail scene before we ever even had a place to get a reliable classic." Truth.
The new bar on Fulton Street has plenty of staples to choose from — they are the same folks behind Sidebar, after all — but the Old Cuban has been the most popular: Minty, sweet and a little limey. And the cava, a Catalonian sparkling wine, gleams like teeth around a cigar. It's a drink to enjoy during (or remember, at this point) the dog days of summer.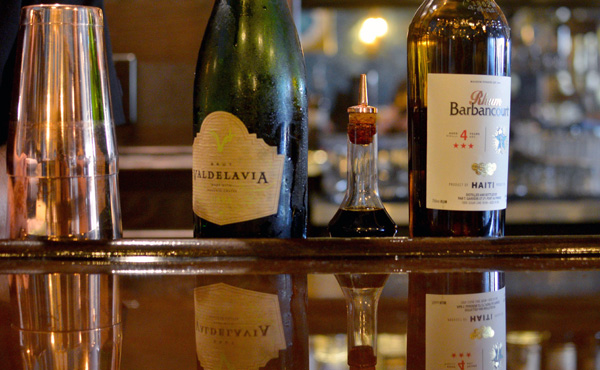 Ingredients:
1 1/2 oz. aged rum
1/2 oz. fresh lime juice
1/2 oz. simple syrup
2 oz. Cava
2 dashes Angostura bitters
4-5 fresh mint leaves
Pour rum, lime juice, simple syrup and bitters into an iced shaker. Give it a good shake and strain into glass. Splash the cava on top and garnish with torn mint leaves.
Buffalo Traders Lounge is located at 950 E. Fulton St., Grand Rapids.
Watch the video tutorial below: