The following story is sponsored content made possible by advertisers.
The English language is chockfull of misleading terms. For instance, hitting your funny bone isn't remotely funny. But we can think of one straightforward term that will never lead you astray — Happy Hour. Honestly, who wouldn't be happy about partaking in affordable, quality libations?
With the growing number of happy hours popping back up across GR and beyond, maybe soon West Michigan will parallel the likes of Portland and Seattle, cities known for stellar happy-hours. In the meantime, Revue has compiled a list of the must-visits from the Beer City to the Lakeshore.
7 Monks Taproom
740 Michigan St. NE, Grand Rapids
(616) 265-5417
7monkstap.com
If a bar has a happy hour that includes $2 off Trappist ales, you know they're serious about beer. Patrons can choose from $3 select drafts, $5 Rose pours, and $5 well drinks Monday-Friday from 3-6 p.m. It's no wonder this Traverse City-based establishment decided to expand to Beer City USA.
741 Leonard NW (formerly Kuzzins Lounge)
741 Leonard St. NW, Grand Rapids
(616) 454-8028
facebook.com/Kuzzinslounge
Looking for a legit punk-rock dive bar? Look no further than the recently rebranded 741 Leonard. Now under new ownership, the West Side space formerly known as Kuzzins, is hosting many local bands every Friday and Saturday, including the Bloody Lips, Cloud Rat, and other underground favorites. Plus, Tuesday-Saturday its happy hour runs from 3-7 p.m. and includes $2.50 wells and domestics, $1-off drafts and 20-percent off all food. Free pool too. Better yet, these deals are available all-day Sunday and Monday.
Blue Dog Tavern
638 Stocking Ave. NW, Grand Rapids
(616) 608-6050
facebook.com/bluedogtaverngr
Blue Dog Tavern, located on Grand Rapids' West Side, prides itself on history. Inside the tavern, you'll find remnants of the city's past including the vault door from the building's stint as the City Trust and Savings Bank during the Great Depression. Happy Hour specials run 4-7 p.m. and include a $3 craft can series and $4 vodka bombs, among others. Don't miss out on Sunday Funday with $4 Bloody Marys and $3 mimosas.
B.O.B.
20 Monroe Ave. NW, Grand Rapids
(616) 356-2627
thegillmorecollection.com
It's difficult to imagine Grand Rapids without the B.O.B, and for good reason. The Gilmore Collection has kept that big old building fresh for years with some of the best venues,foods and drinks Grand Rapids has to offer. Plus, they have incredible happy hours, whether it's the $2.99 beverage list at Gilly's Smokehouse (including $2.99 beers, well liquor, wines and more from 5-6 p.m.) or Bobarino's select $3 and $4 beer selections from 2-6 p.m. (and half-priced appetizers). Both deals are available Monday-Friday.
Buffalo Traders Lounge
950 Fulton St. E, Grand Rapids
buffalotraderslounge.com
Buffalo Traders Lounge takes its cocktail history seriously, from the selection of classic recipes to its comfy Art Deco-inspired atmosphere. It's like going back in time. Stop by Monday-Thursday Buffalo Traders' signature "beat-the-clock" happy hour—all menu cocktails are $6 at 4 p.m., $7 at 5 p.m. and $8 at 6 p.m.
CitySen Lounge
61 E. 7th St., Holland
and 83 Monroe Center St. NW, Grand Rapids
(616) 451-1892
cityflatshotel.com
You don't have to be travelling in from out of town to experience refreshing happy hours at CitySen Lounge—located inside CityFlats Hotels in both Holland and Grand Rapids. The Holland location offers $5 pizzas and CityBites, domestic bottled beer for $2.50, select wines and well drinks for $4.50, and draft-beer specials (14 oz. for $4 or 23 oz. for $6). The Grand Rapids location offers the same specials with slight modifications (bottles are $3, and 14-oz. pours are $3.50), as well as a wide option of appetizers for $6.
Cottage Bar
18 La Grave Ave. SE, Grand Rapids
(616) 454-9088
cottagebar.biz
Locals may come to the Cottage Bar for its famous burgers and award-winning chili but stay for the happy hour specials (from 3-6 p.m.). After all, what goes better with a burger than drafts and well drinks for $1 off? It's deals like this that's kept the Cottage Bar open since 1927.
Craft Beer Cellar
404 Ionia Ave. SW, Grand Rapids
(616) 350-9170
grandrapids.craftbeercellar.com
As can probably be deduced from their name, the happy hour at Craft Beer Cellar is all about the beer. Monday-Friday, from noon- 6 p.m., it's all about what's on tap, with $1 off all 12 oz. and 16 oz. pours. Better yet just bring in your growler and get $2 off a growler fill. If nothing on tap strikes your fancy and you're willing to pay full price, don't worry—C.B.C. has hundreds of other options in bottled form, so there's sure to be something to please every possible kind of beer aficionado.
Garage Bar & Grill
819 Ottawa Ave. NW, Grand Rapids
(616) 454-0321
garagebargr.com
OK, so the Garage Bar & Grill loves happy hours so much, they have it available all day every day. Still, we must hand it to them, these prices are ridiculously low. $2 drafts, $3 well drinks and $4 glasses of wine grace their menu, as well the standard pub fare. Hungry? Stop in on Fridays for the Garage's in-house Smoked Brisket Dinner or all-you-can-eat Fried Cod.
Grand Woods Lounge
77 Grandville Ave. SW, Grand Rapids
(616) 451-4300
grandwoodslounge.com
If you're aching for a weekend getaway to the cabin but don't have the time (or a cabin), just head to the Grand Woods Lounge. They bring the refreshing atmosphere of a lakeside lodge to downtown GR, and then some. Weekdays, between 2-6 p.m., patrons are treated to select drafts and well drinks for a measly $3, as well as $4 Woodstinis and house wines.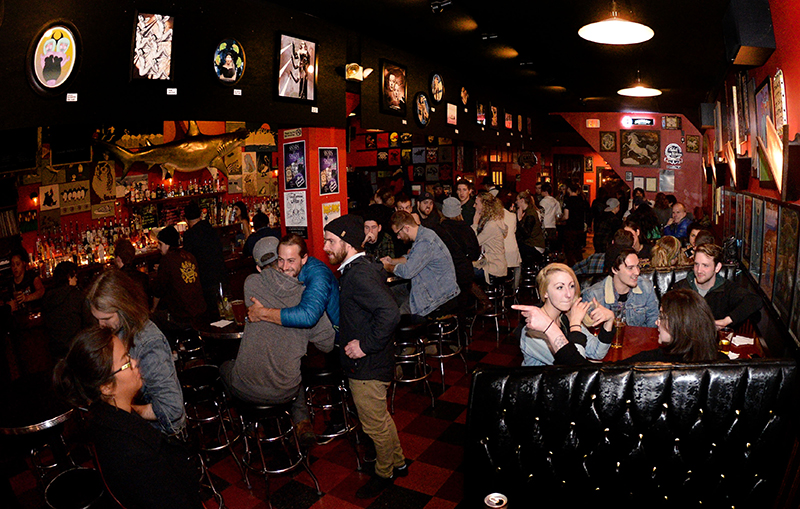 Meanwhile Bar
1005 Wealthy St. SE, Grand Rapids
(616) 233-1679
meanwhilebar.com
At this point in time The Meanwhile has safely solidified itself as a Grand Rapids staple, known for affordable, strong drinks. But in addition to rotating daily specials and already inexpensive prices, they also offer $1 off all Michigan products until 8 p.m. Bell's, Short's, Founders, Vander Mill — it's all fair game.
One Trick Pony
136 Fulton St. E, Grand Rapids
(616) 235-7669
onetrick.biz
Located in what used to be an old general store in downtown GR, One Trick Pony serves an enticing variety of all-American dishes in a relaxed atmosphere. Show up between 3-6 p.m., Tuesday-Friday, and a mere $3 gets you Founders draft beer, house wines, well drinks, sangrias, and margaritas on-the-rocks. For those feeling a bit peckish, pizzas and appetizers are 25-percent off.
Osteria Rossa
16 Monroe Center St. NE, Grand Rapids
(616) 988-9350
osteriarossa.com

Osteria Rossa is adept at marrying classiness with comfort, offering delicious Italian fare in a snazzy atmosphere without diners having to worry about a dress code or whether they can afford a hefty bill. Its happy hour makes them all the more enticing, with $5 specials on the bar side, including an assortment of Negroni cocktails and wines, as well as various wood-fired pizzas and appetizers. Bon appétit!
Peppino's Sports Grille
130 Ionia Ave. SW, Grand Rapids
(616) 456-8444
peppinospizza.com
Peppino's in downtown Grand Rapids launched its new "four hours of $4 items" happy hour. It runs Monday-Friday (2-6 p.m.) and Sunday-Thursday (10 p.m.-close). The $4 menu offers a 10-inch one-item pizza, cheesy breadsticks, loaded tots, fried pickles, six-piece wings and much more—including $2-off draft beers, $3 wells, $4 calls and $3 house wine.
Principle Food & Drink
230 S. Kalamazoo Mall, Kalamazoo
(269) 743-6563
principlekzoo.com
For those looking for class, look no further than Principle Food & Drink. With a lengthy list of locally-sourced food and meticulously crafted cocktails, its menu was made to be savored slowly. From French Meats to Tofu Pot Pie, it truly caters to all. For those looking for a bargain, visit Principle's Victorian Cocktail Hour, which offers six cocktails for $6 each until 6 p.m.
Pyramid Scheme
68 Commerce Ave. SW, Grand Rapids
(616) 272-3758
pyramidschemebar.com
We know you already go to the Pyramid Scheme for pinball and concerts, but did you know they also have a daily happy hour from 4-8 p.m.? $1 off all Michigan products, including beers, ciders, liquors and more. Now that's an economical way to fuel yourself while chasing that next high score.
Salt of the Earth
14 E. Main St., Fennville
(269) 561-7258
saltoftheearthfennville.com

Salt of the Earth serves up elegant, locally sourced meals with an equally elegant happy hour to pair them with. Wednesday-Sunday from 5-7 p.m., it serves $7 pours of a rotating selection of white, red and sparkling wines—all hand-picked by their on-site sommelier.
Sidebar GR
80 Ottowa Ave. NW, Grand Rapids
(616) 551-9195
sidebargr.com
When you go to SideBar it's hard not to feel at home. Not only does this cozy, 18-seat bar have a warm atmosphere, the staff is also adept at mixing up a delicious cocktail to please all types of patrons, including customizing special drinks. And if you visit between 4-6 p.m., all menu cocktails are $4 off.
Sovengard
443 Bridge St. NW, Suite 1, Grand Rapids
(616) 214-7207
sovengard.com
The Sovengard is all about fresh, local foods with a Scandinavian twist. Its rotating, seasonal menu is sourced almost entirely from local suppliers, and it offers a smorgasbord of smorrebrod (a Scandinavian open-faced sandwich of sorts). Better yet, it has not one, but two happy hours: from 4-6 p.m., and from 9 p.m.-midnight. Stop by for $1-off select wines, Michigan beers and snacks.
Tavern on the Square
100 Ionia Ave. SW, Grand Rapids
(616) 456-7673
facebook.com/TavernGR
Ionia is well established as downtown Grand Rapids' party central. But with so many bars to choose from, it's easy to experience a bit of option paralysis. Well, Monday-Friday, from 3-6 p.m., Tavern on the Square makes that decision a little easier. The Tavern offers $1-off craft drafts, $3 domestic drafts, $3 wells and $3 for its signature Tavern Punch. On top of that: half-off all appetizers. It's hard to say no to that.
-LAST CALL-
The Intersection
133 Grandville Ave. SW, Grand Rapids
(616) 451-8232
sectionlive.com
If you weren't aware of the Intersection's amazing happy hour deals, you better scramble there to take advantage of it. At the end of March, the bar says goodbye to its daily happy hours, though it's understandable why. From 2-6 p.m., everything at the bar is 50-percent off. Yup, it's that simple (and cheap). Act quick, after March this deal is gone.