When it comes time to decide on a wine to take home, it's easy to play it safe and grab a bottle that's never let you down. The obvious downside is that this doesn't give much opportunity to add a little variety to your wine rack — or your palate, for that matter.
In an effort to expand your horizons beyond the usual favorites, Revue asked local winemakers for some of their favorite and most overlooked wines. It's time to hit the wine trail and open up your taste buds to something new. Cheers!
Left Foot Charley
806 Red Dr., Traverse City
leftfootcharley.com, (231) 995-0500
2016 Dry Riesling
Meridith Lauzon, operations manager for Left Foot Charley, encourages you to give Rieslings a chance. Rieslings carry the reputation of being a little too sweet, often making wine drinkers give these bottles the cold-shoulder.
"So many people that come in will dismiss all Rieslings because they know of Riesling as an overly sweet white wine from their early wine drinking days," she said. "But that's not always the case."
The 2016 Dry Riesling has aromas of dried apples and peach, with an intense acidity and spicy finish. This wine will be nice and refreshing in the summer and pairs best with fish and salty foods.
St. Julian Winery
716 S. Kalamazoo St., Paw Paw
stjulian.com, (269) 657-5568
St. Julian Riesling
Crisp and light with intense flavors of peach, mango and lemon fruit leaves. Pairs best with Asian dishes, fresh fruit, dips and sushi.
"(The taste) is absolutely pure in flavor," said Vice President and Winemaker Nancie Oxley. "It's harmonious and well-proportioned, leaving a wonderful sensation on the palate, literally like liquid fruit."
Cascade Winery
4665 Broadmoor Ave. SE, Grand Rapids
cascadecellars.com, (616) 656-4665
Traminette
Well-bodied with hints of spice and grapefruit. As you sip this semi-dry white wine from Cascade Winery, the nose picks up floral aromas. Recommended pairings are seafood, chicken, pork and veal. If you're planning on a classy wine and cheese night, pair with cheddar, fontina, gruyere, muenster or raclette.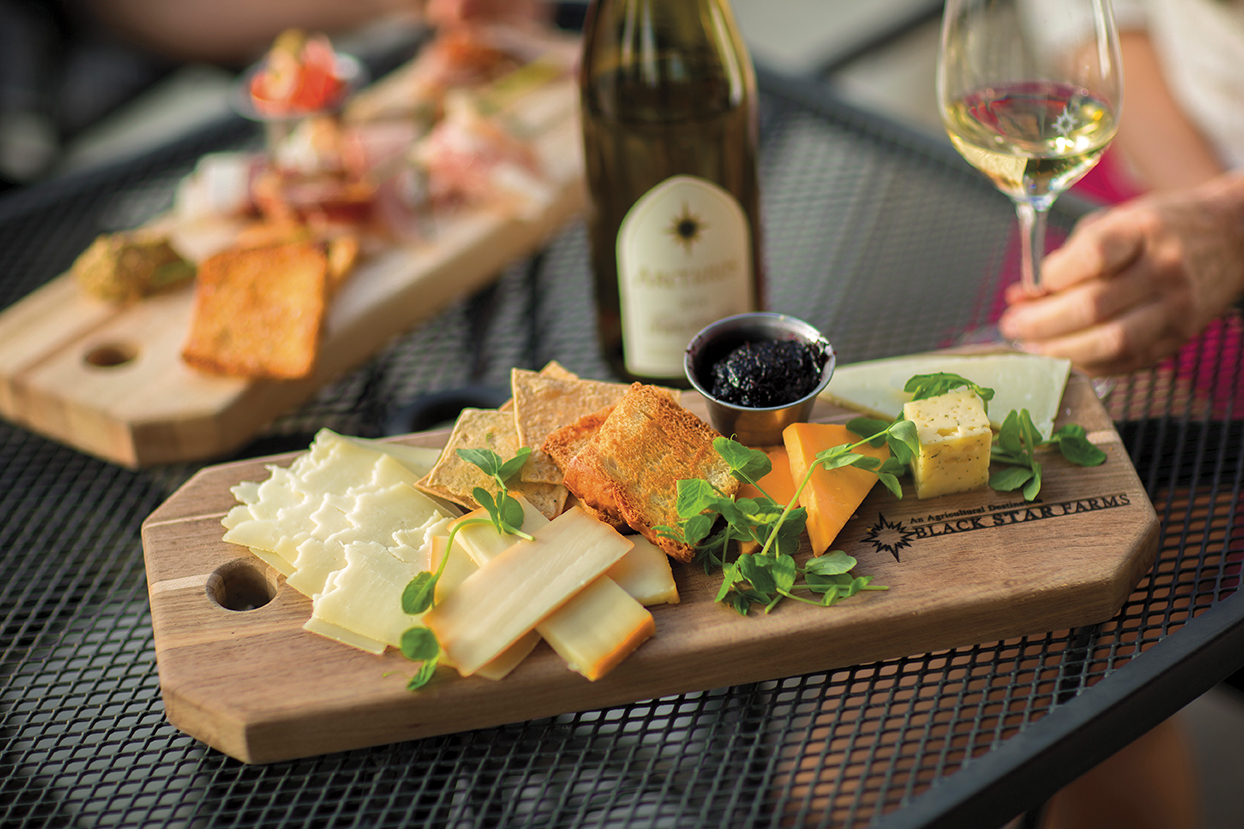 Black Star Farms, Arcturos Dry Riesling Display. Courtesy Photo
Black Star Farms
10844 E. Revold Rd., Suttons Bay
blackstarfarms.com, (231) 944-1270
2016 Arcturos Dry Riesling
Another Riesling, lightly floral with subtle fruit aromas and a bright and balanced acidity. Rieslings overall are one of the most aromatic of white wines and offer a wide versatility with food. Pair this with pork, chicken, light pastas or just about anything from the sea.
"It ages beautifully, becoming more complex with each passing year in the bottle, with a broader presentation of more complex fruit, but also leaning in to more spice and richness," said Lee Lutes, head winemaker at Black Star Farms.
L Mawby Vineyards
4519 Elm Valley Rd., Suttons Bay
lmawby.com, (231) 271-3522
Green
Crisp, refreshing and light, Green from L Mawby Vineyards is a hit for the warm days of summer. The Cayuga grape used in this sparkling wine offers a striking acidity and great flavor. As you sip, aromas of tropical fruits, citrus and lychee come forward without being over-the-top sugary. Pair this wine with light meats from the grill, oysters, pad thai or fish tacos.
Fenn Valley Vineyards
6130 122nd Ave., Fennville
fennvalley.com, (269) 561-2396
Vino Blanco
Slightly bubbly, crisp and dry, this Portuguese-style wine has a delicate fruit aroma and bracing acidity. Pair this refreshing, delicate wine with lighter meals and enjoy ice cold.
Just in time for summer, Fenn Valley Vineyards has launched Vino Blanco in can form, becoming the first Michigan winery to offer canned wine.
"Michigan is full of people partaking in an active lifestyle," said Vice President Brian Lesperance. "As a winemaker and wine lover, it was always sort of frustrating that wine wasn't packaged in a practical format for things like boating, golfing, camping, etc."
Cogdal Vineyards
7143 107th Ave., South Haven
cogdalvineyards.com, (269) 637-2229
Vision
Pleasant blackberry jam flavors and a lingering plum finish are what to expect when enjoying this dry red blend. Pair this versatile and full-bodied wine with salmon, beef, turkey or chicken.
"Michigan dry reds can sometimes portray less body or boldness," said owner Jack Murdoch. "Vision was developed to create a red blend to satisfy red wine drinkers."
Vision is not only Cogdal Vineyards' idea of a Michigan dry red, but it was also created with family in mind. The label shows an image of Murdoch with his three grandsons on South Beach.
"The Vision story started with my grandfather," Murdoch said. "We believe we have extended his vision into future family generations that will continue to be part of the South Haven community."