Whiskey may be a vice, but patience is a virtue — if you're drinking bourbon, it all evens out.
Any bourbon worth its salt has been aging for six months minimum, and "straight bourbon" legally has to sleep in the barrel for at least two years. The longer you wait, the more complex its flavors become as the oak barrel takes over. Now, after two to three years on the scene, local distilleries are releasing their first straight bourbons.
To understand why the aging process matters, it's helpful to know whiskey starts as a clear spirit made from grain. To be considered bourbon, that grain mixture (a.k.a. mash bill) has to be at least 51-percent corn, though you can add rye, wheat, etc. Regardless, it's essentially moonshine at the start, tasting overwhelmingly like whatever grain went in the still, with a hell of a bite.
After that, barrels and time are absolutely crucial to a whiskey's final flavor.
"There's a little bit of magic and mystery as to what's going on in there, but we know you're going to get oak flavor from the barrel itself," said Steve Vander Pol, co-founder and distiller at Gray Skies Distillery.
Vander Pol explained that barrels are porous, meaning they breathe air in and out, which oxidizes fatty acids, creating esters which in turn create fruit flavors over time.
"If you ever hear bourbon described as having a deep fruit flavor, like plums or raisins or cherries, that just comes from time," he said. "And then literally the cell walls of the wood will break down and release wood sugars into the spirit itself, which creates flavors like honey and vanilla."
The younger a bourbon is, the more it tastes like its underlying ingredients. Older bourbons naturally taste more like the brand new, charred oak barrels they're required to age in — we know, there are a lot of rules — meaning it's possible to wait too long and end up over-oaked.
To get a consistent, quality product, making whiskey means blending barrels and tasting as you go, while also taking risks and experimenting.
DRINKING BUDDIES
For now though, Vander Pol is plenty happy with Gray Skies' first Michigan Straight Bourbon, aged for more than two years and released in March. He and co-founder Brandon Voorhees enjoy the spice rye provides in whiskey, including it in the grain bill alongside malted barley and plenty of corn. The result is a well-balanced, fairly traditional bourbon that easily stands up to anything on the shelf.
That being said, this was only the first batch and it was fairly small, producing 631 bottles, most of which sold immediately. If you want a taste, we suggest heading to Gray Skies as soon as you can. If they're out, don't worry: the next batch is twice the size and due out this fall.
"Eventually, we hope to have enough in stock that we don't put out any whiskey under four years old. That's kind of the gold standard for bourbon," Vander Pol said. "I think, for a young bourbon, it's excellent. We're proud of it, but it is only going to get better. As we mature, the whiskey matures too."
Meanwhile, in an act of liquid serendipity, Long Road Distillers also released its first straight bourbon mere weeks after Gray Skies. Also aged for more than two years, Long Road's offering has a fairly different grain bill, going with a wheated bourbon.
"We used both corn and red winter wheat from Heffron Farms in Belding, and then some malted barley from Pilot Malt House down in Byron Center," said co-founder Jon O'Connor. "We use wheat as the base for most of our clear products. It adds a nice sweetness to it. At the end of the day, having access to the high-quality wheat, it just made sense for us."
Long Road produced quite a bit of this first batch, which is good, because O'Connor thinks it's a real hit.
"The wheat gives it kind of some vanilla and caramel and butterscotch notes. Even though there's no rye in it, it has a hint of spice, I think from the barrel," he said. "It stacks up with — in my opinion — the best craft bourbons being made out there right now."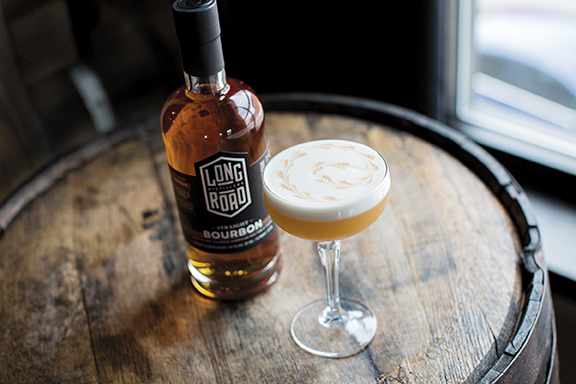 PASSIONATE AND UNPRETENTIOUS
While all great craft beverages are made with love and enthusiasm, bourbon tends to hold a special place in the hearts of its drinkers and makers alike. Vander Pol said the spirit is why he and Voorhees opened Gray Skies in the first place.
"Basically, if you're creating bourbon, you only do it because it's something you care about," he said. "You're not turning it around in a week or a month or even a year, so you know if someone is making bourbon, it's something they're passionate about and they're going to have a point of view."
O'Connor agreed, calling Long Road's first straight bourbon his "finest whiskey moment to date," and emphasizing it will only get better as time does its work. In the years to come, both distilleries plan to experiment — whether it be with different grain bills or barrels — while sticking with their successful first recipes.
In the meantime, Vander Pol encourages everyone to grab a glass of bourbon and enjoy it however they please.
"There's no 'right' way to drink bourbon," he said. "Whether you're mixing it in Coke or drinking it neat or having a craft cocktail, it's versatile, and it's delicious, and it's interesting in a way that other spirits aren't. It's fun to tie into an American tradition, put our local spin on it, and then end up with a finished product that, like I said, there's no wrong way to drink it as long as you're enjoying what you've got."
Rye, Wheat and Barley, Oh My!
As much as we love straight bourbon, there are all kinds of whiskey out there, and all of them take some amount of time. Here's some of our other favorites:
Sole Cry Rye Whiskey
Bier Distillery , 5295 West River Dr., Comstock Park
Though Bier Distillery is working on a bourbon, owner Joel Bierling is a rye advocate, thanks to the grain's distinctive, spicy, peppery flavor. His Sole Cry is made with 100-percent rye and aged for more than a year in new white oak barrels. The rye-volution is coming.
Last Feather Rye
Journeyman Distillery, 109 Generations Dr., Three Oaks
Speaking of great rye, this entry from Journeyman is made with a blend of rye and wheat, with just a touch of barley, then aged in new white oak barrels. It's fruit-forward with "a gentle crescendo of spice."
Blended Bourbon Whiskey
Coppercraft Distillery, 184 120th Ave., Holland
Coppercraft's bourbon is a blend of the distillery's original 4-year bourbon with 4-year and 10-year "found" bourbons.
Bourbon Whiskey Finished in Maple Syrup Barrels
Iron Fish Distillery, 14234 Dzuibanek Road, Thompsonville
Let's be honest, this one speaks for itself.