Fun fact: Cider and mead are both classified as wine, technically. On one hand, some classifications are nonsense — bell peppers are a fruit, according to "scientists," but we all know that's ridiculous.
On the other hand, it is true that cider, mead and wine have a lot in common. They rarely have much carbonation, if any; they don't go through a "brewing" process like beer does; and they each have a sweet base. Wine comes from grapes, cider from apples and mead from honey.
At the most basic level, making these drinks just means adding yeast and water, then letting it ferment. But of course, it's not that simple — it takes an expert to concoct a complex, unique, delicious alcoholic beverage. Luckily, we have plenty of experts in West Michigan. Here's our guide (not entirely comprehensive, we're sure) of cideries and meaderies near us.
Acoustic Draft Mead
119 N. Maple St., Traverse City
drinkacoustic.com, (231) 275-2041
As its name suggests, Acoustic is a little on the lighter side. Its musically themed meads come in at an average 6-percent ABV. Combine that with the light carbonation in every bottle (hence the word "Draft"), and Acoustic's selection drinks more like a beer or cider than most meads. To live it up, try the Electric Bzzz, made with apricot and orange zest.
Arktos Meadery
1251 Century Ave. SW, Grand Rapids
arktosmeadery.com, (616) 406-4444
Arktos has made quite the splash in West Michigan with its eye-catching bottle design, tasteful nuance and bear-centric mythology. The mead itself has garnered multiple awards in just a few short years, offering an ever-expanding selection of flavors: coffee, blackberry, pumpkin, etc. All these can be found at the Grand Rapids tasting room, where goblets line the bartop and mead flows from nitro taps.
Bardic Wells Meadery
8844 Water St., Montague
bardicwells.com, (616) 837-8035
Coming from a long line of beekeepers, the owners of Bardic Wells know their honey start to finish, inside and out. A mead lover myself, I strongly recommend hunting down the Traditional Mead. It's balanced, smooth, unpretentious and unusually affordable. Bardic is the first ever licensed meadery in Michigan, if that tells you anything.
Bee Well Meadery
3533 S. Derenzy Rd., Bellaire
Beewellmeadery.com, (734) 787-4187
Bee Well keeps growing as the four siblings work to spread their mead far and wide. The tasting room in Bellaire is coming up on another anniversary, open Thursday through Sunday. Make the trip to try out some Hopped Honey or Antrim Apple Pie, straight from the source. They have cider too!
Black Dragon Meadery
Distribution only, New Buffalo
blackdragonmeadery.com
While it has yet to settle down into a tasting room (distribution only), Black Dragon is worth seeking out. Paul Peterson, aka Pete Wylde the MeadMaster, has won 18 awards for his meads since 2009. Bottles are available for purchase at facebook.com/blackdragonmeadery, and shipping is now available in Michigan.
Farmhaus Cider Co.
5025 Stanton St., Hudsonville
farmhauscider.com, (616) 920-1867
Farmhaus blew up fast, opening in 2015 with a Cidergarten and beginning to distribute statewide in just two years. The couple-owned cidery aims for simplicity, with styles like the Halbbitter, which is described as fresh, bright and semi-sweet, and the Trocken, which is unfiltered, dry and tart. Look for the signature tallboys at your local store.
Great Mead Hall
215 W. Monroe, Bangor
greatmeadhall.net, (269) 427-0827
Great Mead Hall is known for locally sourcing its honey, fruit and other ingredients used in its mead and cider. Some options include Mz. Beauregarde, a blueberry mead, and King Alcinous, a pear mead aged for nine to 12 months. With no taproom, you can find Great Mead in liquor stores near you for now.
Painted Turtle Hard Cider
paintedturtlehardcider.com, (616) 644-3047
Painted Turtle came on the scene in 2016, and it's clearly here to stay. The Apple Crisp, Blueberry Bliss and Java Vanilla ciders have made a splash, being packed full of flavor without going overboard. There's no tasting room, so look for the cute little reptile on the tallboy cans at your local party store.
PUX Cider
1051 Harding St., Conklin
schaeferciders.com, (616) 899-2298
PUX is still pretty new to the scene, yet the cidery has a wide variety of flavors, including barrel-aged tart cherry, hopped cider and a single-apple varietal. Schaefer Ciders, who makes PUX, is still working on putting a taproom together, but for now you can find the stuff at area retailers.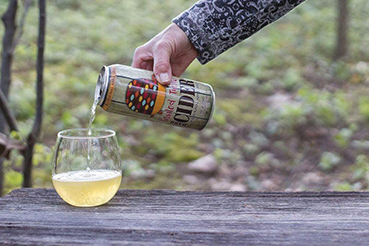 Ridge Cider Co.
351 W. 136th St., Grant
ridgecider.com, (231) 674-2040
Located off M-37 near West Michigan's famous apple ridge, Ridge Cider Co.'s tasting room is big and full of wood. It features a range of top-quality ciders and servers that are passionate and knowledgeable about the products. We advise you to try the Porch Sittin', a cider with prominent cinnamon and a hint of vanilla.
Robinette's Apple Haus & Winery
3142 4 Mile Rd. NE, Grand Rapids
robinettes.com, (616) 361-7180
Passed down through five generations, Robinette's has been making apple cider since 1971, which means they've had plenty of time to get it right. In 2006, they started making it with alcohol too. Now, you can swing by at any time of the year to taste six wines or ciders for just $3.
Sietsema Orchards & Cider Mill
8540 2 Mile Rd. NE, Ada
sietsemaorchards.com, (616) 676-5584
At Sietsema's, the story starts with preserving heirloom apples, which give the company's hard ciders a unique flavor profile. In the fall months, the tasting room offers draft hard ciders and bottles for purchase, along with traditional non-alcoholic cider mill fare (read: donuts). Sietsema's hard ciders are popping up in restaurants and stores (including Meijer) across West Michigan, but we advise you to stop in and see where it all originates.
St. Ambrose Cellars Meadery
841 S. Pioneer Rd., Beulah
stambrose-mead-wine.com, (231) 383-4262
St. Ambrose's affordably priced selection is out of control in the best way possible. Draft mead, still mead, honey wine, it's all there in an outrageous variety of flavors. If you're a big fan of sour beers, this is the meadery for you — try the Wild Ginger, a sour mead with ginger. The owners keep their own bees, so they know their stuff.
Starcut Ciders
121 N. Bridge St., Bellaire
starcutciders.com, (231) 498-2300
Starcut Ciders, made by Short's Brewing Company, was born in 2014 out of a desire to utilize the apple orchards of northern Michigan. Starcut features both unique and traditional ciders. Keep your eye out for Immortal Jelly, a cider inspired by Soft Parade and fermented with raspberries, blueberries, blackberries and strawberries. It's slightly sour, slightly fruity and totally delicious.
Sunshine Meadery
Distribution only, Lowell
sunshinemead.com
This time last year, Sunshine was just getting off the ground. Now the distribution-only meadery has at least seven meads under its belt, including Monarch, made with Macintosh apples, Monterrey cherries, star anise, nutmeg, cloves and cinnamon. The Hakuna Matata, infused with vanilla bean and tea flavors, provides an unusual twist for the beverage. For a more traditional metheglin (spiced mead), pick up the Autumn Sunset.
The Peoples Cider Co.
539 Leonard St. NW, Grand Rapids
thepeoplescider.com, (616) 322-7805
People's Cider did just fine with its setup east of downtown Grand Rapids, but they couldn't pass up a chance to move in next to Long Road Distillers and Mitten Brewing Co., where there are opportunities to collaborate between owners. Catch People's on local tap lists around town or at the Fulton Street Farmers Market, as well as at this new location.
Uncle John's Cider Mill
8614 N. US-127, St. Johns
ujcidermill.com, (929) 224-3686
One of the oldest apple farms in the country, Uncle John's hard cider is simple but well refined. Classic flavors like Cherry, Blueberry and Apricot make the cider easily accessible, but with enough options to offer some variety. Look for the cans in stores or make the trip to St. Johns, north of Lansing.
Vander Mill Cider
505 Ball Ave. NE, Grand Rapids
vandermill.com, (616) 259-8828
Vander Mill is a powerhouse, likely the largest hard cider producer in the Midwest. The Grand Rapids taproom reflects that, with an indoor deck overlooking the massive new production facility that quintupled the cidery's capacity two years ago. While you've definitely heard of mainstays like Totally Roasted and Blue Gold, hit up the taproom (or some specialty stores) for specialty ciders like the Loving Cup, made with peppercorn and hibiscus.
Virtue Cider Co.
2170 62nd St., Fennville
virtuecider.com, (269) 722-3232
Virtue's ciders are legit and true to the dry European style. The Gloucestershire Old Spot pigs — common to Old World cideries — add to the traditional vibe at the farm and cider mill. Stop in for a tasting or to buy a bottle or five of these Michigan-centric ciders. The Mitten, a bourbon barrel-aged cider, has remained a fan-favorite.