West Michigan is no Sahara — you can find something to drink with ease.
The only downside is, the plethora of choices makes it that much harder to choose. You likely already have your favorites, but it's always good to try something new. All you need is a little guidance, and wouldn't you know it, that's what we're here for!
We've rounded up some of our favorite spirits, cocktails and watering holes in the region, from dive bars to cocktail lounges. When you're looking to branch out, give these a try.
Dive Bars
Defining a "dive bar" is tough — some places wear it as a badge of pride while others avoid the label like the plague. Well, I'd say a dive is simply any bar where everyone is welcome, strong drinks are cheap and the chairs are a little worn down. What's not to enjoy?
Nick Fink's
3965 W. River Dr. NE, Comstock Park
thegilmorecollection.com/nickfinks
Right off the bat, we're met with a bit of a quagmire on what exactly constitutes a "dive." Nick Fink's is owned by the Gilmore Collection, after all, and its food is excellent, but the atmosphere is pure dive with its decades-old interior and nightly group of locals loudly having a stiff drink. It turns out, the key to becoming (and remaining) the oldest joint in Grand Rapids is to keep your drinks cheap and your bar lively.
Birch Lodge
732 Michigan St. NE, Grand Rapids
facebook.com/birchlodge
When your bar burns down and the community unites to put it back together, you know you're doing something right. Birch Lodge is back from its tragedy with the same cheap drinks and affordable bar food it's always had, not to mention a chill taproom and friendly staff. You'll also find five big TV screens to watch the game on, making this an all-around perfect neighborhood bar.
The Derby
816 Burton St. SE, Grand Rapids
The Derby, formerly known as Silver Derby, is one of the more underrated bars around, especially since coming under new management. You'll always find a seat, but never want for company. The patrons and bartenders alike tend to be chill AF, which pairs nicely with cheap drinks and a decent craft beer selection. You'll also find darts, a jukebox, karaoke, all that good stuff.
Louie's Trophy House
629 Walbridge St., Kalamazoo
louieskzoo.com
Louie's Trophy House is more of a faux-cabin than a dive, but if we're talking favorite local watering holes, it can't be beat — in fact, this is the oldest bar in Kalamazoo. Lots of wood paneling and taxidermy set the mood, alongside affordable bar food and top-notch drink specials. You'll also find comedy, open mic nights and live music throughout the week. All in all, Louie's just feels like home.
Tip-A-Few
10 Franklin Ave., Grand Haven
tip-a-few.com
Grand Haven's favorite bar has all the wood, classic decorations and huge plates of bar food you could ever ask for. It's also "Home of the Wet One," in reference to the big ol' wet burrito you can order, not the harbor leading to Lake Michigan just outside. The drinks are strong, as they should be, so you very well may not need to tip more than a few back — then again, if it's the weekend…
Itty Bitty Bar
1136 Ottawa Beach Rd., Holland
ittybittybar.com
Welcome to the "five-star dive bar," as Itty Bitty proudly proclaims. This place refuses to take itself too seriously, which we could really use more of in this world. Despite cheap drinks and an uber laidback atmosphere, the food is on another level — this is not your typical bar food. If you're looking to have some gourmet pasta in a dive setting, Itty Bitty is the place to be.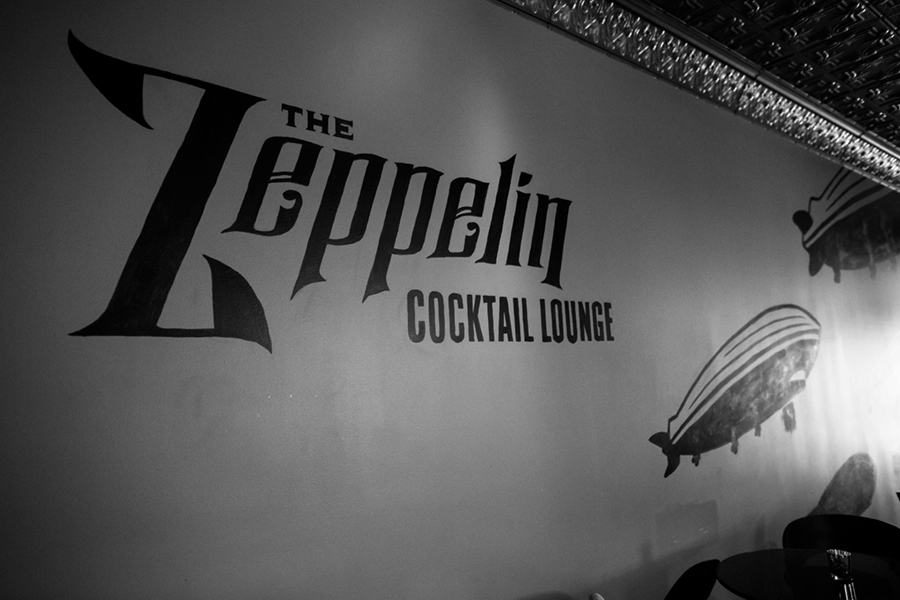 New Holland's Zeppelin Lounge. Courtesy Photo
Cocktail Lounges
Don't get me wrong, I still love a good beer, but if you're in the mood for something significantly less filling that packs a punch and has plenty of complex flavors, you can't beat a cocktail. Luckily, West Michigan has plenty of places that specialize in just that.
Principle Food and Drink
230 S. Kalamazoo Mall, Kalamazoo
principlekzoo.com
No, I will never shut up about Principle. Having a restaurant upstairs and cocktail lounge downstairs will always be a good idea, especially if the food and drinks are as excellent as Principle's. The cocktails here are next-level, mostly based on century-old recipes that have been remixed for modern times. Plus, the prices are low and the staff is incredibly friendly, always there to educate and help you find the perfect drink.
Gray Skies Distillery
700 Ottawa Ave. NW, Grand Rapids
grayskiesdistillery.com
Making a great cocktail means knowing your spirits inside and out, and no one knows a drink better than the people who brought it into the world. Heading to Gray Skies and just trying a flight of the excellent liquor is completely valid — the barrel-finished hopped gin is perfection — but you really shouldn't pass up on the many top-notch cocktails available. Earthy, sweet, herbaceous, boozy, refreshing, colorful, the choice is yours. Plus, the industrial-chic tasting room is just a very cool place to hang out, with a modern vibe that's unlike most lounges around.
18th Amendment Spirits Co.
350 W. Western Ave., Muskegon
18thamendmentspirits.com
Yet another place mixing up its own spirits, 18th Amendment is a journey through time. The tasting room feels sort of like if you stopped for a drink at a bar in an old train station, with vintage furniture, lighting and a wooden bar all setting the mood. The cocktails are copious, mostly choosing to highlight the spirits within, which just makes sense. For example, try the Pierpont, with cucumber gin, lime juice, olive oil and cilantro. That's practically a salad!
New Holland's Zeppelin Lounge
417 Bridge St. NW, Grand Rapids
newhollandbrew.com
New Holland Brewing's second location, The Knickerbocker, is a sight to behold. The massive, multi-floor taproom has beer and cocktails alike, a huge outdoor patio and plenty of food. If you're looking for a more intimate space, just head upstairs to the Zeppelin, a small, totally chill cocktail lounge serving up drinks made with New Holland's spirits. You'll find all manner of house-made whiskey, gin, rum, vodka and liqueurs mixed into a tasty drink. That's what we call a hidden gem.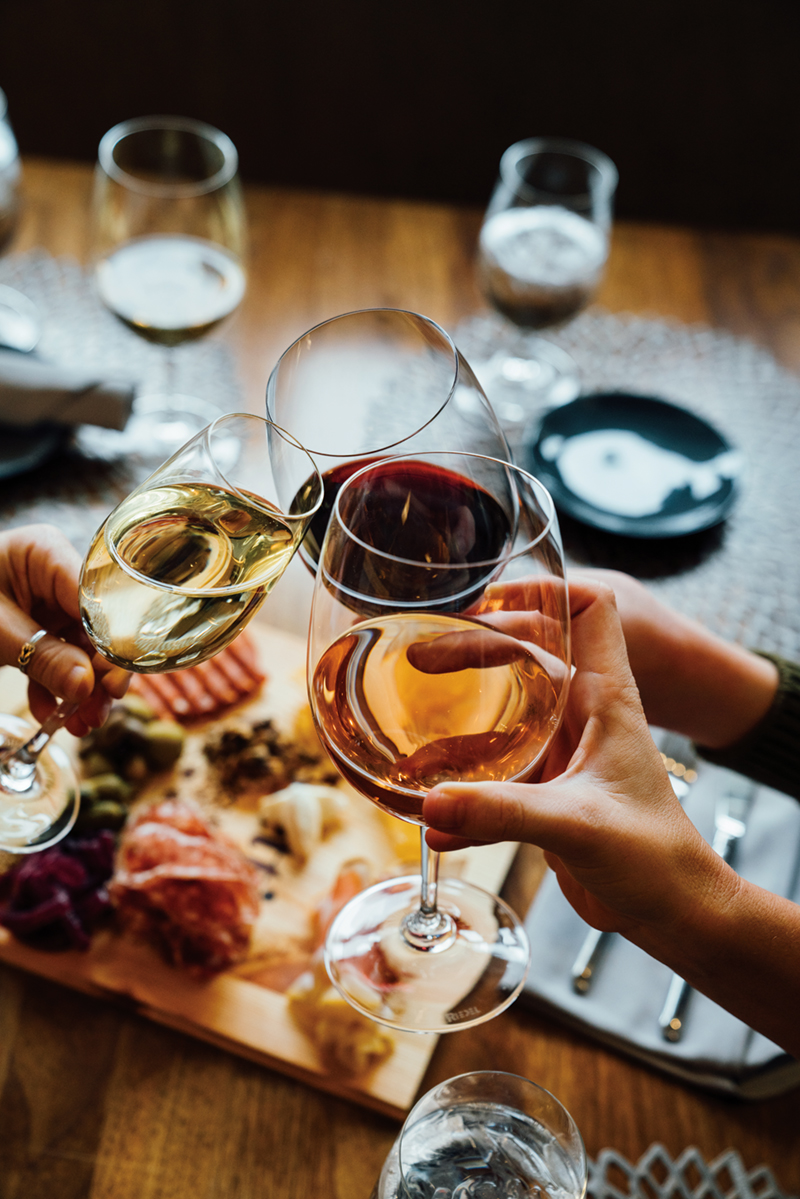 Reserve Wine & Food. Courtesy Photo
Wine Bars
Reserve Wine & Food
201 Monroe Ave. NW, Grand Rapids
reservegr.com
When I think wine, I think Reserve, and vice versa. If you want to visit somewhere that truly knows its stuff, Reserve is staffed with experts who can walk you through the unbelievably large menu. Seriously, there are far more than 100 wines available — maybe even 200, but I stopped counting. Don't be intimidated, just tell the staff what you like and they'll hook you up. Bonus: the pasta is divine too.
The Stamped Robin
128 Portage St., Kalamazoo
stampedrobin.com
The Stamped Robin makes drinking approachable. It's not a huge menu and the descriptions sound like a good friend describing their favorite wine, such as "laserbeam citrus here, but not too much — this is a gem." Or, try the Blind Taste to get a truly unbiased sense of your favorite vino. The Stamped Robin also has top-notch cocktails and European-style snacks, if you like to mix it up.
The Wine Loft
161 E. Michigan Ave., Kalamazoo
wineloftdowntown.com
The Wine Loft succeeds by going all in on its concept — top-tier wine in a refined, modern setting with a big-city feel. It's the kind of place where you can feel special and have fun doing it. Head in Tuesday for half-off bottles, an amazing deal to pair with some tapas or charcuterie.
Spirits
Long Road Distillers' Old Aquavit
537 Leonard St. NW, Grand Rapids
longroaddistillers.com
In the world of food and drinks, it's generally true that flavor equals time. So when you take something already delicious like Long Road's Aquavit and let it age in whiskey barrels for a year, that's a recipe for success. Aquavit is a complex spirit with loads of spices — caraway, dill, anise, fennel, etc. — that can be hard to describe, but if you like rye bread, this is the drink for you.
American Fifth Spirits' Bourbon
112 N. Larch St., Lansing
americanfifthspirits.com
American Fifth recently entered the local bourbon game with a strong contender. The bill is largely corn, with wheat, malt and rye to balance it out, resulting in a complex spirit that's dangerously easy to drink. It goes down smooth and the flavors are comforting, with notes of vanilla, caramel and brown sugar.
Journeyman Distillery's Featherbone Bourbon
109 Generation Dr., Three Oaks
journeymandistillery.com
Journeyman's tasting room may be a bit out of the way for most of us, but its spirits are readily available on shelves all around West Michigan, and they're well worth a sip. The Featherbone Bourbon in particular is a bold drink that goes especially heavy on the corn, which can be refreshing and maybe even trick your body into thinking it's eating vegetables. This spirit sums up Journeyman's approach: assertive, memorable, tasty liquor.