Cocktails can be a little intimidating, to be sure.
When you pick up a menu and see words like amaro, falernum and aperol for the first time, it starts to feel like a foreign language textbook. You could always take a gamble and assume any word you don't know is some sort of herbal liqueur — you'd often be correct — but isn't it better to actually understand what's in your drink?
Trouble is, some places can make you feel like a fool for even asking. When your bartender sees himself as a gatekeeper of spirits, you feel shut out from the delicious world of craft cocktails before you have your first sip. Luckily, two of West Michigan's best cocktail lounges are working to fight that culture.
Buffalo Traders Lounge and Sidebar are both bars in Grand Rapids that have elevated the cocktail game while being friendly, accessible and educational. The highly innovative drinks and welcoming atmosphere have made these sister establishments into perennial favorites among long-time residents and visitors alike. In fact, both places have been in the top two for Cocktail Lounge in Revue's very own Best of the West readers' poll.
To understand how West Michigan got so lucky, we have to go back to the start.
The Beginning
For years, Grand Rapids just didn't seem to be ready for a high-end cocktail scene. Spots like Prohibition and The Viceroy lasted less than a couple of years. The craft beer boom made it hard to compete, when patrons could choose between a $5 pint poured instantly or a $12 cocktail that took five minutes to make. At the time, even The Viceroy's owner, Mark Sellers, knew what it would take for the model to succeed.
"It has to be a small place in order to survive with a small crowd, low overhead and be in an area where people are looking for something higher end, out of the ordinary," Sellers told MLive in a 2012 interview when The Viceroy closed.
Three years later, owner Bernie Kersten found that space in his very own restaurant, Big O's Cafe. In a walk-out basement on the corner of Monroe Center and Ottawa Avenue, the casual Italian restaurant had a room across the hall it had been using for overflow. That's until Kersten met a professional sommelier, Scott Noorman, who convinced him in 2015 to use the space as a high-end, speakeasy style cocktail lounge like the big cities have, except without all the pretense.
With just 18 seats, zero signage and a staff you can count on one hand, Sidebar relied on word of mouth to slowly snowball into the success it has today. To this day, the other main way people find the bar is happening across it accidentally.
"It's funny, because you will have people that don't even know we're there, that are heading into Big O's and see what looks like a janitor's closet, and they just peek their head in and the whole room kind of turns," said Bar Manager David Yanik.
It's counterintuitive, but that inconspicuous presence is essential to Sidebar's survival, in a way. On a busy weekend, you'll already find people waiting patiently in the hallway for 45 minutes.
That's part of what led Kersten to buy out Buffalo Tobacco Traders and turn it into Buffalo Traders Lounge in 2017. The Fulton Street lounge isn't massive either, but it has more seats and a more colorful atmosphere than Sidebar. When it opened, Buffalo Traders focused solely on doing classic cocktails right, but now Bar Manager Tony Jones and his staff also work hard to create innovative drinks that keep every visit fresh. Obviously, it's worked.
The Appeal
Buffalo Traders and Sidebar have different approaches to the same philosophy: make inventive cocktails in a welcoming atmosphere.
For Buffalo Traders, the team worked with local interior designer Tylor Devereaux — who also created new restaurant The Commons' ultra comfy vibe — to create a space that's somewhere between a dive bar and a high-end lounge, according to Jones. The result is a mid-century modern art deco space drenched in blue, both interesting to look at and soothing to drink in at the same time. It has to be seen to be believed.
The cocktails are meant to be affordable, yet complex and unique, with something for everyone. In my many visits, I've fallen in love with everything I've ordered. If you don't see your ideal drink on the menu, just ask for the Dealer's Choice. Jones said the staff loves to work with customers to create something new. The choice leaves the door open for basically infinite options without having an overwhelmingly large menu.
Buffalo Traders just launched its spring menu, which includes some refreshing options like the Fun Bobby, a drink Jones is especially excited about. It has reposado tequila, lime, orange, egg white and a house-infused jalapeno aperol, an herbal Italian aperitif.
Meanwhile, Sidebar's menu leans toward the higher end, but you certainly get what you pay for — the cocktails are easily some of the best I've had in the state. Yanik said the drinks are born out of a true passion on the staff's part. He's spent years traveling across the country, talking to other bartenders, going on distillery tours and soaking it all in. Perhaps even more importantly, he reads.
"There are so many cocktail and bartending books, not just current literature but from the pre-prohibition era," Yanik said. "There are so many templates and formulas that date back more than 100 years, and then you can riff and substitute those different ingredients for new ones while keeping that successful formula."
It's not just him — Yanik said all of his staff has a true passion for drinks. While he's especially interested in bourbon, another bartender, Erin, could talk about rum "until the cows come home." That's what it takes to come up with Sidebar's more than 30 drinks, plus have the knowledge to explain those drinks in detail to customers, and have fun doing it. While the taste of the cocktail is important, they also like to play around with presentation. Yanik said this summer will have a drink that looks like a goldfish swimming in water, with minty seaweed and everything. You won't find that anywhere else.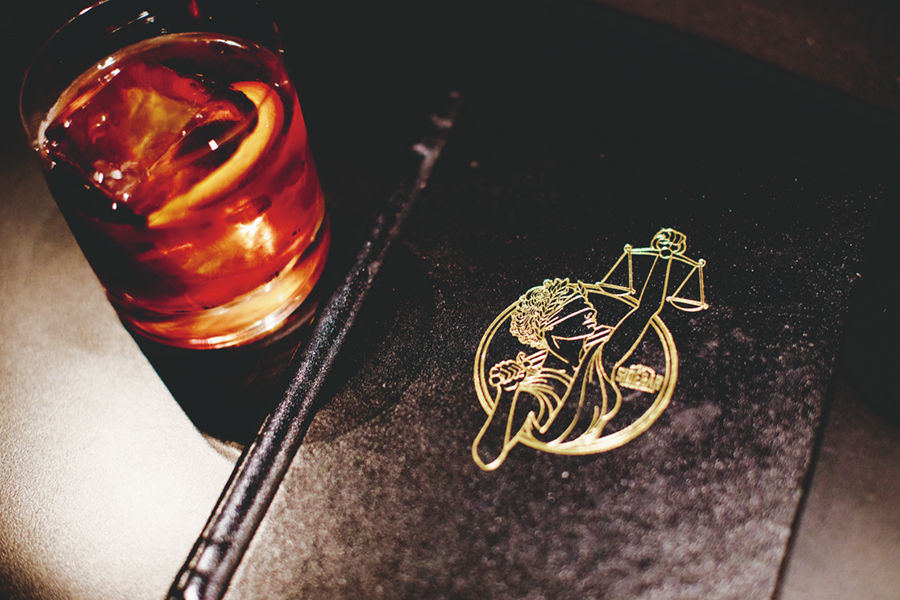 The Red Wedding from Sidebar. Photo by Amanda VanVels
The Movement
As important as the drinks are, Buffalo Traders and Sidebar wouldn't have such a good reputation if they weren't also great places to be. Jones said he hates it when you try to bond with bartenders over drinks and they immediately make it known that they know more than you. There's no fun in that on either side of the bar.
In the same way, a big part of Sidebar's mission is to be educational. Even if you walk in and ask for a Jack and Coke (which does happen), you're not going to get laughed out of the bar. The staff will work with you to find a drink you'll love.
"We want to inform people and be very inviting and uplifting, to the point where people want to come back and talk with us and learn something extra," Yanik said.
That movement certainly has grown over the years, as some drinkers tire of IPAs and stouts. It helps that craft distilleries are providing an alternative local experience that craft beer lovers have always sought out. The key is to offer that experience without being snooty or pretentious.
"Hopefully people leave Sidebar more enlightened and educated and in touch with the craft cocktail movement that they weren't even aware was happening," Yanik said.