Revue's compendium of breweries in West Michigan
Grand Rapids Area
5 Lakes Brewing
1638 142nd Ave., Dorr
5lakesbrewing.com
5 Lakes has become well-loved for its solid brews and self-distilled spirits. Start off with a Citrus Vodka, then move on to the Huron Gold and a burger, pizza or other entrees from the food menu. Open: 7 days.
Atwater Brewing
201 Michigan St. NW, Grand Rapids
atwaterbeer.com
This Detroit-based brewery joined downtown Grand Rapids' ranks a few years ago, serving up classics like Dirty Blonde, Whango Mango Wheat and Vanilla Java Porter. The brewery has a nice patio along Monroe, upon which to eat pizza, sandwiches and tacos. Open: 7 days.
Bier Distillery
5295 W. River Rr. NE #100, Comstock Park
bierdistillery.com
In the taproom and brew room alike, spirits and beer go hand in hand — it's right there in the name of Bier Distillery, owned by Joel and Sara Bierling. Alongside its large selection of original liquor and cocktails, Bier offers a wide variety of brews. The menu changes regular, featuring creative brews like the Raspberry Hibiscus blonde and the Maple Rumble, a beer featuring sugar cane juice, just like rum. Open: 7 days.
Big Boiler Brewing
318 E. Main St., Lowell
bigboilerbrewing.com
Located in a historical building, Big Boiler is the first to bring self-brewed beer to Lowell, with simple styles like hefeweizens, brown ales and IPAs. Meanwhile, the food menu is ambitious, featuring all kinds of shareables, burgers and sandwiches. Open: 7 days.
B.O.B.'s Brewery
20 Monroe Ave. NW, Grand Rapids
thebobsbrewery.com
B.O.B.'s Brewery, located in the lower level of The B.O.B., offers a variety of different food options, but the real treat lies in the multitude of beers available year-round. Be sure to check out the Hopsun, a Belgian summer wit, or the Grapefruit Song, a citrus IPA. Open: Thursday-Saturday.
Brass Ring Brewing
2404 Eastern Ave. SE, Grand Rapids
brassringbrewing.com
Brass Ring opened last year, bringing craft beer to the Alger Heights neighborhood. Since then, the brewery has ramped up its food offerings with from-scratch cuisine spanning sandwiches, tacos and entrees. The tap list hosts 12 or so beers focused on executing classic styles well, from ESBs to SMASH ales, browns and more. Open: Tuesday-Sunday.
Brewery Vivant
925 Cherry St. SE, Grand Rapids
Broad Leaf
2885 Lake Eastbrook Blvd. SE, Kentwood
breweryvivant.com
Since 2010, Brewery Vivant has been making farmhouse beer — focusing on the Belgian style — and promoting the sustainability of beer in cans. This year, Vivant expanded in the form of Broad Leaf, a second location that explores every style of beer and offers its own unique food. Open: 7 days.
Brew Works
5909 S. Warner, Fremont
thecommonsoffremont.com
At this modest brewpub in Fremont, you'll find a wide range of ales and stouts from Brew Works itself and other breweries all over Michigan. The taproom is adjacent to a bowling alley, arcade and golf course. Open: 7 days.
Cedar Springs Brewing
95 N. Main St. NE, Cedar Springs
csbrew.com
This German-centric brewery is all about authentic Bavarian food and light, refreshing lagers and weissbiers. In 2019, Cedar Springs took home awards for THREE beers in Revue's Best of the West. The big beer hall-style taproom creates an atmosphere of socialization as well, making Cedar Springs a destination spot for beer lovers from all over the region. Open: 7 days.
Cellar Brewing Co.
133 E. Division St., Sparta
cellarbrewingco.com
Cellar is a business of many talents. With more than 15 beers on tap, the brewing company also has a winery and distillery. Stop in for a wide variety of brews like the Cascadia Blonde and the Jax Attax, a bourbon barrel-aged Belgian quad. Open: 7 days.
Creston Brewery
1504 Plainfield Ave. NE, Grand Rapids
crestonbrewery.com
Grand Rapids' love of craft beer can't be contained within the confines of downtown. Creston Brewery has brought delicious food to its eponymous neighborhood, along with a wide variety of brews. The menu (and brewmasters) describe the beer by flavor profile and color, not style. It's both innovative and tasty. Open: 7 days.
DeHop's Brewing Co.
363 Cummings Ave. NW, Walker
dehops.com
DeHop's Brewing joined Standale last year, bringing more craft beer and food to the area, along with a couple pool tables. The brewery has 16 taps, featuring multiple lagers, IPAs and more. DeHop's aims to be comfy, with an "alpine" look on the inside and out. The food menu has sandwiches, burgers, tacos and more.
Elk Brewing
700 Wealthy St. SE, Grand Rapids
400 Dodge St., Comstock Park
elkbrewing.com
Elk Brewing has become a mainstay of both Wealthy Street and Comstock Park with its reliable beer lineup and appreciation for community. Head to Wealthy for a more cozy atmosphere with local music and games, or to Comstock Park for a full food menu and patio overlooking West River Drive. Open: 7 days.
Founders Brewing Company
235 Grandville Ave. SW, Grand Rapids
foundersbrewing.com
The Colossus of Craft needs no introduction. In fact, Founders has seen so much success on an international level that it recently was purchased by Spanish brewing company Mahou San Migel. The brewery's footprint continues to grow as it sends out classics like the Breakfast Stout and newer favorites like Mosaic Promise and Solid Gold. Open: 7 days.
Fountain Hill Brewery
151 Fountain St. NE, Grand Rapids
facebook.com/fountainhillbreweryatgrcc
Owned by Grand Rapids Community College, this brewery is only open on specific dates, when the general public gets to taste the exciting results of the Craft Brewing, Packaging and Service Operations certificate program. Open: Check website for dates.
Grand Rapids Brewing Co.
1 Ionia Ave. SW, Grand Rapids
grbrewingcompany.com
GRBC reinvented itself, bringing on a new brewmaster and new head chef, as well as building a free game room in the back. Fill your pint with a piece of Michigan history via the Silver Foam Lager, or try something new like the Sur La Lune, a tart farmhouse saison aged in Chardonnay barrels. Open: 7 days.
Gravel Bottom Brewery
452 Ada Dr., Ada
gravelbottom.com
Gravel Bottom's expansion brought the taproom from six taps to 20, along with a larger production facility, more room for customers and a new kitchen. Don't miss brews like the Bliss Stout, a toasty honey oatmeal stout. Open: Tuesday-Sunday.
Greyline Brewing Co.
1727 Alpine Ave. NW, Grand Rapids
greylinebrewing.com
When it opened two years ago, Greyline Brewing garnered a reputation instantly, winning Best New Brewery in Revue's Best of the West poll. Since then, the brewery has continued to release excellent beers that exemplify their styles. Open: 7 days.
Harmony Brewing Company
1551 Lake Dr. SE, Grand Rapids
Harmony Hall
401 Stocking Ave. NW, Grand Rapids
harmonybeer.com
Last year, Harmony underwent a huge expansion at its Eastown location and the two locations now both offer the same award-winning pizza and reliable beer, such as the Fiddlestix, a juicy IPA with grapefruit flavors. Or try a beer cocktail like the Beergarita, made with tequila, citrus and triple sec, then topped off with some IPA. Open: 7 days.
Jaden James Brewery
4665 Broadmoor, Kentwood
jadenjamesbrewery.com
Nested inside Cascade Winery, Jaden James provides a brewed alternative so you can grab a Black IPA or Walnut Brown with your wino friends. They're solid beers that don't go overboard. Open: Monday-Saturday.
Jolly Pumpkin Artisan Ales
428 Bridge St. NW, Grand Rapids
13512 Peninsula Dr., Traverse City
jollypumpkin.com
If you seek a pleasant sour, look around you. Jolly Pumpkin has been brewing up approachable sour and wild ales for years now, offering beers like Oro de Calabaza, an oak-aged golden sour, and Clementina, an oak-aged sour fruit saison. Last year, the brewery opened in Grand Rapids with delicious pizza, sandwiches and salads. Open: 7 days.
Kayla Rae Cellars
31 Courtland St., Rockford
kaylaraecellars.com
A couple of years ago, Kayla Rae introduced its own onsite brewery in the form of MI Brewery, currently serving beers on tap alongside rotating seasonal hard ciders and sangria. Open: 7 days.
Kitzingen Brewery
1760 44th St. SW, Wyoming
kitzingen-brewery.com
This brewery's owner, Rommie Bailey, was stationed in Kitzingen, Germany, when serving in the U.S. Army in the 1980s. The building's interior is meant to tell the story of the relationship between Americans and Germans, with a military twist. Not surprisingly, the beer and food focus on those cultures as well, with IPAs and authentic Hefeweizens on tap. Open: Tuesday-Saturday.
Mitten Brewing Co.
527 Leonard St. NW, Grand Rapids
329 Water St., Saugatuck
112 W. Nagonaba St., Northport
mittenbrewing.com
Pizza and beer seems to be a popular duality in Michigan, and The Mitten Brewing Co. does both superbly. Beers like the Country Strong IPA and Mango Gold wheat have been a hit, arriving on shelves all over. For a flight of both beer and food, head to the Grand Rapids or Saugatuck locations and try some specialty pizzas like the Heater, with sweet habanero sauce, andouille, jalapenos, banana peppers, green peppers and Colby Jack cheese. Open: 7 days.
New Holland Brewing Co.
417 Bridge St. NW, Grand Rapids
66 East 8th St., Holland
newhollandbrew.com
While not at all identical, both of New Holland Brewing Co.'s locations offer well-loved beer, killer cocktails and beer gardens. The brewery has become known for its Dragon's Milk, a bourbon barrel-aged stout released with a number of different flavors, but the Mad Hatter IPA and Poet oatmeal stout are West Michigan mainstays as well. Open: 7 days.
New Union Brewery
400 W. Main St., Lowell
newunionbrewery.com
More than 150 years ago, Union Brewery opened in downtown Grand Rapids. The beer scene may have changed a bit since then, but New Union is trying to keep the spirit and history alive in Lowell with beers like the Citra Revival Session IPA and Red Arrow Amber. Open: Tuesday-Sunday.
Newaygo Brewing Company
19 State Rd., Newaygo
newaygobrewing.com
Newaygo Brewing has become a cornerstone of the community and a key destination along M-37. The atmosphere is welcoming, located in a building with decades of history, and the farm-to-table pizzas have made the taproom a go-to choice for a night on the town. Plus: Quality brews, both true-to-style and wholly unique, including a cask ale selection. Open: 7 days.
OpenRoad Brewing Co.
128 S. Main St., Wayland
openroadbrewing.com
OpenRoad represents Wayland in the world of craft beer, becoming a community hangout spot with frequent food trucks alongside its own in-house menu. The brews are billed as "well-balanced and true-to-style," spanning the gamut of classic styles, and the in-house coffee shop means the space is welcome to all from sunrise to after dark. Open: Tuesday-Sunday.
Osgood Brewing
4051 Chicago Dr. SW, Grandville
osgoodbrewing.com
The people of Grandville demanded a brewery and were not disappointed when Osgood Brewing rose from the ashes of Hiram Osgood's legacy in 2012. Since then, the brewery has maintained quality craft beverages and imaginative pizza creations. Open: 7 days.
Perrin Brewing
5910 Comstock Park Dr., Comstock Park
perrinbrewing.com
Since opening, Perrin has made tremendous strides with releases like No Rules, a 15-percent ABV Vietnamese Porter, and Storming the Gates, an "Area 51" NEIPA. Meanwhile, Perrin Black Ale has become a mainstay in just about every bar in Grand Rapids, thanks to its unique but extremely approachable character. Open: 7 days.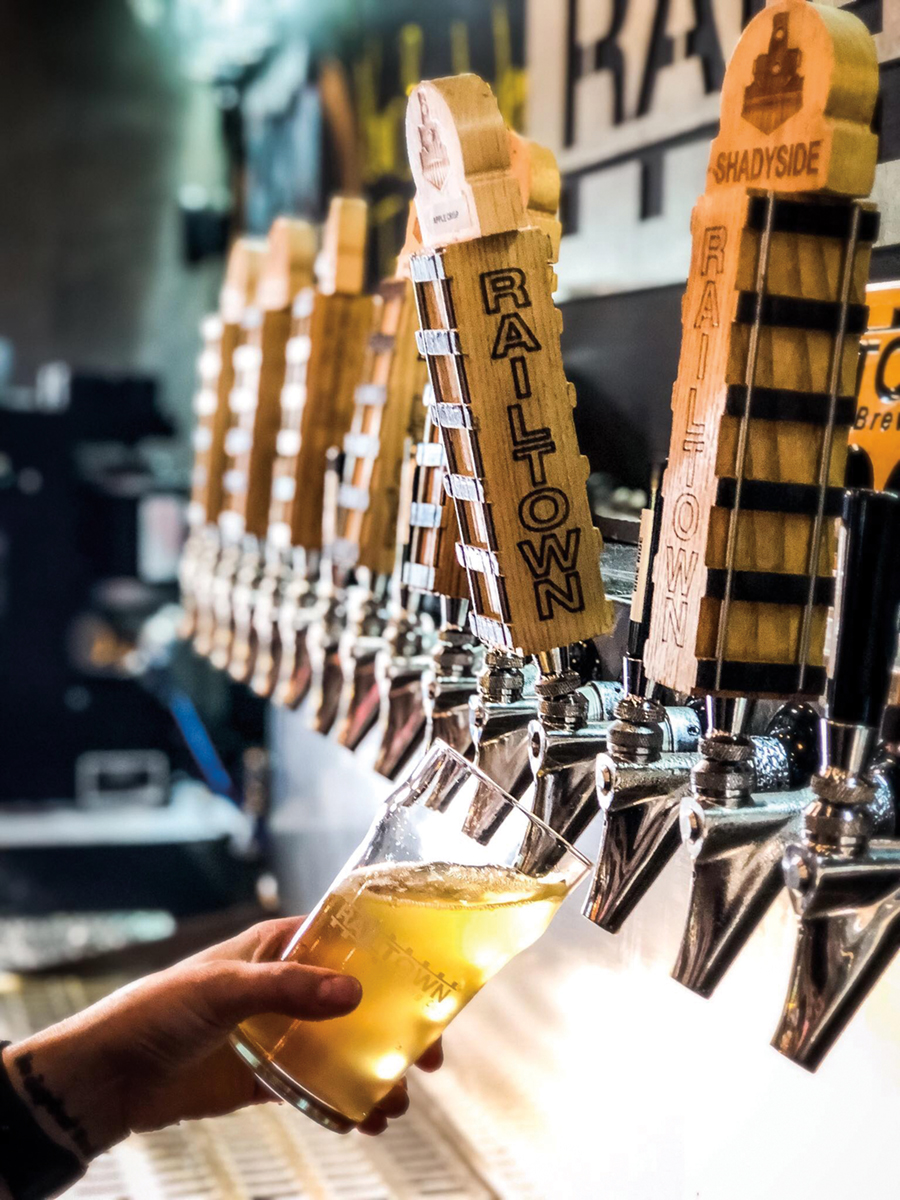 Railtown Brewing
3595 68th St. SE, Dutton
railtownbrewing.com
Last year, Railtown expanded in a huge way to a building next to its original strip mall location. The new space has two floors, an outdoor patio, twice as much seating as the last taproom and an in-house kitchen. The rotating tap list features quality selections from top to bottom, but be sure to check out mainstays Citra Warrior IPA and Bike Ride Blonde. Open: Monday-Saturday.
Rockford Brewing Company
12 E. Bridge St., Rockford
rockfordbrewing.com
Huge advocates for West Michigan agriculture and multi-year winners of our Best of the West poll, Rockford means local and they mean business. Beers like Hoplust IPA and Sheehan's Irish Stout are award-winning examples of the style. The farm-to-table kitchen is serving up nothing but quality as well, with dishes like the Braised Pork Belly BLT. Open: 7 days.
Schmohz Brewing Company
2600 Patterson Ave. SE, Grand Rapids
109 W. Mitchell St., Petoskey
schmohz.com
Schmohz is the proud home of Michigan's first female head brewer and offers up to 20 different unique draft beers, with the coziness of your favorite dive bar. Last year, Schmohz even expanded up to Petoskey inside Italian restaurant Mancino's. Open: Monday-Saturday.
Speciation Artisan Ales
3721 Laramie NE, Comstock Park
speciationartisanales.com
Speciation has quickly become known as one of the best breweries in the world, thanks to its highly adventurous and always amazing wild, sour and spontaneous ales. The small brewery's methods take time and consideration, resulting in a monthly release schedule and limited bottle purchases per person. Last year, the brewery opened its taproom so you can stop in any time for some snacks and unique ales like the Language of Origin, a gin barrel-aged sour ale with strawberry, hibiscus, vanilla and lemon. Open: Wednesday-Sunday.
Steele Street Brewing
300 S. Steele St., Ionia
steelestreetbrewing.com
Steele Street has been pushing the boundaries, exploring new styles to offer a huge variety of beers in a comfy taproom. Stop by for a cask ale, homemade soda and great pizza on homemade bread. Open: Tuesday-Sunday.
Tantrick Brewing Co.
633 Hooker Dr., Allegan
tantrickbrewing.com
Tantrick opened last year with a solid selection of classic brews, like the Tilted Kolsch, Beach Bum gose and Hopademic IPA. Musicians gather to perform, while local food trucks arrive occasionally to offer food for the laid-back taproom out in Allegan. Open: Wednesday-Monday.
Thornapple Brewing Co.
6262 28th St., Grand Rapids
thornapplebrewing.com
Thornapple was opened by two Steelcase workers who decided to get out of the office and into the brewhouse. They knew what they were doing, leading to an expansion earlier this year that added 4,000 square feet to the taproom. The brewery offers its own beer, cider, mead and wine, alongside spirits and cocktails. You'll find creative brews like the Salted Caramel Stout and the S.S.S.S., a spicy, salty saison. Open: 7 days.
Trail Point Brewing Company
6035 Lake Michigan Dr., Allendale
trailpointbrewing.com
As Allendale's first brewery, Trail Point focuses on creating straightforward beers with quality and care. Beers like the CIPApotamus, a citra IPA, and the Henry Lee, an old ale, nail classic flavors in a nuanced way. Open: 7 days.
Walldorff Brewpub & Bistro
105 E. State St., Hastings
walldorffbrewpub.com
Walldorff has a top-notch food menu with sandwiches, entrees and wood-fired pizzas, but the real star here is the beer. IPA fans will love Hopnoxxious and Cobain's Double Dark IPA, or head to the lighter side with BS Honey Rye and Bistro Blonde. Open: 7 days.
LAKESHORE
Big Hart Brewing Co.
4086 W. Polk Road, Hart
bighartbrewing.com
Offering a full spread of "beer & food made with Hart," it's especially hard to forget some of this brewery's unique names, like Gluten For Punishment, a German style wheat ale, and Screeching Sands, an amber ale brewed with blue agave syrup. Open: 7 days.
Big Lake Brewing Co.
13 W. 7th St., Holland
biglakebrewing.com
Big Lake is one of Holland's longest-running breweries, starting out strong and only improving over the years. The tap list is robust, with styles ranging from a signature rye IPA to a blood orange NEIPA and a barrel-aged breakfast stout. Open: 7 days.
Brewery 4 Two 4
321 Douglas Ave., Holland
brewery424.com
Brewery 4 Two 4 pumps out truly amazing beer on a system only slightly larger than most homebrewers. The 20 taps host a wide variety of experimental brews like the Brut Weasel, a super dry, champagne-like IPA, and the Fluff 'n' Buns, an imperial golden stout made with marshmallow fluff and Honey Buns cereal. After all, breakfast is the most important meal of the day. Open: Tuesday-Sunday.
Fetch Brewing
100 W. Colby St., Whitehall
fetchbrewing.com
Fetch Brewing focuses on great beer in a chill atmosphere and historic building, complete with a former vault open for seating. The brewery has developed a following on the lakeshore for its experimental IPAs and seasonal brews. Open: 7 days.
Grand Armory Brewing Company
16 S. 2nd St., Grand Haven
grandarmorybrewing.com
This Grand Haven brewery has paired up with Righteous BBQ and Aldea Coffee to cover all your bases in one room. The beer is solid, true-to-style and pays homage to the lake town's history. Try the Wheezin' The Juice IPA, which lives up to its name, or the Nutter Your Business Stout, a chocolaty, peanut butter milk stout. Open: 7 days.
Guardian Brewing Co.
657 63rd St., Saugatuck
guardianbrewingco.com
The year kicked off with Guardian Brewing Co. opening its doors at 657 63rd St. in Saugatuck. The women-owned, pegacorn-loving brewery has a huge range of in-house beers, such as the Nahual Coffee Pale, Mico Medio Chile Beer, Golden Phoenix IPA, and many more. There's also lots of wine, cocktails and even beertails made with Guardian's own brews. The brewery occupies the former Red Barn Theater and features an internationally inspired seasonal food menu. Of course, they also plan to offer yurt rentals.
Hopland Brewstillery
977 Butternut Dr., Holland
hoplandbrewstillery.com
Hopland Brewstillery arrived on the scene last year, going on to win Best New Brewery in 2019's Best of the West readers poll. The brewery offers original beer and spirits, including Blue Waves, a blueberry brandy, and Boat Bouncer, a spiced rum. The taproom has 40 taps and six flatscreen TVs.
Jamesport Brewing Company
410 S. James St., Ludington
jamesportbrewingcompany.com
Jamesport operates from a piece of historic Ludington real estate. The Victorian storefront was constructed in 1890 for the purpose of running a saloon. So, in a way, opening up a brewery was the most faithful way the owners could have honored its memory. A large selection of the tap list is seasonal, so you should find new brews to try every time you arrive. Open: 7 days.
Ludington Bay Brewing Co.
515 S. James St., Ludington
ludingtonbaybrewing.com
Ludington Bay has a plethora of consistent, true-to-style brews, from an Oktoberfest to an American wheat, West Coast IPA and tropical stout. Look for their cans on store shelves now! As for food, you'll find burgers, pizza, tacos, mac & cheese — just about everything. Open: 7 days.
Macatawa Ale Company
20 W. 8th St., Holland
macatawaalecompany.com
It's the classic homebrewer goes pro story at Macatawa. The family-run brewery operates out of 8th Street Grille and brews beers ranging from IPAs to wheats, stouts and blondes. Open: 7 days.
Odd Side Ales
41 Washington Ave., Grand Haven
oddsideales.com
As the name suggests, Odd Side is enamored with crafting creative and experimental beer, while providing a unique atmosphere. The expansion gives plenty of room for bubble hockey, an arcade machine and truly odd beers like the Blueberry Raspberry Lime Fruitsicle. Open: 7 days.
Old Boys' Brewhouse
971 Savidge St., Spring Lake
oldboysbrewhouse.com
A man should never have to choose between his dog and his beer. At Old Boys' Brewhouse, this crisis is not only averted, it is disregarded completely with its walls adorned with the pictures of patrons' canine companions and a patio section perfect for the pooch. Open: 7 days.
Our Brewing Company
76 E. 8th St., Holland
ourbrewingcompany.com
At Our Brewing Company, you can count on a tap list that never stays the same for very long. The brewers are always trying new styles, from passionfruit goses to cream ales with pineapple and coconut. Open: 7 days.
Pigeon Hill Brewing Company
500 W. Western Ave., Muskegon
pigeonhillbrew.com
Pigeon Hill is well known for its Oatmeal Cream Pie ale, made with oats, marshmallows and "other secret ingredients," but the lakeshore brewery also excels in cream ales, IPAs and more. Earlier this year, the brewery expanded with a huge new brewing facility that's more than twice the size of its old space. Eventually the taproom will move to that space as well!
Open: 7 days.
Pike 51 Brewing Company
3768 Chicago Dr., Hudsonville
pike51.com
Having 16 beers on tap is impressive, considering that Pike operates as the on-site brewery at Hudsonville Winery. You won't want to sip, sip, pass the dank Kush IPA, but if you're trying to take it easy, Pike 51 has you covered with its homemade root beer. Open: 7 days.
Saugatuck Brewing Company
2948 Blue Star Highway, Douglas
140 S. Westnedge Ave., Kalamazoo
saugatuckbrewing.com
This expansive microbrewery combines the charm and character of an Irish pub with the bold, contemporary elements of a gleaming microbrewery. You'll find Saugatuck's beers on just about any shelf in the region, including the Oval Beach Blonde and Neapolitan Milk Stout. Plus, the brewery expanded to Kalamazoo earlier this year, merging with Gonzo's BiggDogg Brewing to offer 16 taps, a food menu, and a big patio. Open: 7 days.
Starving Artist Brewing Co.
634 S. Stiles Rd., Ludington
starvingartist.beer
Starving Artist's brewhouse and storage facility is roughly the size of most people's first apartment, but owner Andrew Thomas has shown you don't need much space to create some of the best beers in the state. Beers like Blood Forge, a blood orange double IPA, show how an artist approaches the craft — with creativity, balance and boldness. The brewery now has a small taproom open Thursday through Saturday, or you can call ahead to make an appointment for a visit Monday through Wednesday. Open: Thursday-Saturday.
Tripel Root
146 East Main, Zeeland
tripelroot.com
Tripel Root has swiftly grown a reputation for its commitment to sustainable business practices and its handcrafted stonebreads. Head in for classic brews like the Pack Light Pilsner or the Ace in the Valley, an IPA brewed with hops grown in Ada. Open: Monday-Saturday.
Unruly Brewing Company
360 West Western Ave., Muskegon
unrulybrewing.com
The people who created Unruly Brewing don't just love beer — they love beer, music and art. Unruly Brewing Company combines all three to create a lively atmosphere all bundled up in a restored 1890s building. Open: 7 days.
White Flame Brewing Company
5234 36th Ave., Hudsonville
whiteflamebrewing.com
The tap list at White Flame offers a little bit of everything, but you'll want to head there for the brewery's killer selection of IPAs, including the Lupulunatic, a big and juicy IPA, or the Hard Ball, a triple IPA. Open: 7 days.
KZOO AREA & BATTLE CREEK
Bell's Brewery
355 E. Kalamazoo Ave., Kalamazoo
bellsbeer.com
Bell's has become such a rock star of the industry that the perennial Oberon release is somewhat of a Michigan holiday, and Two Hearted Ale has been receiving constant accolades as the best IPA in the world for years. Simply put: Bell's is the proverbial high bar of craft beer in the Midwest. Open: 7 days.
Bravo! Restaurant and Café
5402 Portage Rd., Kalamazoo
bravokalamazoo.com

Bravo! concentrates on pairing its stellar fine dining experience with small-batch brews, featuring bold offerings like the Sour Power Berliner Weisse, a blackberry sour. You won't find them anywhere else! Open: 7 days.
Dark Horse Brewing Company
511 S. Kalamazoo Ave., Marshall
darkhorsebrewery.com
The History Channel truly was onto something special when it decided to film a 12-episode reality show about Dark Horse. The brewery's attitude is crass and its beer is badass, from the Black Ale to the Smells Like A Safety Meeting, a hop-bomb of an IPA. Its this tenacity that's leading to a merger with Royal Oak's ROAK Brewing Co. in the coming months. Open: 7 days.
Distant Whistle Brewhouse
118 S. Main St., Vicksburg
distantwhistle.com
Distant Whistle has honed in on the four elements of what every brewery strives for: great location, great beer, great people and great times. The brewery wanted to be the go-to beer destination in Vicksburg and has accomplished just that. Open: 7 days.
Latitude 42 Brewing Company
7842 Portage Rd., Portage
6101 W. Main St., Kalamazoo
latitude42brewingco.com
If you want to bring back something interesting from Portage or Kalamazoo, pick up Latitude 42's Nectar of the Goddess, a blood orange, passion fruit, honey and wheat ale. The cooks also know how to make a mean pizza. Open: 7 days.
Old Mill Brewpub
717 E. Bridge St., Plainwell
oldmillbrew.com
In addition to its great handcrafted beer, Old Mill also serves some delicious food, along with wine and liquor, from the century-old Historic Eesley Mill, which is listed on the National Register of Historic Places. Open: 7 days.
Olde Peninsula Brewpub and Restaurant
200 E. Michigan Ave., Kalamazoo
oldepenkazoo.com
The first brewpub in the 'Zoo, Olde Peninsula offers its own beer along with cocktails, wine and American food. With a tap specifically dedicated for hot pepper-infused brews, you know it's worth the trip. Open: 7 days.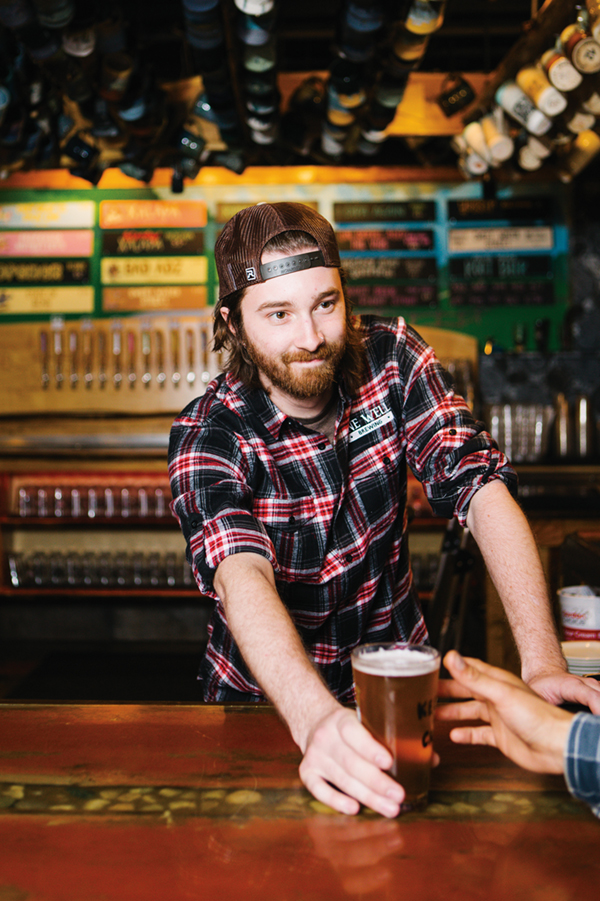 One Well Brewing
4213 Portage St., Kalamazoo
onewellbrewing.com
When it opened, One Well wanted to be a symbol for the prosperity of society—you know, like a well — and it has since doubled its taproom size with a robust food menu, pinball machines and loads of board games. The brewery also has excellent, unique beers like Sweet Water Street, made with doughnut holes and a special roast of coffee from Water Street Coffee. Open: 7 days.
Rupert's Brew House
773 W. Michigan Ave., Kalamazoo
rupertsbrewhouse.com
Rupert's has cheap beer, live music, pizza and lots of puppies. What more could you ask for? Check out the Double highPA or the Black the Berry Sour. Open: 7 days.
Territorial Brewing Company
256 N. Helmer Rd., Springfield
territorialbrewing.com

We don't see many breweries in Michigan who are resolved to brew almost exclusively in the German tradition. Territorial not only does that, but focuses on German cuisine as well. And guess what? It's all absolutely to die for. Try a Schnitzel and wash it down with a Kenny Lagers, which expertly showcases malt freshly milled in-house: a difference you can taste. Open: Tuesday-Sunday.
Texas Corners Brewing Company
6970 Texas Dr., Kalamazoo
texascornersbrewing.com
Despite the name, TCBC regularly uses local ingredients to create its classic beers and ciders. The taproom also hosts a large selection of food. Open: Monday-Saturday.
Tibbs Brewing Company
402 S. Burdick, Kalamazoo
tibbsbrewing.com
Tibbs set up shop in 2013, adding to Kalamazoo's growing beer scene. The owners bootstrapped the business and grew it slowly over time, all while delivering excellent small-batch brews, many brewed in the Belgian tradition. Check out this underrated spot the next time you're in the area. Open: 7 days.
Wax Wings Brewing Co.
3480 Gull Rd., Kalamazoo
waxwingsbrewing.com
Wax Wings opened last year with with bold, interesting brews, from double IPAs to mixed-culture saisons and a peach cobbler sour. Open: 7 days.
SOUTHWEST MICHIGAN
Arclight Brewing Co.
544 N. Main St., Watervliet
arclightbrewing.com
Arclight may be tucked away in the small farming town of Watervliet, but its beers easily stand up to the standard-bearers of Grand Rapids and Kalamazoo. Along with all the classic styles, Arclight is pumping out some killer sours with its two 40 BBL foeders, including a mango sour, a cherry sour and a kriek lambic. Open: 7 days.
Barn Brewers Brewery
114 N. Main St., Lawton
barnbrewersbrewery.com
Barn Brewers was established in 2014 by a group of friends who liked to congregate in — you guessed it — a barn. The brewery is their ode to camaraderie, live music and jovial libations. Open: Wednesday-Monday.
Cognito Brewing Co.
142 W. Monroe St., Bangor
cognitobrewingcompany.com
Cognito Opened earlier this year within the Bangor Elevator, an event space created from a restored grain elevator. The brewery hosts a variety of beers, leaning toward malty and darker styles alongside IPAs. Open: Thursday-Sunday.
Final Gravity Brewing Co.
103 N. Phelps St., Decatur
246 N. Burdick, Kalamazoo
finalgravitybrew.com

Now with two locations, Final Gravity is serving up beers of all styles, from the Jamaican Rum Barrel Aged Coconut Porter to the SamBasilMint, a traditional saison infused with fresh basil and mint. Open: Wednesday-Monday.
Greenbush Brewing Co.
5885 Sawyer Rd., Sawyer
greenbushbrewing.com

Greenbush has always been known for its propensity for experimentation and a willingness to accept trial-and-error as an essential cog of the craft-brewing machine. Some breweries just have an impressive gift shop, but Greenbush has an entirely separate facility right across the street where you can get beers, charcuterie and other nibbles. Open: 7 days.
Haymarket Brewery & Taproom
9301 Red Arrow Hwy, Bridgman
haymarketbeer.com
Most breweries in West Michigan can't lay claim to a second location in Chicago, but Haymarket isn't most breweries. The brewery has won dozens of awards for its Belgians, Pilsners, barrel-aged beers and more. The tap list has something for everyone, from clean lagers to explosive double IPAs. Open: 7 days.
Kelsey Block Brewing Co.
41 N. Main St., Three Rivers
kelseyblock.com
Kelsey Block is a small, community-centered brewery bringing beer to the people of Three Rivers, including cask, SMASH and pale ales. The food menu features a handful of bar food options. Open: Wednesday - Sunday.
The Livery
190 5th St., Benton Harbor
liverybrew.com
Hand forged by the Benton Harbor brew gods, these guys pump out some of the best barrel-aged brews in the state, including the Bourbon Barrel Aged Trippel Weizenbock. It's a sizeable, yet comfy taproom with 18 taps pouring excellent brews. Open: 7 days.
North Pier Brewing Co.
670 N. Shore Dr., Benton Harbor
northpierbrewing.com
North Pier is all about that yeast, focusing especially on Belgian-inspired ales and other ester-filled styles like wits and saisons. It's flavorful, modern and community-based above all else. Open: 7 days.
Paw Paw Brewing
929 E. Michigan Ave., Paw Paw
pawpawbrewing.com
Paw Paw has it all — beer, mead, cider. Try the seasonal Coconut Porter or a mainstay like the St. James English Mild, and then pair that with a panini. Open: 7 days.
Round Barn Brewery
9151 First St., Baroda
roundbarn.com
Round Barn is a winery that just so happens to make beer too, and plenty of it. The staff uses more than 30 years of fermentation experience to create quality beer for customers who crave more than just wine. Open: 7 days.
Silver Harbor Brewing Co.
721 Pleasant St., Saint Joseph
silverharborbrewing.com
Alongside the tableside-smoked Kumbaya Brown Ale, there are plenty of great brews at Silver Harbor. Nearly 20 taps host scotch ales, sours, marzens, porters, belgians and more. Open: 7 days.
Sister Lakes Brewing Co.
92500 Co. Road 690, Dowagiac
facebook.com/sisterlakesbrew
The town of Sister Lakes has 10 lakes in a 5-mile radius, and now one brewery. They offer classic beers, live music and a whole fleet of soda floats — root beer, chocolate milk stout and more. Open: 7 days.
South Haven Brewpub
515 Williams St., South Haven
southhavenbrewpub.com
South Haven Brewpub offers a wide variety of self-made brews — from a blood orange gose to a cookie stout — alongside guest beers from other local breweries. The food menu hosts burgers, sandwiches, wraps and pizza. Open: 7 days.
Tapistry Brewing
4236 Lake St., Bridgman
tapistrybrewing.com
Tapistry Brewing combines "artistry and chemistry" with beers both true-to-style and experimental. Search shelves near you for their bottles, such as the Northern Trippin NEIPA and the Mr. Orange witbier. Open: 7 days.
Three Blondes Brewing
1875 Phoenix St. Suite B, South Haven
threeblondesbrewing.com
Last year, Three Blondes opened doors down in South Haven. Launched by three (blonde) sisters and their husbands, the brewery is attached to their parents' VanDerZee Motorplex. Head Brewer Jake Demski came from Greenbush Brewing Co. and is brewing up a wide variety of beers.
Transient Artisan Ales
4229 Lake St., Bridgman
transientartisanales.com
Transient's brews are truly transcendent, specializing in beers that take time. The brewery has been heavily expanding its can lineup with impressive brews like the Not Before Eight, a wine barrel sour blonde with raspberry and cherry. Does the small, intimate taproom have food? No. But can you bring your own, and your dog too? Yes. And that's all that really matters. Open: Wednesday-Sunday.
Watermark Brewing Co.
5781 St. Joseph Ave., Stevensville
watermarkbrewing.com
Watermark wants to serve good beer, plain and simple. The Leisure Ale description explains it all: "Nothin' snooty. Just beer." That means both classic styles and some highly creative sours. The taproom is large and welcoming, with an indoor and outdoor patio. Open: Tuesday-Sunday.
UP NORTH
Short's Brewing Co.
121 N. Bridge St., Bellaire
shortsbrewing.com
You know Short's. It's pretty much impossible to get into craft beer without having downed a Soft Parade (or six) at some point, or even a Bellaire Brown, Huma Lupa Licious or Space Rock. That's not to mention the more than 250 (we counted!) beers the brewery has pumped out over 15 years. Open: 7 days.
Right Brain Brewery
225 E. 16th St., Traverse City
rightbrainbrewery.com
Right Brain is one of the best of the northwest, producing crushable brews like Cake Walk, which tastes just like its namesake without being too sweet, and Blue Magic, a perfectly balanced lavender wheat ale. If you're looking for something heavier, the Concrete Dinosaur is a brown rye IPA that will do you right. Open: 7 days.