As Chicago is the Windy City, as New York is the Big Apple, so Grand Rapids is Beer City.
Sure, the moniker may not have exactly the same reach as other larger cities', and it might be somewhat self-imposed, but we sure walk the walk. There are nearly 80 breweries within an hour of Grand Rapids, and it really is known as a bucket-list destination for beer connoisseurs abroad.
So it only makes sense that we'd dedicate an entire month to the industry, running from Feb. 15 to March 15. Beer Month GR is all about giving you a new way to interact with the craft community, pairing beer with food, music and festivities. If you've been sitting on the sidelines of craft beer or just took a month off for Dry January, this is a great way to dive back in and remember what Beer City is all about.
GR Beer Week 2020
While the title of "Beer Week" seems to be unofficial, multiple breweries and bars are using the first week of Beer Month to start the party off strong. These tap takeovers and happy hours are a perfect way to try new and exclusive brews:
Candonium
Tin Can Grand Rapids
Feb. 18, 6-9 p.m.
bellsbeer.com
While we can't quite figure out what Candonium is a pun on (is it pandemonium maybe? but then why wouldn't it be Candemonium? anyway), Bell's will be at Tin Can with Saugatuck Brewing Co. doing some fun giveaways, prizes and games! What more do you need.
Exclusive Founders One-Off Release
Monarch's Club
Feb. 19, 6-8 p.m.
experiencegr.com
How does "a delicious IPA brewed with Mosaic and Azacca hops displaying low bitterness with intense citrus notes and a fruity hop finish" sound? If that's up your alley, head to Monarch's Club for this exclusive tap pouring Founders' Hello Jane IPA as long as supplies last.
Michigan's Dream Team
7 Monks Taproom
Feb. 20, 3-12 p.m.
facebook.com
Some of Michigan's best breweries are also best buds: HOMES Brewery, Speciation Artisan Ales, Transient Artisan Ales, Barrel + Beam and Watermark Brewing Co. All of these breweries love to collaborate, get experimental, play around and fill their beers with flavor — and they'll all be pouring at this event. For example, Watermark is bringing Raspberry Urchin, a barrel-aged golden ale with Michigan raspberries. Hit the Facebook page for a full tap list.
Bell's Annual Tap Takeover
The Meanwhile
Feb. 21, 4 p.m.-2 a.m.
bellsbeer.com
The Meanwhile always has great craft beer, but every year, Bell's comes by to bring some amazing specialty brews you'd typically only find in their own taproom. The famous barrel-aged Vanilla Black Note Stout will be there, along with The Wild One, a malt beverage aged in oak wine barrels, and Le Batteur Ale, a sour golden farmhouse ale, and many more. Plus: Pizza from Brick Road delivered every hour from 4 to 7 p.m.
Winter Beer Fest
Fifth Third Ballpark
4500 W. River Drive NE, Comstock Park
Feb. 22, 1-6 p.m., $55
mibeer.com
The Winter Beer Fest is back once again with roughly 150 Michigan breweries and more than 1,100 beers. Your ticket gets you 15 tasting tokens, and you'd be surprised how long those will last you. The fun is in walking around and taking in the incredible range of beer styles, while listening to live music, watching performers, and warming up by the fire pits. All with a brew in hand, of course.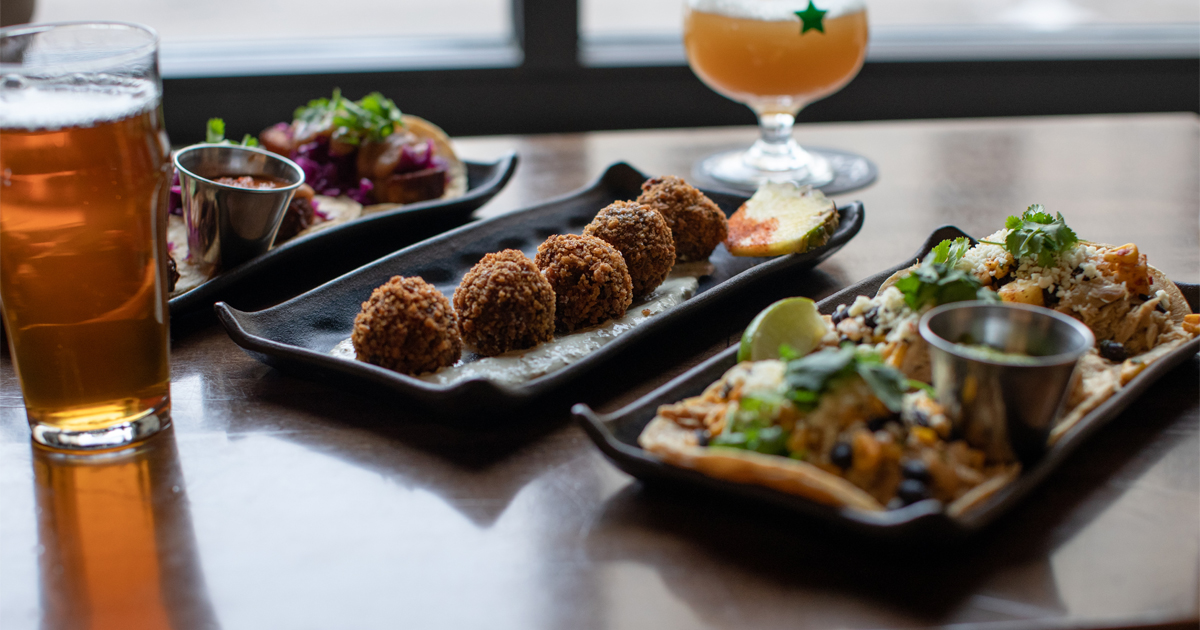 Cool Brews and Hot Eats at City Built Brewing Co. Courtesy Photo.
Cool Brews. Hot Eats.
Nothing goes better with a great beer than great food, and breweries all over West Michigan are pulling out the stops with special dishes that will only be available during Beer Month and pair especially well with food. For example, Cedar Springs Brewing Co.'s Pot Roast Up North is a "Yooper braised beef pot roast using Küsterer Dunkelweizen and served with fingerling potatoes, parsnip, rutabaga, and turnip." Now that's a meal to raise a glass to. Check out Experience GR's website for the full list of special menus.
Sounds of Beer City
If you've been missing some live music in your life, breweries are a great place to head. Rockford Brewing Co., Broad Leaf Local Beer, Harmony Brewing Co., Creston Brewery — all of them regularly feature music both relaxing and energizing. And many of them are stepping up their game for Beer Month. Head here for a list of shows for a list of shows.
Beer City Brewsader
OK, you like to drink beer, but do you love to drink beer, to talk about beer, to explore beer? If so, you might be a Brewsader, which means it's time to download the Beer City Brewsader mobile app and earn some rewards. If you head to any of the 44 participating breweries, you can get a "passport stamp" to prove your visit. Once you collect eight, you'll get an exclusive Brewsader T-shirt to commemorate your adventures. If you manage to collect 40, you're an Ultimate Brewsader, and you'll earn a special wallet card, a discount at grandrapidsstore.com, and access to a whole bunch of perks listed here. They range from great deals on beer to free stickers to a BOGO discount at TreeRunner Adventure Park.
For as much info as possible, head to experiencegr.com.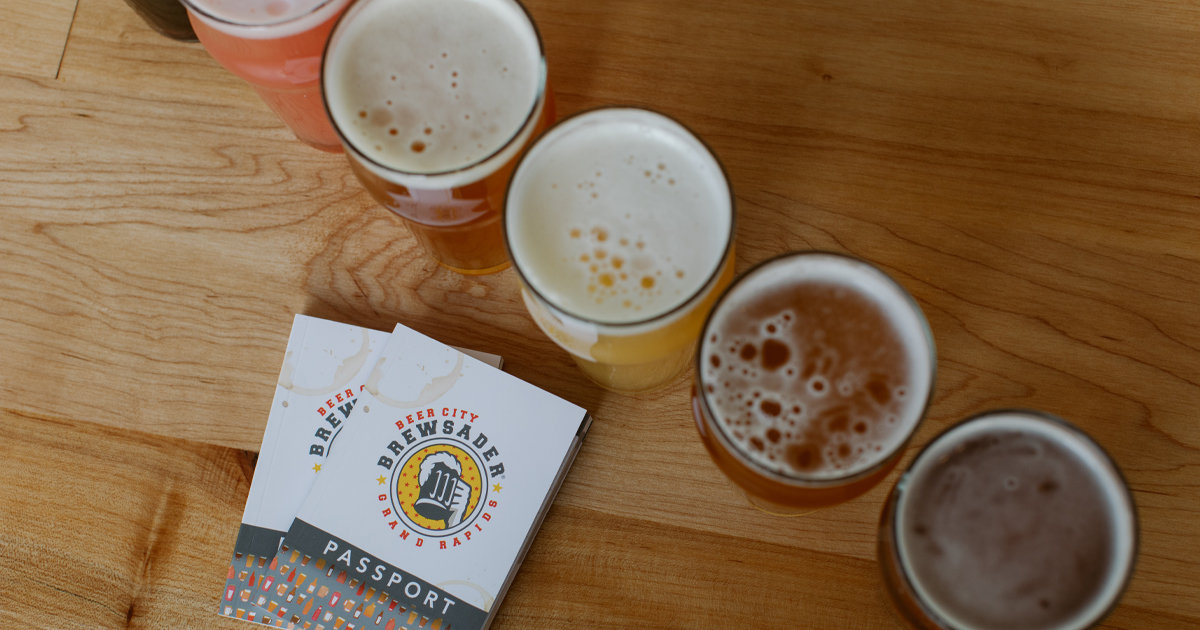 Brewsader Passport. Courtesy Photo.