In winter, we deal with the endless paradox of wanting to be outside yet also not wanting to be cold.
Going from work to the store to home with just brief periods of frigid wind and snow as we walk to our car is, uh, a bit tiresome. It numbs the senses.
This is why we have outdoor beer fests and heated patios — to give us time to buck up and just embrace winter for what it was. But what if there was a better way? What if there was something… in-between.
That's right, I'm talking about heated huts — those futuristic-looking plastic domes you've probably seen outside local breweries and coffee shops, almost all of which have little space heaters keeping you warm. They're not exactly everywhere, but they've become a bit of a trend.
It's a great way to be "outside" with a drink in hand while not being totally exposed to the elements, which is why some places even have reservations for their domes; they're just that popular.
If you want to get ahead of the pack and find one of these safe havens, we're here to help.
Outside Coffee Co.
734 Wealthy St. SE, Grand Rapids
outsidecoffeeco.com
There's no alcohol here, but some of the most popular huts around are Outside Coffee's — in fact, a couple just got engaged in one the other day. Being a café of sorts, these geo-domes are especially community-minded: No reservations, just grab your coffee/tea/hot chocolate and head into any dome to make some friends! Plus, there are fire pits outside if you're feeling extra brave.
Three Blondes Brewing
1875 Phoenix St., South Haven
threeblondesbrewing.com
Here at Three Blondes Brewing, you've got options. You can take your chances with first-come, first-served for their Blondomes, which comfortably sit six people (though you can go up to 10 people). OR, you can reserve an hour of time online for just $10. It's all about risk and reward, baby.
Thornapple Brewing Co.
6262 28th St., Cascade
thornapplebrewing.com
Out on 28th Street, Thornapple Brewing has a dome or two! They're free to hang in, so grab a couple beers — and maybe some pizza? — and warm yourself up.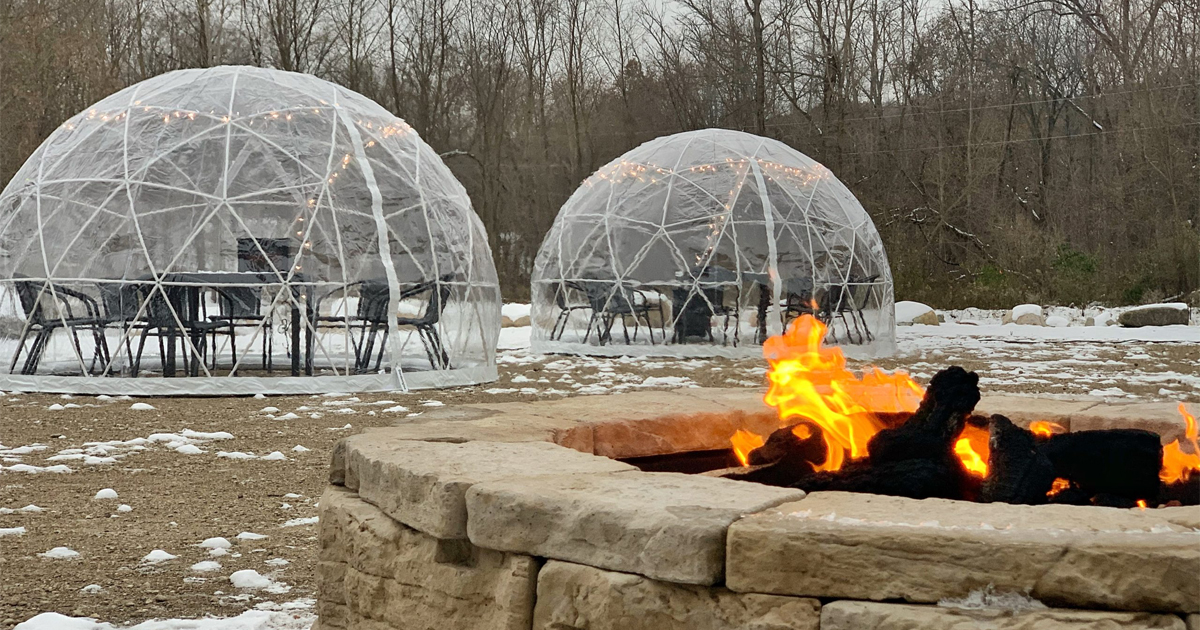 Third Nature Brewing Co.
7733 Childsdale Ave. NE, Rockford
thirdnaturebrewing.com
Up in Rockford, Third Nature Brewing is all about getting outdoors and embracing the natural world, so it only makes sense they'd have space for you to get outside. Their big ol' Igbrews fit eight people and are first-come, first-served. Again, making friends with other craft beer lovers is encouraged! Grab a beer and keep each other warm.
Bell's Eccentric Café
355 E. Kalamazoo Ave., Kalamazoo
bellsbeer.com
Bell's has a big, beautiful outdoor space with their beer garden, so it only makes sense they'd pop some domes in there. It's all first-come, first-served, and making friends is encouraged! That's what craft beer is all about, isn't it? Or at least partially. Get one of Bell's big, hearty stouts to keep you warm.
The Winchester
648 Wealthy St. SE, Grand Rapids
winchestergr.com
A big, enclosed, heated patio is kind of like a dome, right? OK, this one is a big stretch, but I just wanted people to know that Winchester's patio is open in the winter now! And not "open" like Founders' outdoor big patio with heaters, but actually safe to sit and eat in comfortably, thanks to a special casing that kind of looks like a greenhouse. Time for you to bloom!