ArtPrize may be gone, but AlePrize is here.
After the massive art festival decided against doing any sort of event in 2020 due to COVID restrictions and perceived turmoil downtown, the Beer City Brewers Guild decided to step in with AlePrize.
It's nowhere near the size or scope of the original festival, but AlePrize harbors the same motivation of showcasing artists and supporting local businesses. The venues are all local breweries, transforming their spaces into galleries for the month of October. Head into any one of these places to see great art and VOTE on your favorite! It's the perfect way to support both local artists and local breweries in one swoop.
The winner of the public vote will earn $1,000, while a panel of "community leaders and prominent cultural figures" will determine which artist wins another $1,000 cash prize. The panel includes Zachary Trebellas, director of Avenue for the Arts; Katie Moore, senior exhibitions manager for ArtPrize; and Miranda Krajniak, executive director of the Urban Institute for Contemporary Arts.
The art ranges from murals being installed to breweries hosting multiple artists across a variety of media. All you have to do to participate is visit a few (or all) of the participating breweries over the course of October and vote on your favorite piece! If you want to be extra supportive, share your favorite piece on social media!
Following is the large list of participating breweries. For more information and voting, visit aleprize.com.
Alebird Taphouse and Brewery
Atwater Brewery GR
Bier Distillery
Brewery Vivant
Broad Leaf Local Beer
Cedar Springs Brewing Co.
City Built Brewing Co.
DeHops Brewery
Founders Brewing Co.
Harmony Brewing
Jaden James Brewery
Mitten Brewing Co.
Perrin Brewing Co.
Railtown Brewing Co.
Rockford Brewing Co.
Speciation Artisan Ales
Third Nature Brewing Co.
Thornapple Brewing Co.
White Flame Brewing Co.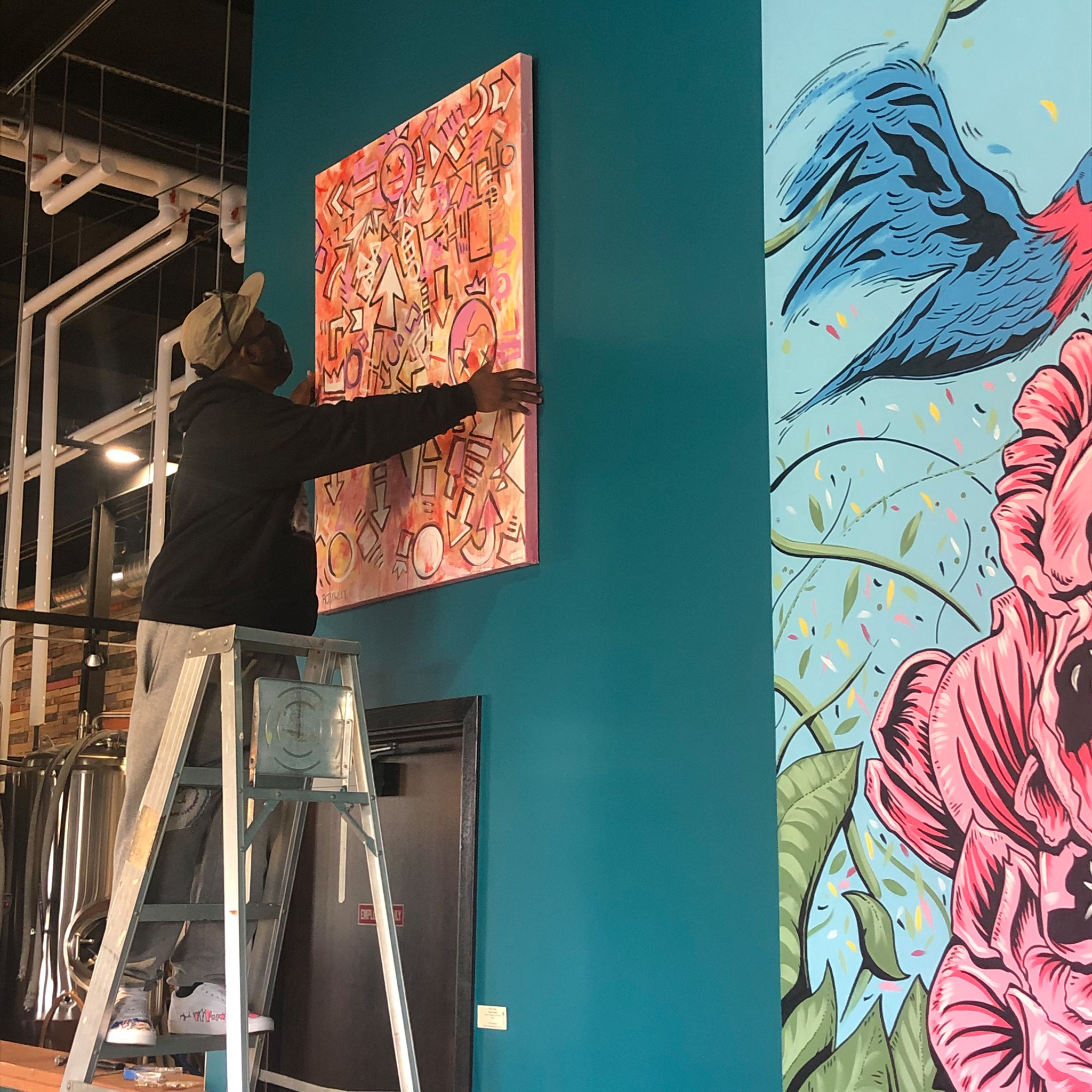 Work going up at Broad Leaf Brewing.