With so many beer options in the West Michigan area it can be easy to get stuck in our own brewery bubble. People all over the state are serious about their lagers, stouts and ales though, and for hopheads willing to make day trips up north or to the east side, delicious destinations await.
Take for instance Cranker's Brewery in Big Rapids. The city may not seem like an obvious location for a new brewery, but that's part of what made the venture so appealing to head brewer Adam Mills.
"It doesn't have the ingrained beer culture that's in the Grand Rapids area, so craft beer here is by and large a newer thing," Mills said. "It's been fun being here from the beginning to really start to build that beer culture in an area where it really hasn't settled in yet."
Another brewery that has capitalized on a location newer to the craft beer industry is Stormcloud Brewing Company, located in downtown Frankfort. Owner Rick Schmitt saw opening the brewery as a chance to corner the market in an area new to craft beer industry. Stormcloud specializes in brewing Belgian-inspired beer, a style of brew Schmitt feels is under-represented in Northern Michigan. While Stormcloud had only officially been open since July, it's already become apparent that the small town has embraced their latest addition.
"So far it's been overwhelming," Schmitt said. "While we have no data to compare it to obviously, we are exceeding our expectations from the business model that we have put together."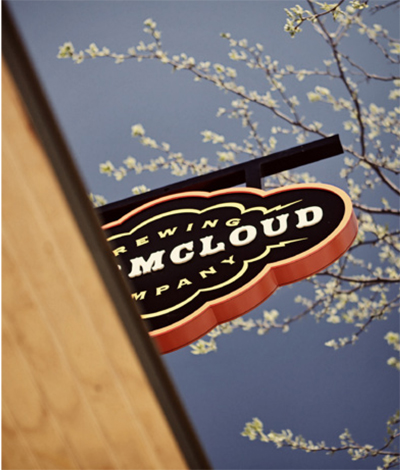 Roughly an hour East of Frankfort is Traverse City, an area that's no stranger to microbreweries. Local brewer John Niedermaier has played a huge role in the beer boom in Traverse City, serving as head brewer at Traverse Brewing Company, and Right Brain Brewery. The goal for Niedermaier, however, always was to open his own brewery that paid especially close attention to sustainable business and brewing practices. He did just that earlier this year with the opening of Brewery Terra Firma, the first agricultural brewery in Michigan, and one of less than 10 in the U.S.
"Terra Firma was actually being used as a model for legislation with the Michigan farm bureau," Niedermaier said of the trailblazing business setup. "They're trying to make it so that you can put breweries on agricultural property without messing things up in terms of zoning."
Niedermaier said businesses from around the world have been contacting them asking for advice on how to start up similarly structured breweries, and hopes that agricultural brewing practices catch on.
While business practices and taste preferences may vary from brewery to brewery, there is one thing that many Michigan brewers agree on: at this point, the craft beer industry is uniquely supportive and collaborative compared to many other industries.
"It's my experience that the folks who are in the craft beer industry treat each other as family for the most part," Schmitt said. "They're willing to share information, willing to share best practices, and celebrate the craft industry as a whole."
Mills cites the Grand Rapids Society of Brewers (the group behind multiple collaborative projects, such as Beer City Pale Ale) as proof of the supportive atmosphere within the industry.
"I think we are going to reach a point someday where potentially competition will come a little bit more into play, but I think there's a lot of space for local beer," Mills said.
Of course, none of these businesses would exist without continuing customer support, something that Garry Boyd, manager at HopCat's new East Lansing location, feels there is no shortage of.
"When a good craft brewery comes into town the people surrounding it really support it," Boyd said. "It usually does well in the state no matter where it's located."
Mark Sellers, owner of Hopcat, wanted the location of his newest bar to be in an area him and Boyd were familiar with. Both went to Michigan State University in East Lansing and felt the rich beer culture in Lansing provided a perfect atmosphere for their product.
"I think the east side has got just as many great names, but I think the west side has just been maybe a little more fortunate here and there to have a little bit more press," Boyd said.
HopCat East Lansing opened at the end of August, and has been overwhelmed with the customer response. Other breweries throughout the state have had similar experiences, working around the clock to meet customer demands. Based on recent years though, brewery owners are up to the challenge.
"We've been 'go, go, go' since we've opened our doors," Boyd said. "But there are worse problems to have."