Competition in business is normal, sometimes healthy and even expected. But when it comes to beer, the craft brewing industry throws competition out completely, with brewers creating a beer fraternity of sorts.
As more breweries pop up in West Michigan, established brewers and brewery owners step up to help out, building a beer culture as opposed to competition.
"I'm more than willing to sit down with people and go over a business plan," said Dave Engbers, co-owner and co-founder of Founders Brewing Company. "I'm hoping we've inspired a lot of these guys to take a risk."
As the number of West Michigan microbreweries grew over the past five years, business owners saw a chance to strengthen beer culture. In 2012, Chas Thompson of Schmohz Brewing created the Grand Rapids Society of Brewers (affectionately known as the S.O.B.s) as an excuse to drink beer with like-minded people. He refers to it at "intentionally unorganized."
"The whole idea of the group is really backroom guys getting together and drinking and relating so you have the camaraderie to solve problems," Thompson said. "We try to get together to talk about drinking and the industry and some of the things we see behind the scenes that the normal public wouldn't have an interest in or that we wouldn't want to tell them."
Some of the behind-the-scenes talk includes good suppliers to work with, which suppliers have good prices and even what happens when you get a bad keg. And if a brewer needs help to get their brewery running smoothly, they just have to ask their colleagues.
"I don't think there's any other industry that you can get into that everybody helps each other out," said Trevor Doublestein, owner and brewer at Our Brewing Company in Holland. "If you need something, they're there for you. If you have a question on how to do something better, they help you out."
When Doublestein was starting up Our Brewing, he relied heavily on advice from White Flame's Bill White, who opened his brewery in 2012. When White was getting started in the business, he got help from owners and brewers at Odd Side Ales and Paw Paw Brewing Company. He pays it forward by passing on information and mentoring new brewers.
"I meet new people who are just joining the industry and encourage them to make good beer, and everything will fall into place," White said.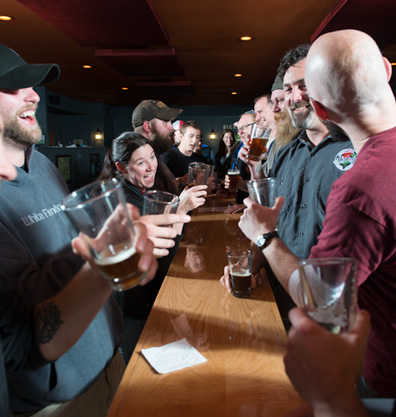 When Heather, Barry and Jackson Van Dyke needed help getting Harmony Brewing Company up and running, they turned to Barry Johnson at Saugatuck Brewing Company.
"It's actually a really difficult process to navigate through — getting approval from through the state and federal and the only way you can really do it is if an established brewery comes through and shows you how they did it," Barry said.
While there will always be industry competition, the brewing scene resembles more of a co-opetition, as brewers hold one another accountable with their product. In the end, it's all about the beer.

"The big thing for us is all about the quality of the product. We don't want to be known as fifth for the number of breweries in the nation," Engbers said. "We want that quality."
That's the whole point of the GR S.O.B.s — challenging one another to maintain quality. Brewers bring a growler of what they're working on or the latest batch they're proud to show off. The group shares, gives feedback and challenges one another.
"Sometimes I feel [jealousy], but I don't express it," Barry said. "I'm more like, 'That was good, I've got to work a little harder next time.'"
"It seems like everyone's on the same page about it. We're building a culture," Heather added. "It's good for everybody here if we build this culture together ... and everyone's pretty protective of that, too."
With the GR S.O.B.s, West Michigan brewers are paying it forward outside of their self-made fraternity. In August, the group launched the Brewer's Grove Project. A collaboration with Friends of GR Parks, 17 West Michigan breweries brewed a tree-inspired beer in August to serve in their taprooms. The proceeds of those brews go toward planting trees in Grand Rapids' Riverside Park on Thursday, Oct. 17 at 6 p.m.
"This is the first event that we did where every single brewery participated," Barry said. "The way we pitched it was we were all sitting around drinking beer at the S.O.B. meeting, and we were like, 'This city has been so supportive with our industry,' and we wanted to do a tangible giveback."
The event is not just dirty work, however. The S.O.B.s worked with the City of Grand Rapids to get an open container permit for the event so people can bring growers. The evening culminates with a movie in the park.
"The idea behind that is go to your favorite microbrewery and fill it up with what you like and grab a couple of jugs and come share," Thompson said. "Walk around and meet people, talk to people, dig some holes, stuff like that."
PHOTOS BY SETH THOMPSON