This year has offered plenty of reason to celebrate for hopheads who can't get enough humulus lupulus.
As a lover of all things hoppy, I'm always on the prowl for new ales that are ready to destroy one's palate with bitterness. Just when it seems IPAs can't get any better – or bitter, a brewer comes out with some crazy, new experimental hop variety or finds ways to amp up the bitterness of a non-IPA, such as a lager.
The beers on this list represent solid efforts in the exploration of all things bitter that were new this year for Michigan breweries or newly in distribution in West Michigan. Here are my top five:
Mars
If you were one of the few who was able to score a bottle of Mars, consider yourself lucky. Some stores limited customers to just one or two bottles of the double IPA, which was the first release in Bell's Brewery's "Planets Series." Clocking in at 10.1 percent, Mars is a big, boozy and surprisingly complex DIPA. It starts very piney and citrusy, but finishes with a hint of malt – and plenty of alcohol warmth. It's not even my favorite DIPA from Bell's, but Mars is decent nonetheless. (Hint: It really opens up as it nears room temperature.)
Brewer: Bell's Brewery, 355 East Kalamazoo Ave., Kalamazoo
Style: Double IPA
ABV: 10.1%,
Availability: One-time release, August 2014
bellsbeer.com/planets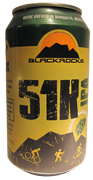 51K IPA
The Marquette-based Blackrocks Brewery proves that Yoopers know how to handle a brew kettle. Available in 12 oz. cans, 51K is a solid IPA throughout, with great piney aromas and a bitter, floral finish that's as crisp as a dip in Lake Superior in May. Next time you're in Marquette, be sure to enjoy one on draft on their porch (it's even heated in the winter) along with a locally made pasty. This IPA has become a staple in my fridge over the last year.
Brewer: Blackrocks Brewing, 424 North Third Street, Marquette
Style: IPA
ABV: 7.0%
Availability: Many craft beer stores in West Michigan
blackrocksbrewery.com

Smells Like A Safety Meeting
Brewer: Dark Horse Brewing Co., 511 South Kalamazoo Ave., MarshallFormerly known as "Smells Like Weed" at the taproom, Dark Horse supposedly had to change the name of the beer to distribute it. While the implications of the name itself (which is overstated, in my opinion) might be enough to draw some folks to the beer, for me, it was the sticky, chewy, resinous hops. As in: hops on hops on hops. I hate the use of the adjective "dank" when describing beers, but it truly is fitting here.
Style: IPA
ABV: 8.5%
Availability: Released on 4/20 (because of course it was)
darkhorsebrewery.com
Dissenter
The latest "Backstage Series" release from Founders offers a creative take on hop delivery with the Imperial India Pale Lager, the brewery's first lager in a dozen years. Lagers are fermented cold and use different yeast strains than ales, and the result is well-balanced and crisp. There's definitely a hint of grain among the grapefruit hopiness, which lingers long after each sip.
Brewer: Founders Brewing Co., 235 Grandville Ave. SW, Grand Rapids
Style: Imperial India Pale Lager
ABV: 8.7%
Availability: One-time release, August 2014
foundersbrewing.com

El Dankerino
Another big DIPA, the awkwardly named El Dankerino (see previous statement about the use of the word "dank") is based heavily on the more bitter tropical hop flavors. The 10 percent ABV is well-masked – better so than in Mars from Bell's – and the sweet, resinous hops rule the day, but not so much that it's overpowering. El Dankerino is really well balanced for such a big beer.
Brewer: Odd Side Ales, 41 Washington Ave., Suite 160, Grand Haven
Style: West Coast Double IPA
ABV: 10.0%
Availability: Released August 2014
oddsideales.com
Michigan Honor Roll
Star Chicken Shotgun
Brewer: Greenbush Brewing Co., Sawyer
Style: IPA
ABV: 6.8%
Availability: Released in bottles in May, available on tap at the brewery
greenbushbrewing.com


Fluffer
Brewer: Kuhnhenn Brewing Co., Warren
Style: Session IPA
ABV: 4.5%
Availability: On draft at select venues around West Michigan
kbrewery.com


Manifesto
Brewer: Perrin Brewing Co., Comstock Park
Style: Black IPA
ABV: 6.2%
Availability: On draft at brewery
perrinbrewing.com


Freedom of '78
Brewer: Shorts Brewing Co., Bellaire
Style: IPA made with pure guava
ABV: 6.9%
Availability: Released in bottles in March
shortsbrewing.com


MMMKAY
Brewer: Shorts Brewing Co., Bellaire
Style: India Pale Lager
ABV: 5.0%
Availability: Released in bottles in July
shortsbrewing.com