Once the beer began flowing in Hudsonville, people started to take notice.
While it had the dubious distinction of being Michigan's last dry city, a title it held until 2007, the Ottawa County town now boasts two growing microbreweries that come highly regarded by the region's craft beer cognoscenti.
Today, both White Flame Brewing Co. and Pike 51 Brewing Co. are expanding to better meet the growing demand for their liquid from thirsty patrons at their tap rooms. They also hope to broaden their distribution throughout West Michigan now that they have more production capacity.
"Our expansion is all to add volume," said Jeff Williams, head brewer at Pike 51 (3768 Chicago Drive), which is doubling its production capacity.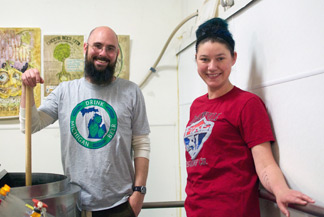 The growth comes as Pike 51 celebrates its third anniversary with a party on Saturday, June 13. The no-cover event will feature a range of specialty beers — including the release of Heavy Soul, a bourbon barrel-aged imperial porter — as well as food and live music.
In its three years, Pike 51 has focused on taking a balanced approach that results in equally balanced beers, Williams said.
"There's nothing too over-the-top," he said. "We try to cover the board with a variety of flavors, so everyone should be able to find something they're interested in."
Mainstays include The Kush IPA, a dank and hoppy American version of the style; Hopnosis, a 7% ABV extra pale ale that has a nicely balanced flavor and a lasting finish; and Sabotage, a hearty milk stout brewed with Rowster Ethiopian coffee. Select brews are also offered to-go in 22-ounce bottles.
When Revue recently visited Pike 51, the tap list also featured an Oud Bruin, a funky, sour-style brown ale, the fourth sour in the company's history. It's a style that Williams, who got his start at HopCat, and assistant brewer Manda Geiger, formerly of Michigan Beer Cellar and The Hideout, have started to experiment with by using wild yeasts and special barrels. Look for another sour pour at the Anniversary Party.
Pike 51 3rd Anniversary Party
What: Bottle release of Heavy Soul, a bourbon barrel-aged imperial milk porter, as well as and one-off beers on tap and specialty wines. Food specials also available. Live music all day.
When: Saturday, June 13. No tickets or cover. Tokens available in the bar.
Where: 3768 Chicago Drive, Hudsonville
More info: pike51.com, (616) 662-4589
Also this month, look for a double IPA collaboration beer with Fermenta — a statewide women's brewing collective — and Holland-based Our Brewing Co. that features all Hop Head Farms hops, Geiger said.
Moving forward, Pike 51 remains focused on getting the word out about its beers and wines — the company first launched as a Hudsonville Winery six years ago.
"We just want to help people realize that we're just fifteen or twenty minutes from downtown Grand Rapids — and we have free parking," Williams said. "We think people will be pleasantly surprised when they get here."
That's a sentiment shared by Bill White, owner of nearby White Flame Brewing at 5234 36th Ave.
"If you work hard and play hard, this is your spot," White said of his growing tap room and the overall Hudsonville beer scene. "We just try to put our best foot forward and make the best beers we can."
White Flame is in the middle of a two-pronged expansion to add a deli-style kitchen and more seats in the taproom, as well as grow into its expanded 10-barrel system. The project should wrap up by August. With the additional capacity, the company also hopes to start doing more distribution of its beers, particularly along the lakeshore.
The company is known for its IPAs, which outsell other styles by a two-to-one ratio, said Head Brewer Andy Steenbergen. Out of 13 taps, nine are usually dedicated to IPAs.
Mainstays include White Shoes, an easy-drinking pale ale with a biscuity malt bill; Ugly Stick, a creamy and roasty oatmeal stout on nitro; Super G IPA, which features floral hop notes and a pleasant, lasting finish; Double Tap, an Amarillo dry-hopped session IPA; and Hooterville Wheat IPA, a beer that balances its hop bill with some witbier characteristics.
Specials on tap when Revue visited included the Hudsonvillian Triple IPA, a delectably hopped-up, yet quaffable IPA, as well as Black Sheep, a malty bourbon barrel-aged black IPA.
Steenbergen likes to experiment, having pioneered a windmill cookie brown ale last year. White Flame is also known for its signature anniversary beer, Black Flame, a bottled bourbon barrel-aged imperial stout made with maple syrup.
The company hopes eventually to bottle one specialty beer each month, "but we're not there yet," White said. To-go customers are still in luck: White Flame sells beer in Crowlers, 32-ounce cans that it fills with beer and seals behind the bar.
For his part, White hopes the added space and food menu and the additional beer will continue to help White Flame find new fans.
"I'm amazed the number of people who live here and don't know we're here," White said. "We just continue to put our best foot forward."
Steenbergen added: "It all comes down to what's in the glass."
Pictured above: Pike 51 Brewing Co. brewers Jeff Williams and Manda Geiger. Photo: Joe Boomgaard