Say you're headed to Chicago but you have some time to kill or you're looking for an escape from your normal haunts and want to check out something new.
The southwest corner of Michigan offers a quick getaway, and more importantly, plenty of beer options.
So. Many. Beer. Options. (And wine and booze, too.)
Because of their proximity to the Indiana border, the beer-making establishments of Southwest Michigan also seem very open to passersby: Their barkeeps stand at the ready to educate and inform, rather than scorn you for not being a local.
And, let's be honest: This part of the state is just a damn nice place to visit. You have the lake towns, the beaches and the dunes. You have the adult beverages. And you have the proximity both to home (West Michigan) and to a major metropolitan area (Chicago).
Several colleagues at Revue agreed that it would be a good idea to take a day off work, set off from Grand Rapids down I-196 and I-94 and see where the journey took us in the pursuit of all that is beer and booze related in Southwest Michigan. (We left out wine and cider, but there's plenty of that, too.)
Joining this writer on the excursion were:
• Kelli Belanger, dog mommy to Koa and Revue ad salesperson extraordinaire
• Nick Manes, devoted lunch aficionado and staff writer at sister publication MiBiz
• Rich Tupica, vinyl enthusiast and managing editor (i.e., bossman) of Revue.
Here's some of what we uncovered.

Tapistry Brewing Co.
4236 Lake Street, Bridgman
tapistrybrewing.com; (269) 266-7349
Growth spurt
BRIDGMAN — There's a famous scene in Apocalypse Now where Robert Duval's character utters a line about how much he loves the smell of napalm in the morning.
In that case, if Lt. Bill Kilgore had the chance to visit Tapistry Brewing, he would find something he liked in the brewery's off-the-wall double IPA known as Heart Full of Napalm, which actually refers to a line in "Search and Destroy" by The Stooges.
Made with Galaxy, Amarillo and Mosaic hops, the beer presents some bold, in-your-face attitude, clocking in at 10 percent ABV, no less.
But really, it's only one of the many offerings from Bridgman-based Tapistry, where chemistry and artistry come together in liquid form.
New Head Brewer Paul Thornes, who moved from Minneapolis this summer and took over for Nate Peck who left to join Michigan Mobile Canning, said he couldn't have joined the brewery at a better time as the company is expanding to meet the growing demand for its beers, which are also distributed around the Lower Peninsula.
The company was launched two years ago by a pair of Pfizer colleagues, Joe Rudnick and Greg Korson.
Cans that reach West Michigan include Mr. Orange, a Belgian witbier brewed with blood oranges, chamomile and rose hips, and Reactor, a 7-percent ABV American IPA made with Centennial, Cascade and Chinook hops.
Special releases — such as Heart Full of Napalm, Burn the Witch (German weizenbock), Hansel (hefeweizen) and Gretel (dunkelweiss) — get sent out in 22-ounce bottles.
While the company may be making a name for itself with its full-bodied double IPAs, Tapistry's other styles need not get short shrift. Check out Foreign Policy stout and Peck's Porter, which won bronze in its category at the 2014 Great American Beer Festival.
With the new equipment, the company also hopes to keep its own 20 taps fully stocked with mainstays, seasonals and one-off beers brewed on its new experimental pilot system, Thornes said.
"It's good beer well done," he said of Tapistry's mission. "We don't care about style guidelines. We drive the styles — we're American craft brewers, after all. We're not chasing the latest beer craze: We do weird beers because we can. Customers' dollars are our metric. If they buy it, we brew it."
As a bonus, Tapistry also features a full menu with sandwiches and daily specials, all of which you can enjoy on the company's outdoor patio during the warmer days of the year.
Go there for: A laugh at the cheeky names for Tapistry's beers. Our favorite: Lt. Dangle, a fruity blonde ale named in honor of everyone's favorite short-shorts wearer on Reno 911. "Our jobs aren't that serious: We make beer," Thornes said.

Greenbush Brewing Co.
5885 Sawyer Road, Sawyer
greenbushbrewing.com; (269) 405-1076
Building a name with bold brews
SAWYER — Scott Sullivan continues to be impressed by the support the four-year-old Greenbush Brewing Co. receives from the beer-drinking public in Michigan, where about 80 percent of its products are sold.
Although it's a common theme among many breweries these days, Greenbush has embarked on an expansion to bring its beers to more people in Michigan and beyond.
The company is opening markets in Detroit and continues to score well with the Chicago crowd, said Sullivan, a co-owner in the brewery with Justin Heckathorn of Grand Rapids.
"Sales just blew up. We had no idea it would take off as big as it did," said Sullivan, a Calvin College graduate.
That strong demand is driving phase one of the expansion project at the Sawyer-based Greenbush, where you won't find a beer less than 6 percent ABV. The brewery offers a full slate of full-bodied beers — no session IPAs allowed.
Favorite mainstays at the pub and across its distribution footprint include Anger (black IPA), Distorter (porter) and Dunegräs (IPA). Fans of barrel-aged beers will have to travel to Sawyer, as those products are only available on tap or in bottles at the brewery.
While the company recently opened the Greenbush Annex across the street from the brewery as a way to offer more seating (including a large outdoor deck when the weather allows) and a place to sell more beer in packages and on tap, production space has remained the pinch point for Greenbush. But that will be helped by the addition of a new 60-barrel system that will allow the company to raise its capacity to 30,000 barrels. It's also adding an 8,000-square-foot warehouse connected to the Annex facility. Plus, there's even more room to grow: Greenbush has 4.5 acres at the site that could be used at some point.
Sullivan said the company wants to move the bulk of the production to the Annex to open up more room at the original taproom and restaurant, which was expanded about a year ago to allow for additional tables.
Speaking of the restaurant, it offers scratch-made food, including house-cooked meats and barbecues.
The success of the brewery has been somewhat of a happy accident for Sullivan, who never thought he'd end up back in his hometown. But after starting a family and enduring the worst of the recession in Chicago, he decided to move back to Michigan. He got "derailed" at home in Sawyer on his way to Grand Rapids and never left.
What he's contributed to, however, is a growing beer scene in the southwest corner of the state.
"For a busy day trip, there's quite a bit of stuff around here to do," he said, rattling off a list of breweries, distilleries and wineries. "There's just an interesting community of oddball businesses here."
Go there for: Sampling the mad-scientist brewers' latest concoctions. Greenbush is not afraid to experiment with fruits and other ingredients like honey. Just have a designated driver lined up. Those bold beers can add up quickly, even if you're stuffing your maw with tasty brisket and pork belly.

Journeyman Distilling LLC
109 Generation Drive, Three Oaks
journeymandistillery.com; (269) 820-2050
Whip it good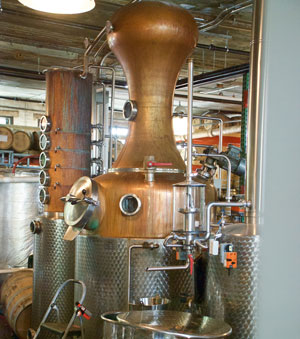 THREE OAKS — Tucked away in an old corset and buggy whip factory a couple of miles away from the Indiana border, Journeyman Distilling offers a firsthand look into the modern craft of makers renaissance.
Owner Bill Welter and his team have converted the late 1800s factory into an attractive drinking and dining hall, where on any given day patrons can witness the company's prized spirits being put into bottles, corked, wax-dipped, labeled, numbered and boxed by a makeshift assembly line of workers.
"I think it's a great time to be in the industry," Welter said. "Our audience is people who are interested in family business and people who are making products, whether that's beer or spirits. There's a real renaissance in distilling right now. It's booming as an industry."
Weekends are the busiest times as Chicagoans make their way through town on day trips or as a quick stop on their way up to Michigan cottages, he said, noting the distillery has a strong draw from a 100-mile circle of Michigan, Indiana and Illinois.
The reason the company has such a following: its award-winning, handmade, organic spirits. Sure, the company's prized Last Feather Rye and Featherbone Bourbon Whiskey are distributed in 12 states and Washington, D.C., but it's an entirely different experience to watch the distilling process and the packaging take place before your eyes.
As a result of popularity of Journeyman's whiskeys and other spirits, the company decided it needed to expand — and in a major way.
The distillery will add a 125-seat restaurant as it expands into the adjacent building to the north and plans to build-out a 500-person banquet hall on the second floor over its existing space that will likely prove popular with the wedding crowd. As part of the project, Journeyman is also adding on to its production space with a still that's five times the size of its current model.
That will allow Journeyman to grow output from 27 gallons of spirits per day to around 160 gallons when the new still is up and fully operating later this year.
The two production stills will bookend the restaurant space so patrons will never be far from the production process, Welter said.
The restaurant will also see an expanded menu focused on Detroit-style pizzas using the whiskey mash bill for the crust, as well as locally sourced foods like vegetables and grass-fed beef.
"We plan to focus on all-scratch cooking," Welter said.
Go there for: Featherbone Bourbon Whiskey served neat. Let the spirit do the talking and enjoy this one on its own. It's made from organic corn, Michigan wheat and "a dash of rye." The result is an incredibly smooth bourbon with the familiar vanilla, spice and savory flavors.

Cultivate Brewing Co.
961 East Shawnee Road, Berrien Springs
cultivatebrewing.com; (269) 422-1324
Farm to pint pioneers
BERRIEN SPRINGS — One of the newest breweries in Michigan also offers one of the best settings in the state: a (small-scale) working hop and barley farm.
Although it's only been open since August, Cultivate Brewing has created a buzz among its fellow brewers in Southwest Michigan, many of whom recommended that Revue carve out some time to stop at the brewery.
That's good news to owner Nick Kuhn, a Chicago native who wanted to create a craft brewery with the feel of a winery. As such, he surrounded Cultivate with the ingredients it uses in its roster of farmhouse-style ales.
"Everyone has heard of the word hop, but what if we get people close to it," Kuhn said of the concept behind his company.
The brewery grows a portion of its own hops on site, as well as maintains a small barley plot. The pub may be located off the beaten path, but the rural, agricultural setting makes Cultivate special in an era when urban breweries are all the rage.
"Other breweries are worried about spatial constraints, but we're on a farm," Kuhn said. "We use just eight of our 18 acres."
Cultivate Brewing had eight different beers on tap when Revue visited in late August. They spanned the typical gamut of IPA, black IPA, porter, stout, saison, brown ale and Belgian strong ale. Kuhn said so far, the brewers have tended more toward the Belgian styles, but they don't purposely eschew other beer types, which may come in the future.
Highlights included the Navigate (IPA) and Imagine (porter). During our tour, we sampled the brewer's stash of an as-yet-unnamed sour ale, which drew resounding praise — even from non-sour fans.
Added bonus: The flights are served on boards shaped like the Lower Peninsula of Michigan.
What's been interesting for Kuhn has been the mix of patrons he's had in his first weeks of being open for business. The tourist crowd has been strong on weekends, but there's also been a good showing from the locals who said they've been waiting for years for a craft brewery to open in their neck of the woods, he added.
That said, the transplant Kuhn still had to contend with his share of skepticism.
"They called me a FIP until they realized I bought the property and was paying taxes," he said with a laugh, which drew quizzical looks from the Revue team over the definition of the term.
As it turns out, natives of Southwest Michigan use the acronym FIP to describe the visitors from a certain nearby state, or F***ing Illinois People.
"I didn't know what it meant either until someone told me," Kuhn said.
Go there for: A relaxing afternoon on the spacious patio and outdoor seating area, complete with a walking trail to introduce you to the elements of the farm. Even better: As long as you stay outside, you can bring your dog.

Arclight Brewing Co.
544 N. Main Street, Watervliet
arclightbrewing.com; (269) 332-0718
Masters of the barrel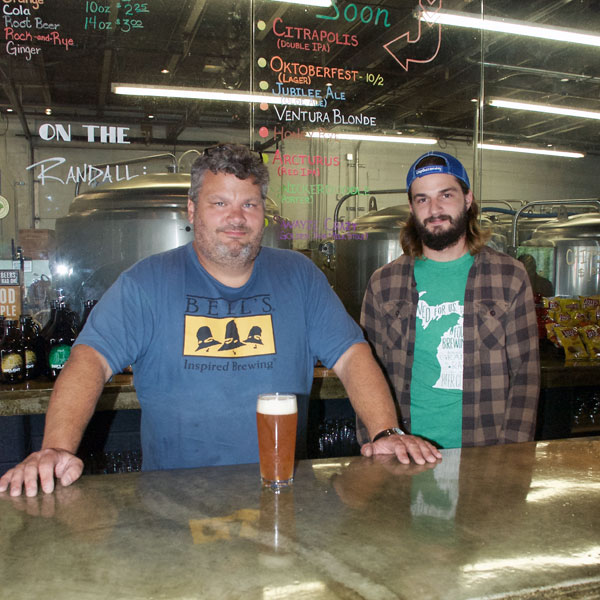 WATERVLIET — Earlier this year, my colleague Nick Manes and I happened upon Arclight Brewing on our way back to Grand Rapids from a luncheon in St. Joseph.
It looked like an old car garage that the owners had turned into a brewery — we were right — and I walked into the establishment to hear some old school metal playing at proper volume.
I knew then that I was home.
But I realized I had been swept away to a magical place when I took my first sip of Hail The Darkness, an Elijah Craig 12-year-old bourbon barrel-aged imperial porter. We were more than impressed by our samples of the Velvet Elvis peanut butter porter and Swayze B. Crazy bourbon barrel-aged golden imperial java milk stout.
It came as no surprise that owner Ed Nash said upon our visit for this report that he was an avid homebrewer before getting into the business. His dad brewed at home in the 1970s in Watervliet and he took up the hobby about six years ago when he lived in Chicago, where he moved after a stint in the military.
When he got laid off in the recession, he decided to head for his hometown and see what he could find there. However, Nash said starting a brewery in Watervliet was not his first choice.
But as he started pursuing the idea, he came to the realization that the location was perfect. The town sat at a crossroads for people heading to Chicago, Detroit or Grand Rapids, plus it was a local market that was not served by a craft brewery. He found the building and a business partner and opened Arclight just over a year ago.
"What's been amazing about coming back is that I wasn't sure if the locals would support us," Nash said.
The brewery doesn't have a single flagship brew, but mainstays include Cream Ale and Black Mere (an oatmeal stout).
Nash and his staff also love sours, and they've begun to unveil them in recent months as the barrel-aged beers become ready. To date, releases have included a kriek and a framboise. Arclight also makes its own sodas that it will gladly make into a shandy with a pour of beer.
Based in a Dodge dealership from the 1940s, Arclight offers plenty of space for patrons at one of the large tables inside, out front on its patio or in the fenced-in beer garden out back. There's also a 50-foot bar made out of poured concrete and wood.
While Arclight currently distributes a few beers at select local accounts, Nash said the brewery expects to start canning and bottling this fall, although he admits it can be tough for his team to keep up with demand from the pub. As such, they plan to ease into packaging in the coming months.
To date, Arclight has also released Hail To The Darkness in wax-dipped 750 mL bottles.
Despite the focus on sours and bold barrel-aged beers, Nash is quick to point out that Arclight has something for everyone.
"We're not snobby," he said. "If we can get people drinking craft beer, it will bring more people into the fold."
Go there for: A rimjob. No, seriously: Arclight will rim the glass of Snickerdoodle Porter with honey and cinnamon sugar. Velvet Elvis, a peanut butter porter with hints of banana, gets rimmed with peanut butter and honey. (Insert joke here about tipping your bartender.)