West Michigan native Mitch Ermatinger brewed award-winning sour beers at Denver-based Former Future Brewing Co. He and his wife, Whitney, have returned to the region with plans to launch Speciation Artisan Ales, an all-wild brewery. The pair are still working to identify a location in Grand Rapids but the plan is to open a taproom for a bottle release one day per month and later expand to weekly hours. In the meantime, Ermatinger is helping Harmony Brewing Co. to launch its own sour program. His key test for how well one of his sours tastes: He has his mom, who's not a big beer drinker, try it. "She's much more open than I am," he said. Ermatinger spoke with Revue about what makes sour beers and wild ales so special.
How did you get into sour beers?
I went to Lost in the Woods at New Belgium Brewing. (The event gets into the history of the brewery's process, how they're made and blended.) It changed my opinion of sour beer. From there, I just got further into them.
What defines these styles?
I don't know how to classify it. It's using wild yeast, but that's a controversial statement. There's no good guideline saying, 'This is a sour.' There's a lot of history behind them. They've been made for 150 years in Belgium. It's been on the palates for a long time. People left sugar water out and it turned into some really funky stuff.
Most of these are sipping beers in that you're looking for nuances and complexity, right?
You can pound a beer like Otra Vez or Bell's Oarsman — when it's good — but sours are all about the experience, everything from the label to the presentation to the color.
Why do you want to brew only sours and wild beers at Speciation?
It's something I can create that no one has experienced before. It's something different on the palate, it's a different experience. And it can be like that forever. With beer, there are a lot of variables, but there's not a ridiculous amount of variation. (An IPA is an IPA.) With sours, they change from year to year. They're the go-to for evolving palates and flavors.
How do you pitch sours to the IPA crazy public?
People will come around to them, especially when they get sick of super hoppy or roasty beers. You can only drink so many imperial stouts.
There's been some controversy in the brewing world about kettle sours, which are soured in the brewing process, versus traditional sours that are aged for years to develop their complex flavors. Where do you fall in the argument?
The bummer about kettle sours is that it's reduced the perceived value of beers like (New Belgium's) La Folie or (Lindemans') Cuvée René when you can get a sour at $10 per six pack versus $10 per bottle. It depends if you value complexity or getting a $10 six pack. But then goses (which are kettle soured) are authentic beers that don't cost a lot to make.
Outside of the uber craft beer nerds, who's a typical sour drinker?
There's a lot of white wine or red wine drinkers who like sours, especially the darker sours. What many people don't realize is that cider and wine have a lower pH than sour beers — they're way more sour.
What's your inspiration when it comes to developing your beer recipes?
I love citrusy, dank hops. They go great with a sour beer.
Taste Test
When Mitch Ermatinger stopped by for the Revue sour beer tasting, he brought along a couple of pilot homebrew test batches as a teaser for what he plans to brew when he opens Speciation Artisan Ales. Let's just say we agree with the exuberance expressed by Jeff Williams, the head brewer at Hudsonville-based Pike 51 Brewing Co., who said, "There's not anyone I'm more excited about opening than Speciation. Mitch's beers are stupid good."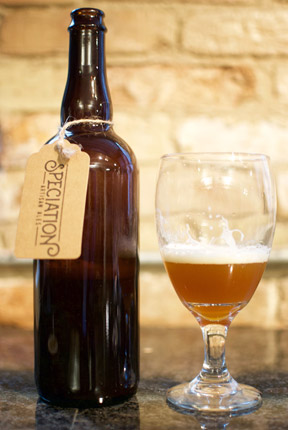 Vicariance
Style: IPA made with brettanomyces and dry hopped with Citra, Mosaic and Rakau hops
ABV: 7.2%
Tasting notes:
This beer offers a slightly different take on the fruity IPA craze of late, only without the addition of actual fruit. It's made using the hops and the yeast to create highly tropical flavors. Vicariance offers some great ripe fruit notes.
Incipient
Style: Hoppy Berliner weisse that's dry hopped with Cascade, Galaxy, Mosaic and Motueka hops and made with malt from Byron Center-based Pilot Malt House
ABV: 5.4%
Tasting notes:
Incipient features a lovely bouquet of hops on the nose. The flavor is earthy, like a cider only with less acidity. It's smooth and citrusy. —Reported by Joe Boomgaard