If your day at the beach gets rained out, there's no need to worry.
Like the rest of West Michigan, the beach towns of Muskegon and Grand Haven have a budding downtown brewery scene that's developed over the last five or six years. Both cities offer a pair of breweries — Unruly and Pigeon Hill in Muskegon, Odd Side and Grand Armory in Grand Haven — that are all within walking distance of each other, not to mention a host of other downtown attractions.
On a gorgeous sunny Friday last month, this writer and the Revue team — aka The Merry Band of Millennials including Kelli Belanger, Rachel Harper, Nick Manes, Josh Veal and John Wiegand — decided to break out of the office to see what each of the breweries had to offer. Here's what we uncovered.
Pigeon Hill Brewing Co.
500 W. Western Ave., Muskegon
(231) 375-5184, pigeonhillbrew.com
Are you down with OCP? Pigeon Hill's popular Oatmeal Creme Pie now comes in cans at retailers across West Michigan, but it pays to go to the source, where you can get it on nitro for that extra creamy kick. OCP is just one of the dozen or so beers Pigeon Hill aims to have on tap at any given time, said co-owner Michael Brower. "We like having a balanced board, not just 10 IPAs. We cover the spectrum with what we know we want to drink. We put the beer first." The laid-back vibe and frequent live music add to the setting, which features roll-up doors and outdoor seating in the summer. "It's just cool to create a culture here. This is more than just a place to drink."
What The Millennials Said:
John: Walter Blondale really stood out to me. It was easy-drinking but full of flavor with mild fruit undertones.
Josh: Renegade is maybe the most-drinkable DIPA I've ever had. It's not too malty despite being a double, and has a lot of citrus from the West Coast hops.
Nick: I really liked the Skeeter On My Wheater. It was very easy-drinking, along the lines of Oberon but I thought it was quite a bit better.
Rachel: For me, it was the Oatmeal Creme Pie (OCP), especially on nitro.
Kelli: As someone who is not normally a fan of double IPAs, I assumed Renegade DIPA would knock me on my ass, but I would definitely drink this beer again.
Editor's Pick: The Besto Bohemian Pils satiated my traditional European beer vibes with a true-to-style light and malty Czech pilsener that had the right hop kick.
Unruly Brewing Co.
360 W. Western Ave., Muskegon
(231) 288-1068, unrulybrewing.com
Eric Hoffman loves the freedom in brewing everything from sours to hoppy double IPAs to barrel-aged stouts. The brewmaster and owner aims for full-flavored offerings regardless of style that are true to Unruly's devil horns logo. That ethic translates into its taproom as well, which it shares with pizza slingers Rebel Pies and the Drip Drop Drink coffee house. There's a stage, as well as TVs and games to keep everyone busy. "We wanted something to feel like you're not in Muskegon, but maybe a larger city," Hoffman said, noting the taproom has frequent live music and vinyl nights. "We just offer a really cool atmosphere, good beers and something for everybody. We want people to have fun." For extra summer revelry, Unruly plans to install a sand volleyball court across the street, complete with bar service. Bump, set, spike!
What The Millennials Said:
John: I dug the punk/counterculture vibe they had going on. The Farmer's Daughter pizza was on point. Beer wise, I especially liked the barrel-aged RJD.
Josh: RJD (Ronnie James Dio), a bourbon barrel-aged Russian imperial stout, proved surprisingly balanced for a barrel-aged beer and not overwhelmingly boozy. It had a decent amount of vanilla and a nice, full body.
Nick: Go for the Downtown Mike Brown Hoppy Brown and 60 Second Lover Red IPA.
Rachel: I liked the Tropic Thunder DIPA and the 60 Second Lover — and the punk vibe.
Kelli: I don't discriminate against beers with citrus or tropical notes, so naturally I enjoyed the Revel Rouser West Coast IPA, made with only Michigan hops.
Editor's Pick: The Tropic Thunder DIPA comes Les Grossman approved and is sure to make you want to put the booty of a Swisha at the end of a flame.
Odd Side Ales
41 Washington Ave. Suite 160, Grand Haven
(616) 935-7326, oddsideales.com
Tucked away in the corner of an old piano factory, the mad scientists at Odd Side Ales like to throw convention to the wind. "We're definitely not a traditional brewery," said Reid Warber, the taproom manager. "We're outside of the box — it's in our name. Don't ever expect to have a normal beer here." As such, the taplist ranges from bourbon barrel-aged hazelnut stouts to sours to fruited witbiers, as well as IPAs, Belgians, coffee blondes, and everything in between. As much as the brewery focuses on variety, it also wants to create an inviting atmosphere at the taproom — one without TVs to distract patrons. "It's really conducive to people hanging out and talking," Warber said.
What The Millennials Said:
John: The Beer Jito was a little heavy on the lime but I like that, and it proved to be relatively easy-drinking for being a uniquely flavored beer. Also, I'm not an IPA guy, but The Implication was on fleek.
Josh: I don't even know what to say about The Implication. It was just unlike anything I've ever tried before. Even the nose was heavy.
Rachel: So many beer choices! I had to have a Bean Flicker because it's one of my absolute favorites. The Brainy Day Brown was also pretty good.
Kelli: Prepare to pucker! Sour Grapes was my favorite beer on the tour. Anyone who is a wine and cider drinker will likely enjoy this crisp, tart ale.
Editor's Pick: You'll go to Odd Side to have a beer and one of them you hardly know — a 13-percent ABV triple IPA — will catch your attention and you won't be able to leave before you have one. Because of The Implication. But don't worry, Dennis says no one's in any danger.
Grand Armory Brewing Co.
17 S. 2nd St., Grand Haven
(616) 414-7822, grandarmorybrewing.com
Growth has come quickly for Grand Armory Brewing, as founders Ben Tabor and Ryan Andrews say they've hit year three of their business plan in just 18 months in operation. The new Grand Haven brewery is the yin to their neighbor's yang, providing mostly historically accurate styles with a hint of DIY homebrewer innovation. "We wanted to add diversity to Grand Haven's craft beer scene, and we're sticking to the script," Andrews said. Tabor added: "Grand Haven has been a pit stop, but we want to create a culture where it's a destination for craft beer enthusiasts to stay." Part of the attraction is the historic space the taproom occupies, which features the original YMCA basketball court wood floors and reclaimed Brunswick bowling alley lanes turned into tables. The brewery shares the space with several other businesses, including Righteous BBQ and Aldea Coffee.
What The Millennials Said:
John: The Goddess Blood, a blood orange and citra-hopped IPA, was hella good, as was the Espresso Milk Stout.
Josh: Hanky Pank Citra Wheat was my favorite from Grand Armory. The citrus, spices, wheat and hops were balanced perfectly for my tastes, resulting in a complexity you usually don't see with this style.
Nick: The beer was pretty good all around, especially the Goddess Blood.
Rachel: Favorite beer, hands down, was the Dewey Hill Amber on Fire with serrano and ghost peppers. The beer had a great taste and a slow burn.
Kelli: I was already sipping on a deliciously amazing java concoction from Aldea Coffee when I tasted the Aldea Espresso Oatmeal Stout. It was the smooth and refreshing jolt I needed after a day of beer sampling.
Editor's Pick: Don't gas up the joint on your way to the bar to pick up a Crop Duster, an all-citra hopped American IPA.
---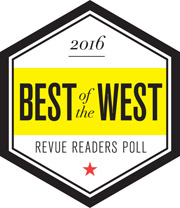 What's your favorite brewery in West Michigan? Nominate/vote for it in Revue's Best of the West Readers Poll! revuewm.com/bestofthewest