Oberon from Bell's Brewery served as a gateway for many drinkers entering the world of craft beer.
It's an approachable wheat ale that's become synonymous with summer and warm weather, even though it gets released in March around West Michigan. The Revue beer-tasting team gets why it's so popular, even if we're not the biggest fans of the beer — or the style, for that matter.
But we wondered how the iconic Oberon would hold up to some of the other offerings from West Michigan breweries that loosely fit into the same style profile. So we put on our flip flops and rounded up eight potential rivals for a blind tasting to see which could be crowned the king of summer wheat beers.
Here's what we determined.
Highly Recommended
Kamikaze Kaleidoscope
Dark Horse Brewing Co., Marshall
This new 5-percent ABV "friendly summer wit" ale is brewed with peels from lemons and oranges to give it fruity and citrusy flavors. However, the beer leans more toward nuance and balance than anything over-the-top. You also get some nice fruity esters similar to a Belgian style, a testament to the yeast used to brew the beer. When poured, it looks like cloudy orange juice, and the body also delivers thanks to the use of wheat. It's a refreshing summer wit that even beer nerds would enjoy.
Score: 88
Oberon
Bell's Brewery Inc., Galesburg
Yes, the gateway craft beer that helped make Bell's a common name held up to the blind tasting, finishing a close second. Oberon is admittedly not a beer that any of the reviewers seek out with any frequency for a variety of reasons, but it scored well for its body and obviously refined, balanced flavors. There's enough citrus and hops to make it interesting and it's balanced enough (although somewhat high in ABV at 5.8 percent) to be crushable on a summer day.
Score: 84.25
Recommended
Magic Trick
Gonzo's Bigg Dogg Brewing Co., Kalamazoo
This beer pours a hazy orange/yellow with a thick white cap. The aromas are that of a German-style hefeweizen with some fruits and esters of banana and clove with a slightly thin body. A couple of panelists detected a slightly sour note at the front end that balanced with the taste of fruity orange zest. It's a 6-percent ABV summer sipper.
Score: 79.75
Sunspot
Greenbush Brewing Co., Sawyer
This hefeweizen pours darker than the others in this test. It had a distinct aroma with esters of banana and clove and a hint of spice. The yeasty notes carry over into the flavors, albeit with a slightly vegetal finish.
Score: 70
Whango
Atwater Brewery, Detroit
The aroma was all tropical gummy bears, and lots of them. Some tasters liked it, but others loathed it. This mango witbier leads with fruity flavors that come across as slightly unnatural.
Score: 66.75
Nicie
Short's Brewing Co., Bellaire
This pale American wheat ale promised hints of peppercorn, but it delivered on that flavor by the barrelful. As such, it overpowered other orange and citrus notes in this beer. Most of the panel couldn't imagine peppercorn being a refreshing flavor, but fans of pepper or spice beers might disagree.
Score: 64.5
Also Tasted
Grapefruit Wheat
Odd Side Ales, Grand Haven
While there was some citrus in the nose, the flavor was rather bland and subdued with a weird finish one panelist described as chewing on a grapefruit peel.
Score: 56.75
Whitsun
Arcadia Brewing Co., Kalamazoo/Battle Creek
It looked the part, but the flavors did not sit well with the reviewers, a couple of whom noted it had an oddly bitter and sour aroma. Perhaps that came from the coriander, which people seem to either love or hate.
Score: 36.5
Starburst Wheat
Saugatuck Brewing Co., Douglas
When poured, this looked sudsy and foamy with the color of honey. The aromas suggested a hoppy character with citrus notes, but the flavor took on an old bubblegum character.
Score: 34.25
--
Editor's Note: This story has been changed from its previous version to list the correct the name of Magic Trick at Gonzo's Bigg Dogg Brewing Co.
---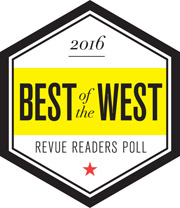 What's your favorite beer, brewery, and new brewery? Nominate/vote for them in Revue's Best of the West Readers Poll! revuewm.com/bestofthewest