A new brewery is breathing life into a long-vacant former furniture showroom on Plainfield Avenue in Grand Rapids' burgeoning Creston neighborhood. Launched last month by two couples — Vince Lambert and Cailin Kelly, and Scott Schultz and Molly Bouwsma-Schultz — Creston Brewery aims to bring an inclusive environment to the local craft beer scene with something for people of all backgrounds and tastes, including non-beer lovers.
The latter point is evident at first glance of the beer menu, which describes the drinks by ingredients, flavor, color and taste, not traditional styles like IPA, stout or porter. In addition, the beers mostly lean toward the sessionable varieties, with responsible alcohol content for people who still need to drive home. Revue sat down with Lambert to hear more about the concept and the vision behind Grand Rapids' newest brewery.
How did you decide to open a brewery?
We started two years ago from idea to now opening the doors. Scott has been a brewer for 10 years. He started at the Hideout and brewed in Chile and then at Founders for four years. He got to the point where he wanted to open his own brewery. Our wives were good friends. Cailin knew I wanted to open a business. I have a finance and business background. They connected us and said, 'Hey, one of you has the brewing skills, one of you has a finance and business background.' Cailin and Molly are community organizers. So it seemed like the perfect recipe for us to create a place where we all wanted to hang out — something that's not your conventional brewery.
Did you find something in the current scene lacking?
We wanted to create an inclusive, welcoming, neighborhood place that really represented the city. We came up with this unique idea: Let's create a real loving culture, a loving environment that's creative and artistic. Not to knock other breweries, but we're not in your typical warehouse style (facility). We wanted to showcase the beauty of the neighborhood and the history of the building.
The beer seems rather unconventional, too. How do you describe Creston's beers?
Scott's philosophy is that he doesn't brew to styles. So he doesn't start out saying, 'Today, I'm going to brew a pale ale.' He works backwards and says, 'All right, I want this beer to have a tropical aroma, a medium body with some grapefruit notes, and I want it to finish dry.' … Sometimes, it starts to blur styles together.
I noticed they're mostly on the lower end of the alcohol range. Was that intentional?
We only have one beer over 6 percent alcohol. We set out to have our average stay around 4.5 or 5 percent. We like to drink beer, and we like to drink beer all day, really. … I think our beer is so approachable and so well done that it's not offending anyone. People can expect to enjoy low-alcohol beer in a way that a lot of craft breweries aren't offering.
Since you started planning the brewery two years ago, the scene has grown quite a bit in West Michigan. How do you think your timing will work out?
CRESTON BREWERY
1504 Plainfield Ave. NE, Grand Rapids

Open: Seven days, 11 a.m.-midnight
Menu: Latin American street food, $6-$9
crestonbrewery.com
We feel the timing is perfect. We set out to be a neighborhood brewery. … I think a lot of breweries are opening up with the business model of trying to get on Meijer shelves from the beginning, trying to can and bottle. We just said, 'Let's start with a 20-barrel brewing system that's big, so that we can have a really big taproom, and let's focus on the neighborhood.' Our focus is pretty small. We think we can do very well and do very well for our entire team here if we can make delicious beer, good food and keep seats full. It's a big neighborhood.
You're making a fairly big bet right out of the gate with a 20-barrel system. That's bigger than Cedar Springs Brewing and about the size of Brewery Vivant. Why take that risk?
With our concept of anchoring ourselves in the community, we're hoping we can go through a lot of beer here. Especially when you can go through it fresh and we're using all these aromatic hops, if you can get people drinking it off the tap, it's just such a better beer than when it's sitting with a distributor for a few months before it hits the shelves.
Turning away from beer for a second, talk a little bit your Latin American-inspired menu.
We have a full food menu. Intentionally, when we started this, we wanted to have this be a real nice lunch place, and we don't want it to be real expensive. All of our menu items are $6, $7 or $8 — there's nothing on the menu more than $9, actually. It's all made from scratch.
Given that Molly and Scott are both well-known from the local band Vox Vidorra, how did music play into the Creston concept?
People can expect to hear great music. All of our music is curated. We all collect vinyl, and we're really into Motown and soul music and old-school R&B. You're not going to hear Top 40 on the radio.
At the start, you mentioned creating a sense of inclusion and community. Do you think craft beer has a bad reputation in that regard?
Yeah. We're trying to do our best. The 25- to 35-year-old white male is definitely the demographic who drinks the most or is in the most breweries. The thing is, I think more and more people are drinking craft beer, and we're trying to use music as a big uniter. We're trying to use lower-alcohol beers as a big uniter — and our staff. I'm in a mixed-race family, and Scott is too. So we're trying to just be authentic to ourselves and bring people around that we like to be around.
---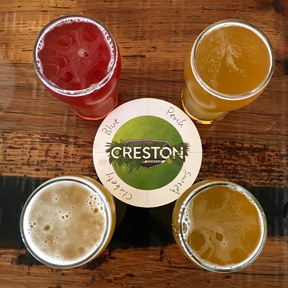 Tasting Notes: Creston Brewery edition
Fox Deluxe (6.67% ABV)
Creamy textures with some hints of grain and light hop flavors that really pull through on the finish.
The Great Log Jam of 1883 (5.78% ABV)
A distinct coffee bitterness with chocolate malty notes and flavors of roasted grain. A smooth, light-ish stout.
Grale (4.9% ABV)
An ode to tropical hops. Plenty of fruity hops with mango notes and a touch of bitterness. Dangerously drinkable IPA.
Koala Bear (4.2% ABV)
A coffee blonde style ale with a creamy finish that manages to be smoother than many of the established players. Oddly refreshing for a coffee-heavy beer.
Blueberry Sweet Street (5.0 % ABV)
Wheat beer with subtle flavors from the Michigan blueberries. Eye-pleasing color.
Peach Clickety Clack (3.6% ABV)
Subtle hint of peaches that manages to be fruity, but balanced. Certainly an entry point for non-beer drinkers.
Sweet Street (5.0 % ABV)
A citrusy wheat beer with fruity hop notes. The flavor starts somewhat unexpectedly, but has a pleasant finish.
Clickety Clack (3.7% ABV)
The use of German-style yeast comes through in this beer, with its slightly tart/sour notes. A great beer for a hot summer day.