If there's a strong desire for craft beer, the ever-growing business for beer merchandise is just as ravenous. Spring boarding from T-shirts, sweatshirts and hats, breweries' offerings have spilled over into lifestyle accessories and novelty items including (believe it or not) underwear.
"It's a simple way to represent your travels and beer adventures," said Jon Ward, experience warden at Brewery Vivant. "It's like wearing a hat or jersey from your favorite band or sports team."
This visual cue is a conversation starter, a touchpoint in communication that brings people together. Oh, and it's brewery marketing gold.
"When you see somebody away from the pub representing the merchandise, it's great," said Nick Lockman, Short's Brewing Co.'s merchandise manager.
Beer lovers want to answer questions about their favorite breweries and make recommendations. It's also about loyalty if you ask Leeza Spear, merchandise manager at Unruly Brewing, whose edgier, more rock 'n' roll-style wares have an avid following. Essentially, it's their way of being the hype boy or girl for where (and what) they're drinking.
"Customers come in and feel they're a part of the brewery," Spear said, adding that "craft beer drinkers are very loyal."
Whether it's a badge of honor or a form of street cred, grabbing brewery keepsakes is a special reminder of your travels. Reminiscent of carving your name or initials in a tree, there's a form of ownership that stays with you long after your last sip at the bar.
"It's the great experience and great beer that makes people want to take something home so they can remember it," said Jesse Den Herder, creative director at Short's. "It's buying something you can't get from a normal retail store. It's a second experience with a souvenir vibe."
Successful merchandising creates a feeling of excitement around it.
"For me, personally, I love that we create art prints for every single beer," Den Herder said. "We put a lot of care in being able to showcase the brewery. It's another way for people to connect with us and our story."
Brewery Vivant saw a huge jump in merchandise sales that corresponded to a beer tourism spike when Grand Rapids was named Beer City the first time. Ward stocks what's new and innovative, picks interesting colors and sticks with tried and true items, all without getting too gimmicky. Vivant offers ceramic steins with the company's logo, along with handmade wooden steins, some with antler handles.
"I brought in some sunglasses recently because I had a great conversation with a lady who buys them at every brewery she can," Ward said. "They have been selling really well."
Ultimately, it's about that warm and fuzzy — or in this case, cold and foamy — feeling you get inside when you put your beer goods to use.
"To me, it's more about having a collection of things that are linked to fond memories," Ward said. "(Like) a beery version of a record collection."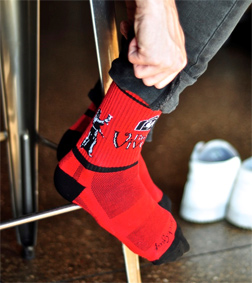 BREWERY VIVANT:
If you're rocking cool kicks, your socks better have game too. These bad boys are made in the U.S.A. and show the world your brewery of choice. $12.
A soccer scarf is the perfect thing to keep you warm in the coming seasons. $20.
If brews and bikes are your thing, check out the Borah Cycling Jersey. This custom-made jersey (also available in women's) is relaxed and club cut, not quite as form-fitting as a racing jersey. $80.
SHORT'S BREWING COMPANY:
Shower beer, anyone? The handcrafted and moisturizing Key Lime soap is inspired from the Key Lime experimental ale made with fresh limes, milk, graham crackers and marshmallow fluff. $5.95.
The hoodie of your buzzed dreams, this Michigan zip hoodie shows your love for your state and for Short's Brewing. Stay super comfortable while cradling an Autumn Ale and staring deep into the flames. $49.95.
UNRULY BREWING:
A hat is the easiest way to show your brewery solidarity. You can't miss the Unruly trucker hat in crisp black and white with a snapback (one size fits all). $12.
Rock out with custom guitar picks in three styles: thin, medium and heavy. $1.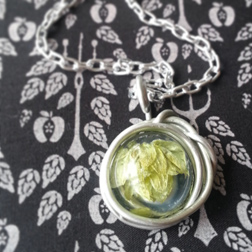 BREWERY FERMENT:
A cold one in your hand and an even cooler attraction on your wrist, Brewery Ferment's hop cufflinks are encased with real Michigan hops with gold or silver findings. $30.
Adorn yourself with a necklace featuring real Northern Michigan hops inside. This statement piece is wrapped with silver colored aluminum wire on a thin, silver-colored link chain. $30.
FOUNDERS:
Represent hardcore with the red plaid cap depicting the Dirty Bastard label art. $20.
PERRIN BREWING:
Current mood: sweatpants. Take comfort in lazy loungewear that reminds you to get out of the house and do something — like drink beer! $35.
Pack a cooler of beer and head out to the water with a brightly colored beach towel that boldly displays your love for grapefruit IPA. $48.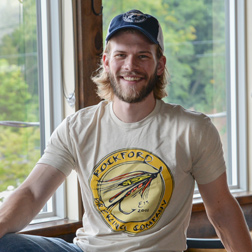 ROCKFORD BREWING:
Can a shirt make you want to go fly fishing and drink beer? The Rockford Brewing staff recommends their great-fitting T-shirt, but they can also recommend the perfect beer. Notice the hat, too. $19.