If the West Michigan craft beer and hard rock community had a superhero, it would have to be Sharkman. By day, he's a mild-mannered husband and father who runs a painting business. By night, he dons his old-school denim jacket laden with dozens of patches, puts on his mirrored shades, slips on a few skull rings and goes "Shark Style," spinning vintage metal and classic rock from his sizable collection of LPs.
Sharkman spins every Thursday night at Our Brewing Company in Holland, and appears frequently at Unruly Brewing in Muskegon. He's been DJing hard rock for four years, and his passion for both craft beer and hair metal has made him something of a celebrity — some breweries have even named brews after him.
Born and raised in West Michigan, Sharkman picked up his nickname in high school for his rowdy ways, and for a while he was a professional skateboarder and rollerblader. The loquacious DJ took some time on a sunny Saturday afternoon to answer a few questions.
Are you more passionate about heavy metal or craft beer?
That's so hard, because they go good together. That's why I do it! I would have to go with heavy metal, because I'm really steeped into that. That's part of my legacy, growing up with heavy metal. Craft beer comes second to me. That's probably why I don't make it.
What do you think heavy metal and craft beer have in common?
Beer and spirits all go with the music scene, because a lot of the guys that wrote that music in the '60s, '70s and '80s, they were on something when they wrote those songs. The best songs were written because they had a glass of bourbon or beer by them while they were writing. And you can't go to a bar and just sit there and drink beer. There's no life to it! You have to have the music to have the beer.
What's your favorite beer or beer style at the moment?
I love IPAs, and right now my favorite IPA is from Stormcloud Brewing Company. They're a little bit newer, and they came out with this 31 Planes IPA, and I really like that. Another one is from Revolution Brewing Company (in Illinois). The IPA they make, that is a tasty beer. But I always like the Our Brewing beers. They make a Careless Whisper beer, and it's like drinking tulips with that smell. It goes with Holland so well.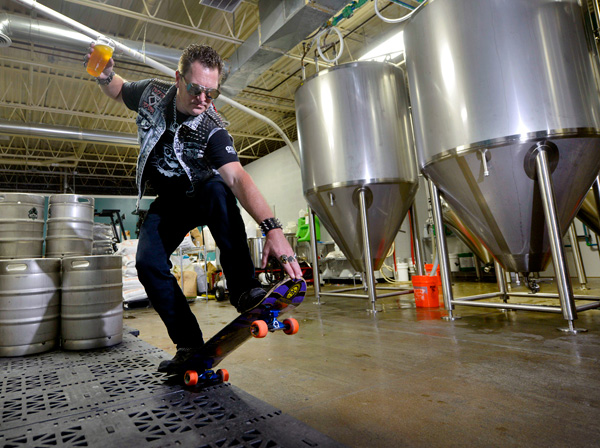 If you could bring any band to the brewery, who would it be?
I would like to see Cinderella. That would be a band I'd love to see. I saw them in '89, in Grand Rapids, and I'd love to see them play at a brewery. It's funny about Cinderella — I have that patch on my jacket. And I had a young lady came up to me, she goes, 'Gosh, you like Disney World?' She thought that Cinderella patch was something I bought at Disney World!
What are your favorite West Michigan breweries?
Perrin Brewing Company in Comstock — John Stewart is the head guy over there. I like that place. Perrin Brewing is one I really recommend. And Mitten Brewing Company, Max Trierweiler and Chris Andrus run it. That is a nice, clean company. And Harmony Brewing Company, that's got a great atmosphere to it as well. Gravel Bottom is another one, in Ada. That's a tasty little place to hang out. And Brewery Vivant, that's one I would definitely put up there. In Holland, of course, there's Our Brewing Company — of course that's my favorite here. Saugatuck Brewing Company is awesome. And if you go into Muskegon, Pigeon Hill and Unruly are great guys.