Tucked away in a nondescript strip mall in Holland's Beechwood neighborhood, Brewery 4 Two 4 takes experimentation to the max.
That's somewhat out of necessity, since the brewery produces its beer on a tiny half-barrel system at its 321 Douglas Ave. taproom.
But for owners David and Erin Miller, the opportunity to experiment in small batches — and fill 19 taps — hit at the heart of what they loved about the craft brewing industry.
"With a really small system we can't do a lot of anything, but we can do a lot of different things — we do so many different batches," said David Miller, noting how the small batch sizes allow the brewery to rotate different ingredients to see what people like best.
Brewery 4 Two 4's small production runs also provide motivation for area drinkers who suffer from FOMO, or the "fear of missing out," to make regular stops into the taproom because the tap list changes so frequently.
The tap list typically runs the gamut of blondes, IPAs, Belgians, saisons, stouts, fruit beers and underappreciated styles like the ESB. Brewery 4 Two 4, which opened June 30 last year, also serves ciders and hopes to add wines in the near future.
"People always ask, 'What's your niche? What are you guys trying to do?' It's something for everybody," Miller said. "We like to think that if you can't find something on our boards that you want to drink, you probably just don't really like alcohol."
Some of the most popular beers have been Brewery 4 Two 4's hazy New England IPAs like Juice Weasel and Problematic Reasoning, as well as its "Breakfast" series of imperial coffee stouts, which include Breakfast in Istanbul (hazelnut), Breakfast in Maui (coconut) and Breakfast in Mexico (spiced with nutmeg, vanilla beans, cocoa nibs and pasilla peppers). Another beer in heavy rotation is the aptly named Crazy Putin, a Russian imperial stout brewed with lactose.
In the spirit of making something for everyone, Brewery 4 Two 4 also offers a solid take on the American light lager, Let's Play 2, which clocks in at 5.2 percent ABV. While it's intended for the people who ask for "the closest thing you have to Miller Lite," Let's Play 2 also serves as a solid session beer.
"It's light, it's easy, it's crushable. If I'm hanging out here and I'm drinking 9-percent (ABV) stouts, I'm not going to be super functional, but I can have two or three of these during the day and everything is cool," Miller said.
The brewery's simple space features what Miller describes as a "coffee house feel" that fits the company's understated nature. There's no loud music or live bands — just a chill atmosphere for patrons or a place for family and friends to kick back and talk.
Brewery 4 Two 4 — named for the last three numbers of its ZIP code — will also package any of its beers in 16-ounce cans for the ultimate take-home mixed pack.
As the company continues on its quest for experimentation — Miller mentioned an upcoming gin barrel-aged saison and bourbon barrel-aged version of Crazy Putin — it aims to keep trying new twists and innovate on its small system.
"If we go more than two weeks and don't brew a new recipe, that's pretty rare," he said. "We definitely have limitations due to our size, but that's the one big advantage due to our size that we can try different stuff. We try to take advantage of that as much as we can.
"There's not many advantages to brewing on a half-barrel system, but one of them is that you can do whatever the hell you want."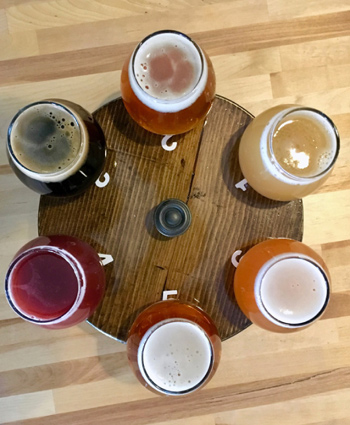 Editor's Picks:
Juice Weasel: Brewery 4 Two 4's take on the NEIPA craze does it as well, if not better than some of the more hyped Michigan breweries. (The double NEIPA Problematic Reasoning even would compare favorably to national standouts.)
Cryo-Belgian IPA: A soft mouthfeel typical of the style, which features a balanced hit of citrus from the cryo-mosaic hops and hints of bubblegum befitting a Belgian. Definitely unique.
Very Berry Pie: A fruit beer that succeeds in the mixture of sweet/tart flavors without being cloying. It's very jammy because they use "a ridiculous amount" of real berries — no extract allowed!
Let's Play 2: A solid "drinking beer" with the crispness of a light lager that also features enough maltiness and grain notes to keep it interesting.