For our annual beer issues at Revue, typically we like to kick back and contemplate the state of beer with lighthearted coverage — beer face-offs, niche stories and such.
In 2020, with a pandemic running amok, racial injustice unearthing centuries of strife, and a polarized political climate nearly tearing at the seams, it would feel a bit flippant to ignore the issues affecting the industry and the world writ large.
We love drinking beer, but it's important to think about it too.
Thus, we started thinking about City Built Brewing Company, a pillar of the Grand Rapids beer scene that's been putting its eggs in all the right baskets. There's the beer series that showcase trendy styles while supporting local artists. There's the collaborations and connections to organizations supporting disenfranchised youth, students, teachers, and more. How about the insanely tasty food menu that highlights an underrepresented cuisine? All this is anchored by Ed Collazo's leadership of a staff that's striving to grow internally, while spreading the wealth to the community.
When it comes to what makes craft beer great right now, it felt like a no brainer to check in with Collazo to learn about how his vision for the company translates into a better future for beer. Judging from our conversation, today may seem bleak but the way forward looks bright.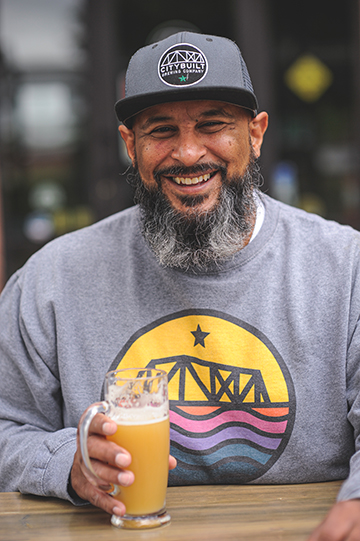 Powered by Puerto Rico
For most of his life, Collazo has felt like a fish swimming against the stream. A teen when he moved from Defiance, Ohio, to Michigan, Collazo came to this state kicking and screaming. As the son of two parents raised in Puerto Rico, he didn't bump into many kids like himself at his Jenison high school, and while he laments the slurs hurled from horrible people, it's his heritage that helped shape him into the man he is today.
"My parents divorced, and my mom married into a German family, so my life experience was pretty diverse," Collazo said. "I spent time farming, milking cows, baling hay. Not many people who look like me did that, where they were part of the family and not hired hand."
While his upbringing gave Collazo the work ethic and brawn to outthrow Hulk Hogan in a keg-tossing contest, it was his years as a financial advisor at Northwestern Mutual that instilled an intuition and business acumen necessary for piloting his own ship. Collazo naturally works rooms like a butterfly, but his former career taught him the Red-Letter Language required for convincing investors to buy into his dream.
"I've got Jedi mind tricks," Collazo said. "Don't roll away when they say no. Make them say no three times."
He laughs, but the strategy obviously worked. He might describe the groundswell of support as a combination of kismet and good fortune, but between snafus with construction and difficulties early on with fundraising, it seems more accurate that persistence and grit are what pulled them through.
In May 2017, City Built opened its Monroe Avenue taproom, replete with a 10-barrel system and a draft list featuring delicate, almost tea-like beers that separated from the pack of hop-bombs and super-stouts dominating beer geek palates. A sleek atmosphere speckled by verdant greenery also offered a softer answer to the breweries popping up everywhere with Edison bulbs and metal seats. The food too was an immediate hit, with recipes straight from Collazo's test kitchen.
"The goal was to eat like Puerto Ricans eat; you have a protein, a starch, a salad," Collazo said. "Super simple, but we thought, hey, let's put some tacos on the menu just in case."
Then one quarter, Collazo checked the numbers and saw they'd sold roughly 35,000 tacos. (I probably accounted for 5,000 of those — they're that good.) Still, he remains unworried that his craft brewery has become half taco joint. In fact, Collazo sees this synergy between kitchen and brewery as the boon that's brought an increasing number of fans into the taproom each year. In 2020, City Built was poised to make some moves
We're all well aware of what happened next.
Surviving the COVID-19 Storm
Life in the time of COVID-19 has been a doozy. As business owners reckon with a pandemic, the virus has at best stymied plans for growth and at worst forced some of our most beloved bars and breweries to shutter permanently. Fortunately, City Built is surviving, but not without some pain. The staff at one point plummeted from roughly 50 employees to five, with Collazo volunteering sans salary to help keep the lights on. With on-premise sales providing a majority of the bankroll, putting dine-in service on hold presented a host of problems.
"We were having a banner quarter, then everything just turned off," Collazo said. "All the trepidation and questions about COVID made for hard conversations around here. As fast as we could make plans, everything would change."
The most clever improvised ways to adapt. Head chef Kyle Murray devised Li Grand Zombi, a Creole-inspired ghost kitchen that took advantage of back-of-house space going unutilized. The rotating menu of Big Easy treats, from gumbo to fried catfish, has unquestionably brightened the lunch hour at home. Even so, curbside pickup can only Band-Aid a wound so big.
"People are retraining themselves in how they drink and how they go out. I'm not sure how that's going to play out long-term," Collazo said.
Another way City Built has pivoted is in its emphasis on packaged beer, with taproom releases that have drawn some serious attention.
Hype Beer Brings All the Boys to the Bar
If you look at the Michigan breweries selling out online can releases in less than 10 minutes — Arvon, Wax Wings, HOMES — there's a thread between the styles that disappear; pastry stouts, hazy IPAs and fruited sours are the currency of the craft beer hype beast. Where some breweries' stabs at these styles come off as perfunctory grabs for market share, City Built's concepts are designed to inspire. Nowhere is this more apparent than with two of the most recent beer series: Fibonacci Sequence and Crown Series.
The first is a set of adjunct-heavy stouts that tested the effects of boil times on beer by following a divine string of numbers. With ABVs that creep into the high teens, they're the perfect potions for quarantine naps. The next, Crown Series, paid homage to hip-hop legends Run the Jewels, with a collection of hazy IPAs and a sour that even made it onto Killer Mike and El-P's radar.
"It's a hype beer, but man we're telling a really cool story and supporting artists through it. That's exciting to me," Collazo said.
These stories were brought to life in large part by local artists/muralists Kyle DeGroff and Elliot Chaltry, who have truly upped the ante for the aluminum canvas. See them to believe them: The holographic labels are as engrossing as a painting from Hieronymus Bosch.
Also, the liquid inside is just plain delicious. Into the Haze for example: An Imperial New England style filled with a bill of boutique hops, it could go toe to toe with anything from New Hampshire. With flavors of overripe mango and citrus, it tastes like a round-trip flight from Hawaii to Fiji. Collazo doesn't see these fruit-forward, sweeter styles going anywhere any time soon.
"I see the trend toward unbalanced, untraditional, opposite of old school," Collazo said. "Even though I like a really good lager and a West Coast IPA, I put a hazy IPA up against those and it sells three times as fast."
Some might scoff at the subversion of these more traditional styles, yet the accessibility of these trendier beers could open the door to a wider range of drinkers who might be turned off by stuff that tastes like grass. The proof is in the cooler. You'll want to stock up on what's left, fast, before it's gone for good.
A Push for Inclusivity
Garrett Oliver, craft beer luminary and brewmaster at Brooklyn Brewery, recently commented on how craft beer's race relations might not be quite as kumbaya as people imagine. While this isn't to say the beer community isn't filled with predominantly kind, open-minded people, Oliver talks about running into a pervading mentality: Here's our tent, everybody come. It doesn't necessarily work like that. There's a sinister side that seeps through the cracks when not kept in check by those brave enough to speak up.
"I think I have a skillset that allows me to chameleon into areas where they treat me like I'm one of the good 'ol boys. Then they say something, forgetting that I'm really not," Collazo said. "There's a big disconnect between the beer world as a whole and people of color — and I think my responsibility is, when I see it and I'm given a chance to talk, say something."
City Built spoke up recently with its participation in the Black is Beautiful project, an initiative helmed by Weathered Souls that invited breweries to brew a beer and donate 100% of the proceeds to local foundations. City Built was able to make significant contributions to Lifequest Ministries and Grand Rapids Urban League. This is one of the multitude of causes Collazo and the team have joined, to affect change where they see a need.
Beyond conversations about race, Collazo recognizes the discrepancies between genders in the workplace. He described a time when he was hanging out with Whitney Ermatinger, co-owner of Speciation Artisan Ales, at a craft beer conference. Fans would approach her looking for Mitch, her husband, and completely snub her when they learned he wasn't on-premise. If this sounds like an innocuous anecdote, these instances where men are treated like the stars and their female counterparts are relegated to the shadows are hardly rare.
For craft beer to grow, it can't dismiss huge swaths of the population and should instead act as a steward to those who may feel shut out. Collazo intends to continue leading by example.
"City Built gives me a platform. I'm 100% Puerto Rican and my culture exists here in GR, but it's in the corner. We wanted to make our culture, our flavor, mainstream. I wanted people that look like me to have a nice place to get something familiar."
And yet, at its core, City Built aims to remix ideas, making the strange familiar and the familiar fresh and bold. They join the growing number of breweries resisting monocultural, industrial beer with strength through diversity. There's momentum behind their vision to pursue excellence in all departments.
In the next decade, expect breweries to be stealing plenty of pages from their playbook.