Come fall, our blood type is Pumpkin Spice Latte. Fans will be happy to know there is more than a reasonable amount of pumpkin spice-inspired fashions and products for local consumption. Whether you're a cup-a-day girl or partake occasionally, we've gathered some stores and items that hear your rally cry and take the movement seriously.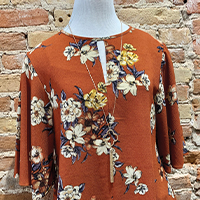 Add some spice to your look with this pumpkin-colored flutter-sleeve blouse. With a slimming cut and keyhole detail, this piece is a fall go-to that can balance casual denim and dressier skirt looks. This delicious piece is available at Lavender & Lace in Lowell for $52.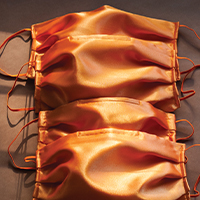 This tangerine-orange satin mask delivers six layers of protection, including two layers of water-resistant linings. The bendable nose form offers a snugger fit on this machine-washable, dryer-safe accessory. Style and safety — available at iconoclasp.com for $10.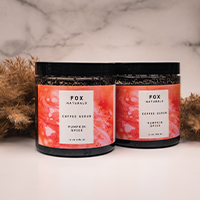 When you're already drinking all the PSL, slathering it on your body seems like a good idea too. A nice Pumpkin Spice Coffee Scrub is the exact beauty product to kickstart the season and get that smell you crave. Fun fact: This item is made with local coffee from Corridor. The scrub is the morning jolt you need and it's available at Fox Naturals in Grand Rapids for $17.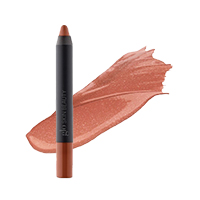 This Cream Glaze Crayon from GloSkinBeauty features high-shine color and a luxuriously glossy look in the Praline shade we're obsessing over. This product offers intense saturation and staying power and is enriched with vitamins as well as conditioning mango oil and shea butter. Grab the color of the season, available at About Face in Grand Rapids for $22.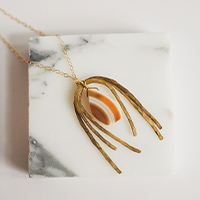 Is it us or does this handcrafted necklace have a PSL vibe with a dollop of creamer added? The piece from Third & Co. Studio features a multitude of repurposed and recycled components including a 14k gold-filled chain. The beverage-inspired swirls of copper and grey hues in the pendant come from the raw agate stone, while the hammered brass arches dangle and twirl. This rare necklace is available at Iris Boutique in Grand Rapids for $62.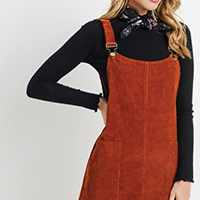 Nothing says "autumn style" like a corduroy dress. It's sort of a cozy, seasonal calling card and the color captures the essence of a deep pumpkin spice shade. Add booties and a black turtleneck underneath and you're good to go straight to the local pumpkin patch for a photo shoot. Get the look at Harris & Willow in Muskegon for $42.