We've all had a little extra time at home this year, and with that time your home improvement list probably grew quite a bit. Maybe you want to switch out some old paint colors, or maybe you want to give your kitchen a top-to-bottom makeover.
Whether your redesign project is big or small, it can feel overwhelming figuring out where to start, who to turn to, or what colors, furniture and wallpaper will work for your space and taste.
We spoke with two of our favorite local designers, Autumn Fuchs and Jessica Crosby, to figure out what 5 questions you should ask yourself to get your redesign started and breathe fresh life into your home.
Jessica Crosby: Owner/Director of Interior Design & Staging
Delight In Designs
5426 Northland Dr. NE, Grand Rapids
delightindesigns.com
1. How do I find the right team?
The idea of remodeling your kitchen or even just changing out a paint color can be overwhelming (there are literally over 3000 shades of WHITE). Hiring the right designer that takes the time to really get to know you, your family, how you live in your space and what elements of décor can showcase your space is vital — so that your home welcomes you.
Interview your designer and don't be afraid to ask for references. As you interview your designer, ask how they handle a project that goes bad. The answer lies in how they worked with their clients through the difficult times and informs you on what to expect. The drama on HGTV where they find black mold under the shower floor is real and how the designer deals with this is a true test.
2. What's my design timeline?
While we're talking about HGTV, those shows are fantastic for ideas and inspiration, but they are not so fantastic when it seems like they knock out an entire home renovation in 21 days. A good designer will walk you through a realistic timeline, what is expected and what snags might get in the way.
As a homeowner, your job is to be patient. Add a week (or two depending on size of project) on the timeline given so you can plan accordingly. COVID-19 is adding even more time to projects. Do the designer a favor and be patient. Do yourself a favor at the same time and stay calm and keep on.
3. How do I figure out my budget?
Take time to research, even if it means heading to the big box stores or spending some time online researching your style and cost involved to achieve the look you want. A good rule of thumb for a kitchen remodel is 15% of your total home value, for a $300,000 home that is a budget of $45,000.
A good designer will walk through budget with you, but you'll want to have a good foundation for what you want to spend on your project. I also recommend keeping some funds for contingency. Remember that black mold I talked about earlier? Set aside 2% of your projected allowances for the unexpected.
4. What can I do to avoid mistakes?
Mistakes can be costly. Designers can help you save time and money because they have done the legwork for you. Designers have surrounded themselves with the best talent out there and will guide you in choosing the right professionals for the job.
5. How do I make it fun?
Keep your sense of humor. Things often don't go as planned and (redesigns) are a super stressful process. Find a healthy way to let off steam. You have got to be able to laugh off the little things, and if the going gets tough — try to visualize the end result.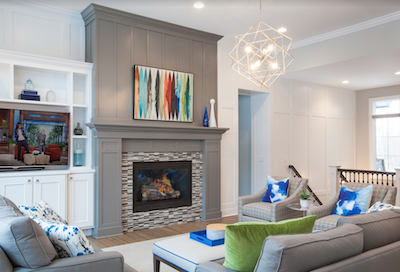 Autumn Fuchs: Owner/Interior Designer
Fuchsia Design
6157 28th St. SE Suite 11, Grand Rapids
fuchsiadesign.com
1. What's working in this space?
2. What's not working?
First and foremost, a space should function for those living in a space. These two questions are important to evaluate what's working in a space and why, so you can better understand what should be changed to improve functionality.
3. What is my timeline?
Especially during this pandemic, determine if there's a hard deadline you're working toward. Many trade professionals are already booking into the spring and we're seeing long product lead times due to manufacturing plants being shut down for weeks/months. As a result, projects are taking longer right now. Determining your desired timeline is important to discuss with any professionals you may hire to determine if it's attainable.
4. What is my budget?
Perhaps the most important thing to ask yourself is what is your maximum budget. If you're renovating your home, it's not uncommon for unexpected expenses to pop up throughout your project. Make sure your quotes don't exceed 90% of your total budget to allow for wiggle room when unexpected costs arise.
5. Does my space feel like home?
Oftentimes, we get caught up in creating a space based on trends. Farmhouse décor, shiplap and neutral palettes are common in West Michigan homes right now. As you're thinking about renovating, it's important to evaluate if current design trends accurately depict you and will give you a space that feels like home. Trends are temporary. Ignore them and do what you love!