When it comes to music festivals, there are your average festivals and there is The Gathering of the Juggalos. Let's be honest about this. If you are a summer festival junkie, the lineup at Bonnaroo, Lollapallooza, Coachella, all starts to become pretty interchangeable, with a few notable exceptions. The Gathering of the Juggalos, or simply, The Gathering, is in a world all by itself.
Insane Clown Posse, also known as ICP, acts as the flagship act on Psychopathic Records. Having been around since the early 1990s, ICP has by far the largest discography and represents the largest fan base amongst the Juggalos. The members of ICP often refer to themselves as the most hated band in the world. Their lyrics are full of sex, drugs and violence, and their fans eat it up. Because ICP is the most hated band in the world, the Juggalos, by extension, often consider themselves the most hated people in the world. There really is no way to tell what will happen when 20,000 of them gather in the woods for four days.
The Hog Rock Camp Grounds (site of Gathering) is full of activities and places to explore and hang out. One of the most discussed places is Drug Bridge, which, really, is many things. It's something of a center point on the grounds, so if you are camping in one of the further out areas, you have to cross the short bridge over the trickling creek. It's also something of a communal meeting area. If you have to meet someone at a specific time, saying 5 p.m. at Drug Bridge is as easy as it gets. But mostly, Drug Bridge is an open-air drug market. For the four days of Gathering, you can go to Drug Bridge 24 hours a day and literally get any drug you could ever imagine. The better business people will all let you "try before you buy." The existence of a similar environment anywhere else in America is hard to fathom.
Another aspect of the Gathering is the amount of misogyny. Juggalo culture is clearly male-dominated, and "show your t*ts" and "where can I find some Juggalettes to f*ck?" are near-constant calls. During the afternoons, when there is little music going on, there are events such as Women's Oil Wrestling, lingerie contests and the infamous Ms. Juggalette competition, most of which are hosted by famous male porn star Ron Jeremy, who, by the way, only seems to wear a sweat suits and Crocs™.
One of the most frightening aspects of attending Gathering is the Juggalos' hatred of the "mainstream" media. Much of this comes from a desire to keep their scene away from the corporate executives at record labels, radio stations and network television. The Juggalos also seemed to think that every member of the press was working for TMZ, who has not exactly been favorable to Juggalo culture, mostly after a much-discussed incident involving Tila Tequila in 2010. This led to quite a bit of harassment thrown toward the media. It mostly came in the form of constant, "Hey media, why don't you get the f*ck out?" This harassment led to eventually having to hide press badges, only using them when necessary.
Perhaps what is most interesting about this harassment of media is that it can be pinpointed to a single moment. On Friday afternoon, Violent J and Shaggy 2 Dope, the two members of ICP, gave a "seminar," which was basically a press conference open to anyone. One of the issues J and Shaggy touched on was increased media presence at The Gathering this year. J informed the Juggalos that there is increased media and that this is a good thing, as it is a sign that the world is finally starting to take notice of the Juggalo movement. J's statement, while accepted (or whoop-whooped) by some of the crowd, was met with open hostility and boos by many.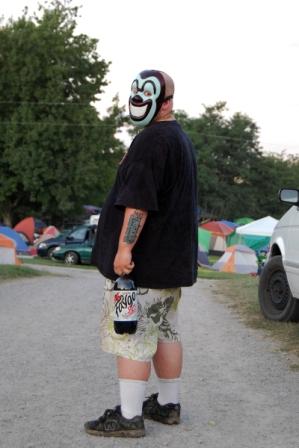 While quite a bit smaller than many festivals of similar attendance (one large stage, one smaller stage and a handful of tents with the ability to hold a few hundred) the lineup, particularly on the main stage was phenomenal. Of non-Psychopathic-acts performing, each night had at least one must-see. These included famed rappers like Ice Cube, Tech N9ne and E-40. Godfather of funk, George Clinton also performed to great acclaim. In proper Juggalo fashion, the crowds, who often boo rather than whoop-whoop, and throw water bottles and empty Faygo two-liters on stage, greet many of the non-Psychopathic acts with hostility. With the exception of Friday night performer Juvenile, nearly every act won over the crowd with their energy and showmanship. Even Sunday night performers Mystical and Xzibit, who had the honor/challenge of playing prior to closer ICP, showed the juggalo crowd that they indeed are part of the "family."
The Psychopathic acts were great as well. One of the best acts of the weekend was Blaze Ya Dead Homie, whose catchy rhymes and gangsta beats made some non-Juggalos consider going Juggalo for a time. However, in the end, ICP unsurprisingly brought the house down. The duo's energy is simply unmatched, and its five-minute Faygo Drench-a-Palooza to "Bang Pow Boom" is something that has to be experienced at least once. Just don't wear clothes you care about.
Juggalo culture is still a mystery, and appears full of contradictions. However, their loyalty to family is something that has to be seen. The Juggalo "family" operates as tight-knit groups who really do often look out for each other. If one is short on some money, others from the family will do anything they can to support the other. When one Juggalo steals from someone within the family, others will chant, "You f*cked up," until the possessions are returned. But at the same time, when a group of Juggalos want to start a giant fire on the final night, they have no problem grabbing random tents to keep their blaze going.
But do you have to be a Juggalo to attend Gathering? The short answer is, of course, no. However it is hardly meant for everyone. If you find constant nudity and drug use objectionable, it probably is not the best for you. If you can get past those aspects, and are just simply curious to experience one of the weirdest events in America, you will find many Juggalos friendly and open (you will find an equal amount hostile and threatening to kick your ass). In the end, Violent J himself may have summed it up best when he said, "[The media] is trying to put their finger on us, but they ain't never gonna understand us."
Photos: Mary Sjaarda