Get your Irish on this month with these festive events before and during St. Patrick's Day. Or if you'd rather avoid the crowds, check out this list of fine session beers to drink at home.
Fonn Mor
Bell's Brewery, Kalamazoo
March 7, 9 p.m.
$6, 21+
bellsbeer.com, (269) 382-2332
Fonn Mor puts on an exciting Celtic show with a modern twist. Down a couple craft brews and dance all night to some fiddle, accordion and drums. Before Fonn Mor takes the stage, enjoy traditional Quinn Irish Dancers. They'll show you how some real Irish dancing is done.


St. Patrick's Day with Peat in the Creel & Belfast Gin
Kalamazoo Valley Museum
March 13, 7 p.m.
$5, All ages
kalamazoomuseum.org, (269) 373-7990
Milk the holiday for all it's worth with two lively Celtic bands taking the museum stage Friday, the night before most festivities really kick off. Don't party too hard with these eclectic bands, though. You still have the rest of the weekend to celebrate.


St. Patrick's Party at Michigan Irish Music Festival
Fricano Event Center, Muskegon
March 13 & 14, 5:30 p.m.
$6 at door, 12 and under free
michiganirish.org, (231) 683-2065
McGovern's corned beef, Irish dancers and performances from Seamus Kennedy and Finvarra's Wren come together to make one huge and unforgettable Irish party with more than 2,000 attending last year. Food, beer and TWO silent auction are all back as well. Tickets available at the door.


St. Patrick's Day Weekend
The Curragh Pub, Holland
March 14, 12:30 p.m.-close
March 17, 4-10 p.m.
$5 (March 14), Free (March 17)
curraghholland.com, (616) 393-6340

Drink specials and giveaways all day with THREE Irish bands playing at the pub: The Moxie Strings, Paddy's Cure and Peat in the Creel, followed by a DJ bumpin' modern jams until close. Stop by any time to take part. Return to Curragh on St. Patrick's Day at 4 p.m. for FREE performances by An Dro and Peet in the Creel and more drink specials and giveaways.


GRBC's Annual St. Patrick's Crawl
Grand Rapids
March 14, 7 p.m.
$42
grbarcrawl.com, (616) 802-2950
The Grand Rapids BarCrawl goes green for a pre-St. Patrick's Day celebration. Drink your way across the city with a crew of like-minded libation lovers.


Nessa, Celtic Band
Howmet Playhouse, Whitehall
March 14, 7:30 p.m.
$10 adults, $5 students
howmetplayhouse.org, (231) 894-4048
Sit back and take in Nessa's new twist on Celtic classics at the Playhouse. Legendary flute skills and an improvisational backing band reinterpret classics out of the U.K.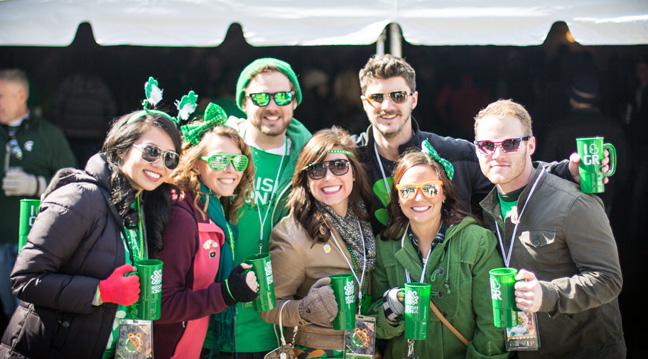 Irish On Ionia 2015
Grand Rapids
March 14, 7 a.m.-11 p.m.
$15 general admission, $25 O'Malley ticket & $55 VIP ticket
irishonionia.com
The St. Patrick's Day street party that we've all been waiting for is back! Hosted by McFadden's Irish Saloon, this year, the party will start on Ionia St., downtown Grand Rapids, MI and stretch from Oakes to Fulton & Weston to Commerce. Come and eat, drink and join thousands of others as they take to the streets to celebrate St. Patrick's Day.Go hardcore by purchasing a VIP ticket and receive 22 oz drinks for the price of 12 oz all day! Local bands Stone Clover, Paddy's Cure, The Tosspints and the Waxies will be performing live, as well as a performance by the Ardan Academy of Irish Dance.


St. Patrick's Day Party with Moriath
One Trick Pony, Grand Rapids
March 14, 6 p.m.
FREE
onetrick.biz, (616) 235-7669
Enjoy some classic Irish meals, Guinness in a glass and bagpipes along with Moriath's bright, contemporary take on the time-honored Celtic classics.


St. Patrick's Day Saturday
Saugatuck Brewing Co., Douglas
March 14, 8:30-10:30 a.m.
$17, $15 for pint club members
Kids 12 & under $8
Evening performance is free
saugatuckbrewing.com, (269) 857-7222
Enjoy a traditional Irish breakfast while listening to live music by Dalraida. Stay through the evening, and see Soltre taking the stage at night. Select Irish beers are $3 all day.


Traditional Irish Hooley and Wearin' of the Green Parade
Fenian's Irish Pub, Conklin
March 17, 10:45 a.m.
No cover charge
feniansirishpub.com, (616) 899-2640
Celebrate with Fenian's Irish Pub, self described as "the friendliest people on Earth" for its 28th Annual "Wearin' of the Green" Parade. Line up at 10:45 a.m. on North Main Street and work your way over to Fenian's Irish Pub for a traditional Irish hooley. Live Irish music, session and song will continue throughout the day.
Drinking? You best not be driving. Click here for a list of cab companies in your area.