Danny "K"AE, the Daniel Johnston of rap, is coming out of retirement in the woods of Alaska to play the Gathering of the Juggalos in Thornville, Ohio in July.
"K"AE is an eccentric recluse from the '80s who in a compelling Metro Times profile in 2012 by Psychopathic flack Jason Webber was revealed to count Kid Rock and ICP among his fans.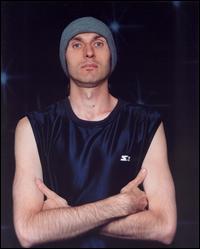 "All music is formed by hip hop because they sample all of it," K"AE announced in this five-minute interview from 2010. He also infers that he was an influence on KRS-One's "Self Destruction" single in 1989 and claims that Eminem "is an admirer of mine."
His LinkedIn entry also says he was asked to appear in a Drew Barrymore film and a Nicolas Cage film. Sadly, IMDB doesn't indicate he made an appearance, at least under his name.
Expect big things from "K"AE at the Gathering. He wouldn't want anything less.
More on Gathering of the Juggalos:
You should know that Rolling Stone cites the Gathering of the Juggalos as one of Summer 2015's "Must See Music Festivals." Now that's an about face from the '90s. Are Juggalos are cool these days?
Here's a snippet from Rolling Stone's two-star review of 1999's The Amazing Jeckel Brothers from Juggalo heavyweights Insane Clown Posse:
"More domineering than downtrodden, Shaggy[2 Dope] and [Violent] J are, by contrast, bullies who brag in big, nasty wrestler voices about killing cats and stuffing them in mailboxes — a cool activity if you're young or psychotic enough to be consuming vindictive vigilante fantasies dressed as rock & roll. Don't believe the tripe."
In light of that literary mean muggin', the props for the Gathering from the ultimate establishment music mag is the next step toward the mainstreaming, and understanding, of the Juggalos.
Here's a line from the latest Rolling Stone Gathering preview: "The lineup might be top-heavy, but the people couldn't friendlier and the side attractions remain the season's most unique …"
Disparaged for decades by music critics and culture vultures alike as lowbrow or worse, Juggalos have confused onlookers while habitually being able to have a good time all the time.
And that's not an easy task today, especially when the FBI and any number of local law enforcement jurisdictions consider Juggalos to be part of a street gang.
Gathering of the Juggalos
July 22–26
Legend Valley, 7585 Kindle Rd., Thornville, Ohio
All of the drama takes a rest for four days every summer when the Gathering is held, a well-organized free-for-all of summertime indulgence.
The 16th annual Gathering runs from July 22-26 at Legend Valley, a 120-acre site just outside of Columbus, Ohio. The cops are laid back, the parking is easy, camping is available and the Juggalos are as friendly as puppies. And they will offer you weed and booze. Feel free.
Headliners announced at press time include Twiztid, Puddle of Mudd, Flosstradamus and a host of bands from Psychopathic Records, the label operated by Insane Clown Posse, which also operates the Gathering.
Cruising on ICP's latest LPs, The Marvelous Missing Link (Lost) was released April 28 and The Marvelous Missing Link (Found) is set for a July drop. No surprise here: ICP is playing the Gathering.
There are also comedians, second stages, wrestling matches, pre-dawn DJ parties, contests and sideshows that make an old-school carnival look pathetic. Think skin suspension and body modification that would make Jim Rose proud.
Patrons also dig into walkways full of vendors selling smoking supplies, tattoo and piercing services and adult novelties.
There will be no booths, banners or stages from American Express, Samsung, or Sephora, all of which were among the corporate sponsors of Coachella in April. Nor will Miller Lite, esurance, AT & T, IFC, Mazda, McDonalds or Pepsi be part of the Gathering, as they were at South by Southwest earlier this year.
"We learned a long time ago that we have to do this all," says Rob Bruce aka Jumpsteady, a honcho at Psychopathic Records. "If we were to put the Gathering in someone else's hands, it wouldn't be what Juggalos or we want. We have no Red Bull stage. It's truly underground in the purest sense."