A Grand Rapids DJ and the Grand Rapids Symphony are adding a little sparkle to the standard "little black dress."

Todd Ernst (pictured below) recently teamed up with the Grand Rapids Symphony in order to create a one-of-a-kind piece during the Little Black Dress party at the Grand Rapids JW Marriott this Saturday.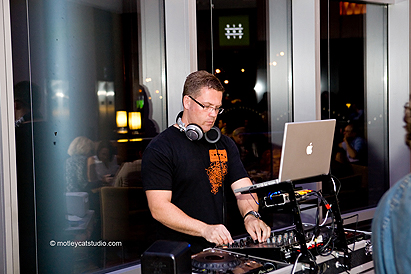 In honor of the upstart organization, Culture & Cocktails -- which will be hosting its membership launch party within the LBD party -- Ernst and a five-person symphony accompaniment collaborated to create a five minute symphonic techno piece that will play at 10:30 p.m.

Culture & Cocktails is a new organization to encourage millennials to attend the unique cultural and arts events in Grand Rapids.

"The idea is for me to compel you to ask the question," Ernst said in regard to the interpretive piece.

For the piece, will Ernst DJ on the landing of the JW Marriott's staircase, as well as conduct the Symphony, which will cascade down the stairs.

The Little Black Dress party is an event that was created for Valentine's Day, but you don't need a Valentine in order to attend.

"How do you a Valentine's Day party that includes everyone? You make it about fashion," Ernst said. "Put on your little black dress and bring your A game."

The Little Black Dress Party starts at 8 p.m. on Feb. 13, is free and will feature additional entertainment from Ernst and guest DJ Jim Thias.

Looks like the electronic-symphonic hybrid may pop up in the near future again, as SuperDre also posted on Facebook that she had met with the Grand Rapids Art Museum's Ed Clifford about a "collaboration of DJ and a string section" at the GRAM's March 5 event.
PHOTO: Shot by Tim Motley, courtesy of Grand Rapids Social Diary.