If Grand Rapids' local music scene is like one big family, then garage rock trios Bermudas and Flushed are like long-lost sisters, separated at birth.
Both bands are releasing albums this Friday, April 8 with a shared release show at Long Road Distillers. The new material will be available on cassette via Grand Rapids-based label Hot Capicola Records.
"It's like giving birth to twins," said Flushed lead vocalist/guitarist Lena Trinket.
Her band's debut full-length, Care Less, is coming out alongside Bermudas' EP, Sour, in the same night. Both bands recorded with Pat Wieland (of GR band Lazy Genius) and had their recordings mastered by Matt Ten Clay (of Amber Lit Audio and rock band The Howlers).
"We had kind of been holding off on playing with Flushed because we wanted the show to be super special," said Bermudas bassist Charity Lytle. "We thought this was a great opportunity with us both releasing something to do a show together in this kind of venue and make it kind of like a special event."
Lytle has also worked with Trinket and Flushed bassist/vocalist Bridget Nicole Rose as volunteers with the nonprofit organization Girls Rock!, which works to empower young girls and women in music. The three have become close due to their common goals and values, so it just felt natural to share their release night together.
"Making and releasing this tape has been so fun for us, and the fact that Bermudas are releasing a tape at the same time just means double the fun," said Flushed drummer Alisa Stone.
Bermudas and Flushed
wsg. Best Exes
Long Road Distillers, 537 Leonard St. NW
April 8, 8 p.m. doors, 9 p.m. show
21 and older, $7 advance, $10 day of show
Facebook event page, (616) 228-4924
Before Flushed, Trinket and Rose began their musical careers by playing together for two years in their band The Doctors' Wives.
"I had a vision for a project. I wanted it to be all girls, [with] lots of soft vocals and fuzzy guitar tones," Trinket said.
She consistently daydreamed about bringing the project to life. Then, one night, while out at her favorite watering hole, Trinket asked Stone if she played any instruments. Stone said no, but that she always wanted to learn the drums.
"She was In. Chosen," Trinket said.
The two began to jam together, and went on to form Flushed with Rose in 2014.
Describing their sound as power-cute, noisepop garage, Flushed began working on their first full-length last summer.
"The album was originally just supposed to be a quick 'n' dirty demo tape so that we had something to show people what we sounded like," Stone said of the band's mix of poppy, lo-fi and punk songs. "We recorded all the instruments live in one night in our smelly old warehouse practice space. We ended up liking the process so much and [got] so excited about how it sounded, that when it came time to record the vocals, we decided to put more time into it and really get it right."
In a similar way, Bermudas approached their new EP in an equally DIY fashion, cranking through the recording of the five songs in around two weeks.
"We like to use local people in town, people who are looking to test out their recording skills on us," Lytle said of working with Wieland and Ten Clay. "I feel like you can hear our growth as musicians through all of the releases that we've done."
Formed in 2010, Bermudas began with Lytle and guitarist/vocalist Dennielle Russ. Sour is the band's second EP, following 2014's Visitor EP and an early split release with GR band Soft Act.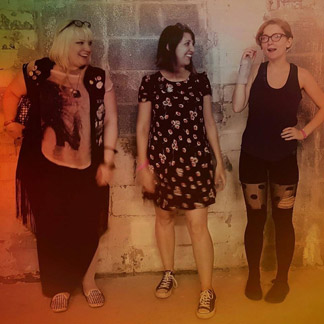 "When Charity and I were first [starting the band], just a couple drummers ago, a lot of our songs had a surfy rock sound to it, and I think originally that was something that kind of matched," Russ said about the band's tropical name. "We talked about how we could spell Bermudas like Brr-mudas, because Michigan's cold, but that was quickly kiboshed."
They've gone through a few drummers since then before adding Chris Kleinman on drums in April of last year.
"Doctors' Wives was around for a long time, and we've kind of started to become a band that's been around for a little while as far as life expectancies of local bands go," Russ said. "So, in my eyes, it's cool because we almost have some veteran musicians getting together, with Flushed being their new project. And with Chris being a new addition to the band, it's kind of like a rebirth for us too."
While both bands cited shows with longtime Grand Rapids heavy-hitters Cosmonaut and Paucity as among some of their favorite gigs, Russ said one of her band's biggest highlights came when they released their last EP, Visit, at Mexicains Sans Frontieres two years ago.
"I just remember we did a cover that night, 'Lovefool' by The Cardigans, and everyone was really getting into it," she said. "At one point [I was] just looking up and people were standing on kitchen counters just to be able to see because it was so packed in there."
For Flushed, it was a unique crowd that stuck out most in their memory.
"One of the most memorable show experiences was when we supported the Girls Rock! Grand Rapids bands at the Gerald Ford Presidential Museum for a free museum event," Stone said. "Playing to the public standing in line for something unrelated, not to an audience who are there to see you, is a pretty unique and funny experience — I remember a toddler dancing his little heart out, while an elderly lady plugged her ears behind him."