With our Best of the West competition now running strong in its fourth year, one of the most fascinating bits we find when looking over all the results is the rise of career artists and newcomers alike.
In the local music categories, five winners repeated their top spots from last year, with community radio station 88.1 WYCE and vinyl record institution Vertigo Music cementing their places as the solid foundation for listeners, performers and collectors here in West Michigan.
Massive music venue 20 Monroe Live also dominated once again, with its third year of operation bringing even more big name acts to our area, and offering unique concert-going experiences year-round.
Likewise, the experiential Electric Forest Festival reclaimed its title as the most beloved music fest in West Michigan. Even though the EDM-heavy event dropped from two weekends to just one this year, the sold-out crowd and undeniable pull of the enigmatic forest itself prove it remains a highlight on the concert calendar for fans year after year.
But here at Revue, we couldn't help but notice a few surprising come-from-behind wins and stand-out debuts as well.
Hard-rockers Trixy Tang jumped from third place to first in the best Original Band category, while also holding on to a solid third place finish in the best Cover Band category. The throwback rockers plan to release a new album on Sept. 7 at Elevation (inside The Intersection), so they could well be on their way to becoming another perennial powerhouse.
Kalamazoo music ambassador and one-woman-band Megan Dooley also jumped from third to first this year, becoming one of the only non-Grand Rapids-based winners on our list, and breaking a string of third-place finishes for the longtime favorite. She tops an all-female top three in our Best Solo Musical Artist category, alongside last year's winner GR rapper Lady Ace Boogie and former Vox Vidorra frontwoman Molly Bouwsma Schultz, who just released a strong solo debut this past June.
Appearing on our winners list for the first time ever this year are GR funk-rock band Melophobix, and DJ Matt Vail, who also plays bass in our second-place cover band Project 90, proving just how wonderfully interconnected our music scene continues to be.
Check out the rest to see if any of your favorites made it onto our list this year!
Cover Band
1. Brena
brenaband.com
2. Project 90
3. Trixy Tang
Original Band
1. Trixy Tang
trixytang.com
2. Jesse Ray and The Carolina Catfish
3. Melophobix
DJ
1. AB
everythingab.com
2. Super Dre
3. Matt Vail
Radio Station
1. 88.1 - WYCE
grcmc.org/wyce
2. 97.9 - WGRD
3. 93.7 - B93
Music Festival
1. Electric Forest
electricforestfestival.com
2. Founders Fest
3. Festival of the Arts
Solo Musical Artist
1. Megan Dooley
facebook.com/mdooleymusic
2. Lady Ace Boogie
3. Molly Bouwsma Schultz
Music Venue
1. 20 Monroe Live
11 Ottawa Ave. NW, Grand Rapids
2. Pyramid Scheme
3. The Intersection
Vinyl Record Store
1. Vertigo Music
129 S. Division Ave., Grand Rapids
2. Corner Record Shop
3. Dodds Record Shop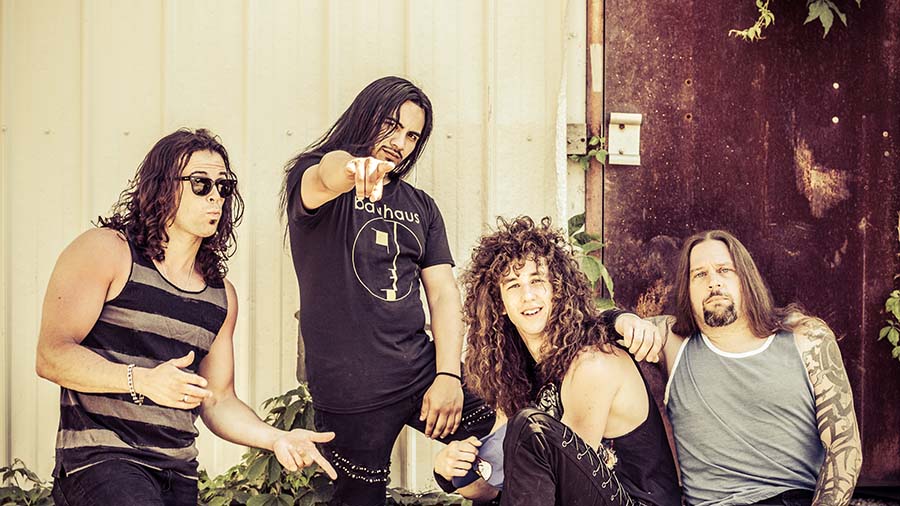 Trixy Tang. Courtesy Photo
STAFF PICKS
DJ
Super Future
With the local EDM scene absolutely exploding, it's surprising that some of the rising talent has yet to crack our list. Super Future, a.k.a. Nick Rowland, embodies so much of what's happening right now — and what's next — with a distinct style that bounces from hard-hitting trap to hypnotic world-beat. Co-founder of the Samsara Family collective in 2017, he has quickly built a community of musical collaboration and personal connection that transcends the dance floor. It doesn't hurt that all his stuff is straight fire too. Look out for next year, as he and his friends could light up our list. — Eric Mitts
Original Band
Desmond Jones
Fresh off a triumphant debut performance at this year's Electric Forest Festival — and ahead of a huge show celebrating the vinyl release of a second full-length album (Aug. 24 at Elevation inside The Intersection) — GR jam band Desmond Jones is ready to make a lasting name for itself in the local music scene. From rock to jazz to funk to country and more, the group continues to master its already impressive live chops, while delighting a variety of new audiences all around town. Building a loyal fan base, with residencies at places like the Tip Top and tour treks around the state and the country, there's no telling where they'll go next. — Eric Mitts
Music Festival
Lamp Light Music Festival
Intimate and inimitable, there's nothing else quite like the Lamp Light Music Festival. Expanding from the houses and living rooms of Grand Rapids' Eastown onto the stage of the Wealthy Theatre last fall, this fest replaces the sweaty heat of many popular outdoor summer music festivals with the comforting warmth of the autumn season. A great way to experience a lot of the local music scene up close, Lamp Light continues to shine brighter as it embraces even more diversity and accessibility in its already inclusive environment. For those who like to listen close, and listen with their heart, don't miss out on this one. — Eric Mitts