Rock bands with any sort of depth tend to sprout from unorthodox beginnings. The Ramones perfected its stage show at the gritty CBGB. The Velvet Underground preferred to get weird with Andy Warhol at The Factory.
For La Dispute, a Grand Rapids-based band that now tours the world, its genesis can be traced back to one particular DIY spot: the Division Avenue Arts Collective (DAAC), a now defunct volunteer-run venue and gallery once located in the heart of Grand Rapids. The location closed in August of 2013 when its space was sold by the building's landlord. But there's hope it will re-open and the band's success is now supporting the DAAC's looming resurrection, in a new location.
La Dispute is performing an intimate "seated alternative performance" in collaboration with Calvin College's Fine Arts Center on April 7. All proceeds go towards the relocation of the DAAC.
"The DAAC had been in that space for years," said Jordan Dreyer, La Dispute's singer and lyricist. "They kind of got blindsided. [Grand Rapids] had this powerful, adaptive resource and then it was no longer there. There are a lot of places that have picked up the slack, small venues and houses that put on shows, but as far as having an all-inclusive malleable creative space, we don't have one."
La Dispute

Benefit show for the DAAC
April 7, p.m.
Calvin College, CFAC Auditorium
$20 public, $5 Calvin students
calvin.edu/sao
Since La Dispute's humble beginnings 11 years ago in Grand Rapids, it's gone from playing small venues to consistently selling out 1,000-plus-seat venues. Its Facebook page has clocked in over 248,800 likes and the band's third LP, "Rooms of the House," received acclaim fr
om tastemakers like Pitchfork Media, which dubbed the band as "

superlyrical post-hardcore" and applauded vocalist

Jordan Dreyer's

"gut-wrenching narrative."
With a fan base and tour regimen stretching from the United States to the faraway lands like Australia and Russia, it'd be easy for a band to keep moving forward and never look back. But the band never forgot where it cut its teeth: the DAAC.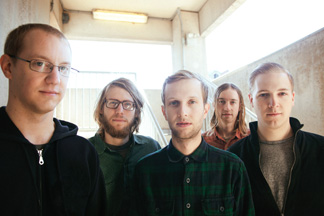 "We grew up playing there and going there," Dreyer said. "It's had a pretty profound impact on me personally, and on our band, so it made sense for us to try to make an impact there."
The benefit show is surely not a typical rock show. Dreyer said the intention was to host a nontraditional, memorable evening for locals.
"The challenge was trying to make it seem even more appealing than a typical Grand Rapids show," Dreyer said. "We're going to play quieter songs and new arrangements of other songs to make them more compatible with a sit-down environment. There will also be a Q&A after the show is done."
The stripped-back show is par for the course considering La Dispute's artistic ethos. Dreyer said the band prefers to constantly evolve and step even further away from its hardcore branding.
"Maybe, somewhere along the line, that was a reaction to being pigeonholed by other people," Dreyer said. "But I think it's just something that's always been important to the five of us, to explore new avenues and do something that might be harder for us.
"I think this [DAAC show] is an extension of that impulse," he added. "Doing shows that are in non-traditional environments challenges peoples' perception of who you are."
Related story: "Why the DAAC Matters" by Dana Friis Hansen