Two California-based post-hardcore bands, A Lot Like Birds and I the Mighty, open the '68 show May 7 at The Stache.
The two bands, both on the Equal Vision Records imprint, are no stranger to the road or touring together.
Sacramento's A Lot Like Birds is comprised of vocalists Kurt Travis and Cory Lockwood, guitarists Michael Franzino and Ben Wiacek, bassist Michael Littlefield and drummer Joe Arrington.
According to Travis, the band inked its deal with Equal Vision thanks, in part, to their San Francisco friends in I the Mighty – who hipped a label rep to A Lot Like Birds at a 2012 South by Southwest showcase.
"He was blown away by their set at South By and they got signed shortly after that," Walsh said. "It was really serendipitous that we started this whole journey together and ended up on the same label."
A Lot Like Birds genesis can be traced back to October 2010. Travis had just left his position as vocalist for Dance Gavin Dance. The singer attended a La Dispute show that A Lot Like Birds were supporting. At the time A Lot Like Birds was mostly an instrumental band — playing as an orchestra-inspired 13-piece outfit. Travis chatted with the band and was soon in the studio with A Lot Like Birds.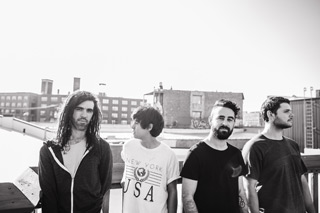 "I was a little nervous to see how the chemistry worked," Travis said.
Soon Travis' wailing vocals helped define the band's signature sound — and land them a deal with Doghouse Records. Its 2011 LP Conversation Piece was the group's first album to feature dedicated vocalists.
Lockwood, the band's other vocalist, intersected Travis with throat-wrenching screams and spoken word, describing the music as "zany, all over the place and experimental."
"Everybody's really talented in the band and Cory and I were able to collaborate really well," Travis said. "We were actually amazed at how well it went."
Conversation Piece is also the first album to represent A Lot Like Birds as a more stripped-down six piece, retaining its instrumentalism in samples during live performances. By limiting the headcount, larger shows and longer tours became financially feasible and allow the band to travel to Grand Rapids and beyond.
The group's current tour in support of the grunge-noise rockers in '68 is yet another badge of honor for the emerging band.

"We love everything that '68 is doing, so we were stoked to hear that the tour was in the works and we're really excited to play," Lockwood said.
'68 w/ A Lot Like Birds, I the Mighty
The Stache, Grand Rapids
Thursday, May 7, 2015, 7 p.m.
Tix: $13 adv., $15 doors
sectionlive.com
The band's latest LP, 2013's No Place plays with the adage "there's no place like home," it's a semi-brooding concept album that exhibits each song as a room in a house, claiming that home can be a terrible place when you can't leave.
Aside from work in A Lot Like Birds, the members keep extra busy with side projects.
On June 22 Franzino releases, alone., his debut solo project. Aptly titled Somewhere in the Sierras, the album was written while Franzino isolated himself for two months in the Sierra Nevada mountain range.
Meanwhile Lockwood and I the Mighty drummer Blake Dahlinger, on the other hand, are working on a different side project called Sufferer. The band will focus on issues of anxiety and depression with portions of its proceeds going to the Anxiety and Depression Association of America.
"It's heavier than anything I ever thought I'd be playing in my life, but it's awesome," Dahlinger said.
"I feel safe in saying this is probably going to be the heaviest project that any of the musicians involved will ever be a part of, which is fun," said Lockwood. "It's a challenge. It's not a style any of us have ever really honed into, so it will be cool to see how it comes out."
As for I the Mighty, the band's new album Connector, its second Equal Vision release, is due out June 2. The album contains a modest amount of the band's heaviest bits while continuing its signature of melodic, alternative rock with progressive flare.
I the Mighty has been performing "Playing Catch With .22," the album's first single with a near-pop essence. Walsh assures that the band has not gone mainstream, assuring a heavier track will be debuted soon.
"The song definitely bridges the gap between what we've been doing and where our current sound is going," said I the Mighty guitarist Ian Pedigo.