Todd Rundgren
Kalamazoo State Theatre, Kalamazoo
Jan. 29, 7 p.m. / $29.50-$69.50
kazoostate.com, (269) 345-6500
Given his pedigree — producer of platinum and revered maestro — Todd Rundgren's opinion carries some weight and he's fearless in expressing it.
Let's start with Adele, whom he calls "a victim singer."
"I think that judging from how people are responding to music of the last year, men are making a comeback," Rundgren said. "Females have been dominating the charts recently and the quality hasn't been too great. I like the idea of the male, the yin, coming back into ascendance.
"I don't have the same kind of feelings that a lot of people do about this new generation of victim singers like Adele and Sam Smith, where it just seems like they're abused animals," he added. "Everything they sing about is, 'Oh, I'm so needy, I'm so hurt.' I don't think the world needs more of that. The world needs more of 'I can't feel my face.'"
These are the things an icon can say. He can be a truth teller, because when Rundgren returns to West Michigan this month he brings with him a legacy and legend that has seen him cavort with legends across the rock 'n' roll spectrum.
Meat Loaf, New York Dolls, Patti Smith and Badfinger are a few of the high points of his career as a producer. His first check for Meat Loaf's Bat Out of Hell was for $750,000.
Beyond that, you'll hear his song, "Bang the Drum all Day," all the time at sporting events.
But most people have no idea it's done by the same guy who tried without success to wrestle a drunk Janis Joplin into a usable studio session and predicted long ago that someday listeners would have access to anything they wanted through a subscription service.
Rundgren has been future gazing for decades with alarming accuracy.
"In the years to come, you're going to see a lot of devices bringing computer technology to television," Rundgren told a room full of music biz suits in 1991. "Soon you'll be able to go out and buy a TV with a computer built in, and by the end of the decade you won't be able to buy a TV without a computer in it."
He was overly optimistic on the timing, but dead on with the technology.
Rundgren's smarts have earned him an adoring fanbase that have sold out his shows so far this tour and allowed him to make sweeping statements like those above with few repercussions.
It's also permitted him an artistic freedom that rules every tour. He's done elaborate stage productions, prog-rock deep dives, troubadour-ish sit downs, and more recently a series of shows in which the approach was different every night.
His latest release is Runddans, an art rock project he hammered out with two Norwegian DJs.
"The relationship with my fans is based on me being honest with them," Rundgren said. "I hope they realize our relationship is not based on pandering, even though once in a while I will pander to them. I'm trying to remain inspired by the whole idea of music and I hope my audience remains inspired by the idea of music and what can be accomplished with it."
The interview with Revue is brief — 10 minutes is about as long as he likes to talk to the press when he's touring. Rundgren's voice sounds crunchy, like corn flakes caught on the tonsils, although you can tell he enjoys talking, punctuating his rasps with chuckles.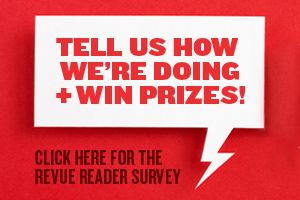 So we close with a story about Michigan. He produced Grand Funk Railroad's highest charting LPs, We're an American Band and Shinin' On, back in the '70s. Grand Funk drummer Don Brewer recalls Rundgren coming to Flint in early 1973 to get to know the guys.
"… He stayed at my apartment, the Knollwood Apartments in Grand Blanc," Brewer said. "We'd pull into a 7-Eleven to get some milk or something and he'd come in with me. I had the big Afro and he had the multi-colored hair. We'd walk into these places and jaws would just drop to the floor…"
Rundgren remembers the meeting on a professional level.
"I went to Michigan to meet with the band and listen to the material before I committed to doing the record," Rundgren said. "I was impressed with how self aware they were. They knew where they were and what they had to do to get where they wanted to be. A lot of people thought they were a jam band before that. But they weren't a bunch of stoners."
The earlier Grand Funk, under the tutelage of the late Terry Knight, suffered from poor production, Rundgren said. After American Band, the group became an FM-radio mainstay. Before that — not so much.
"The fact is, Terry Knight was a terrible producer," he said, referring to the man who managed and produced Grand Funk in its infancy. "A good manager. But a terrible producer."
---
Steve Miller is the author of Detroit Rock City: The Uncensored History of Rock 'n' Roll in America's Loudest City. He can be reached at avalanche50@hotmail.com and he lives at Avalanche50.com.