Like every other September in West Michigan, autumn is rapidly approaching, once again relieving us of all that summer has to offer (like scorching temperatures and relaxing vacations). And as students start making their way back to the cliques and classrooms, especially in a college-heavy city like Kalamazoo, one also notices an upsurge in the local music scene.
But my very first post-Labor Day concert of 2016, on one particularly mild Sunday evening, was not at a small bar or club, enjoying some of the talented indie rock or folk bands Kalamazoo has to offer. Nay, I found my way instead to Wings Event Center for the Make America Rock Again tour, boasting an all-star, hard-rocking lineup with Trapt, Saliva, Saving Abel, Alien Ant Farm and more.
To say this show was impressive because of the lineup would perhaps miss the point of why I attended. Sure, the bill included bands that collectively have sold more than 14 million albums, many of which have gone Gold and Platinum. But I didn't go because any of their albums are what's popping in and out of my car's CD player (Yes. I still have one of those. Experiencing an album is objectively better than listening to a playlist on shuffle), because well, it's not. I went for the experience.
And to be sure, "The Tour that Trumps Them All" was an experience. As soon as I stepped out of my vehicle, I was greeted by the sounds of camaraderie and pre-gaming, and fans eager to fill their night with ass-stomping rock and a level of intoxication best left at home. The latter happened perhaps more quickly than the former. That could be thanks to all the extra drinks at the VIP Pre-Show Barbecue, or, more likely, backseat pre-boozing in the parking lot. Regardless, while the doors opened at 6:30 p.m., stumblers and slurrers began to surface as early as 7 p.m.
There was an expected and prevalent America theme visually throughout the night, with our beloved stars and stripes adorning everything from guitars to shirts to thongs. Which was fitting, given the group of notable bands putting on the show. It truly was a celebration of American hard rock at its finest.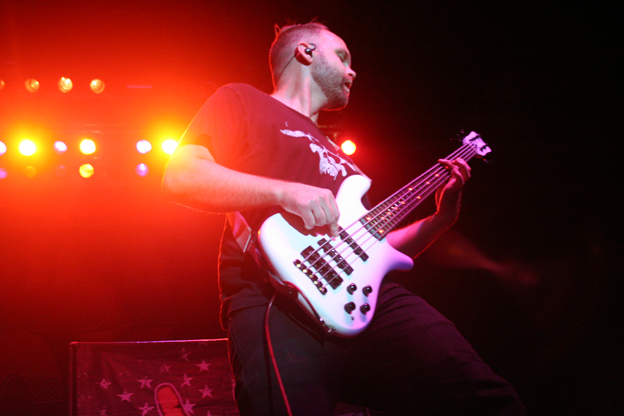 Many of the groups on stage that night have been around for quite some time, and accordingly, the setlists were full of old favorites (much to the crowd's delight). But some new material was part of the act as well, with several of the bands supporting recent releases. Trapt, for example, put out their newest record, DNA, just this past August. The album was an independent endeavor funded by an Indiegogo campaign, in which the band solicited not only donations, but also thoughts and ideas on the album's lyrical content. It was an effort to connect with fans on a more personal level.
Should you have the opportunity to catch the Make America Rock Again tour on one of its future stops elsewhere in the country, don't pass it up. It's like a nighttime mini-festival of in-your-face rock music that's a hell of a lot of fun.
And keep your eyes on Wings Event Center as they ramp up their concert offerings. October will bring country artist Kip Moore to the stage, as well as the electronic music festival Haunted Fest.