Brothers and fellow podiatrists Bill and Jim Gray receive rock star treatment when they attend performances in other countries.
However, they still remain largely unknown in the United States for their work to establish a world-class brass band named for their native Battle Creek.
On Dec. 2, the Brass Band of Battle Creek (BBBC) will perform at Byron Center High School to raise money for the school's music program. The next day, the band travels to Battle Creek to perform its annual holiday concert at W.K. Kellogg Auditorium.
The concerts will feature 31 of the world's premier brass musicians from all over the world. They teach at such prestigious institutions as the Eastman School of Music and the Juilliard School of Music, and also perform at venues such as Carnegie Hall and Broadway theaters.
Still, Bill Gray said the vast majority of Americans think the BBBC is a community band featuring local talent, due to the name. And to be fair, the precursor to BBBC was exactly that.
Early on, the Grays were president and vice president of the Marshall Community Band. They always had a difficult time finding musicians who played reed instruments, such as the clarinet.
"We would pay people to play," Bill Gray said.
Over a 12-year period, the brothers built up the Marshall band into a 60-musician group that included some of the best in Southwest Michigan. Through a series of serendipitous encounters which followed, the Grays were introduced to preeminent brass musicians who played instruments such as the euphonium and tuba.
While trying to plan a tribute to Great Britain with the local band, Jim Gray spoke with the conductor of the Ohio State University Marching band who talked him into putting on a brass band seminar in 1989 at Kellogg Community College. This also got Jim Gray to begin thinking about converting the Marshall band into a brass band.
"We argued back and forth," Bill Gray said. "I said, 'We're pretty busy physicians and where the hell will we find the time to do this?' I was the one who said it was stupid."
But after seeking support from and being turned down by 52 foundations, the W.K. Kellogg Foundation came through with funding to support the seminar. Among the musicians was the principal trumpet player in the U.S. Navy Band.
A concert publicized on local radio stations followed the seminar and about 900 people showed up. This is when the brothers figured they were onto something.
The Grays invited Steven Mead, a world-renowned euphonium player from Britain, to play at another concert and Mead began inviting other musicians to join him for future concerts. Within two years of meeting Mead, the BBBC became a band of the "who's who" of brass players from all over the world, said Jennifer Rupp, executive director of the BBBC.
"Over the years, the Brass Band has become known not only for the caliber of musicians, but also for the caliber of music and the conductors we bring in," Rupp said. "They are all in one place making this amazing music together."
The BBBC puts on two shows each year in Battle Creek – one around the holidays and one in the Spring. The musicians are sent the selected music two weeks before every concert. They rehearse as a group inside the Kellogg Auditorium two days before each concert, for six hours per day.
"It can be a very challenging dynamic to take the best of the best and put them in one place," Rupp said. "But they are there for the experience of knowing collectively what they can do together and what they produce for the audience."
Rupp also admits that adapting programs and "being cognizant of what the audience wants" can be a challenge, for every arts organization. This is what prompted the BBBC to perform a selection of music by the rock band "Chicago" during last year's Spring sold-out concert. The musicians were all wearing black t-shirts emblazoned with a white Chicago logo underneath their concert apparel. They left the stage to remove the traditional concert apparel, reappearing in the t-shirts to cheers and applause from the audience.
Rupp said Brass bands don't usually play contemporary musical arrangements.
"Our musicians like to play music that can challenge them a little bit," she said. "It's fun for the musicians to come and play for an audience that feeds off of their energy."
This is especially true when they perform in Battle Creek in front of audience members, some of whom have been attending their concerts for 25 years.
"At the very beginning of all of this, we had a cult following," Rupp said. "For the first 10 years, we had waiting lists for the performances. As the novelty has worn off, we have had to look at new ways to bring in new audiences.
"This band is the best-kept secret in the Midwest."
Profile of a Player: Gail Robertson
FLORIDA – Gail Robertson said she never looks forward to the end of a concert with the Brass Band of Battle Creek.
Robertson, who plays the Baritone horn with the BBBC, is one of only a handful of women in the 31-member band. Like the majority of her fellow musicians, she teaches and performs independently of her association with the world-renowned group.
"The first couple of times I played with them, I was just hoping that I'd be asked to do it again," Robertson said. "I always hate it when a concert comes to an end. I'll be on that stage looking around. It's pretty phenomenal when you can look across and see all of these great musicians."
Robertson's day job is at the University of Central Arkansas where she teaches tuba and the euphonium and also runs the school's jazz band. She earned her undergraduate degree at the University of Central Florida and received a Master's degree from Indiana University. Twenty-five years later, she went back to school to earn her doctorate at Michigan State University.
Growing up in Orlando, Florida, music was a family affair. Her mother played the flute and her father was a percussionist. The recorder was Robertson's instrument of choice until 6th grade when she got to pick an instrument. She chose the saxophone.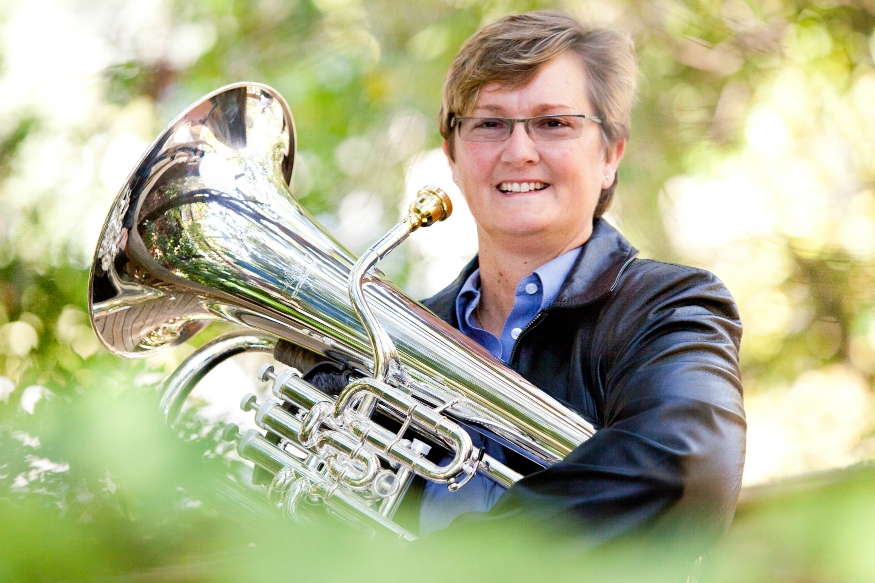 Gail Robertson of the Brass Band of Battle Creek. Courtesy Photo
During family visits to Disney World, she began to wonder why girls were never in bands that performed at the theme park. At that time, girls were given instruments such as the flute if they wanted be in band and Robertson was repeatedly told by band directors that girls just didn't play low brass instruments, which only strengthened her resolve. She had no idea then that she would spend 10 years from 1989 to 1999 in a band that played for tourists at Disney.
"I always knew that I would like to play professionally, but then I had people telling me that there's no money it," she said. "That's how I bought my first instrument — playing in theme parks."
Her relationship with the BBBC began when she was in high school and met William Gordon Wells, who played the euphonium and was the uncle of Bill and James Gray, founders of the BBBC.
"I met him when I was in high school and subbing in a band in Boca Raton," Robertson said. "At the time, I was playing the tuba and they needed me to play."
Wells and Robertson became pen pals and saw each other when her mother would drive her to his home where the two would play duets. During a visit to Blue Lake Arts Camp where Wells was teaching, Robertson met the Gray brothers. But it wasn't until many years later that they asked her to join the BBBC.
Robertson said Wells, who she calls Uncle Gordy, was like a surrogate father to her. She shared with us a little known fact: she keeps Wells' obituary in her Brass Band folder in the baritone case that sits on stage.
Before becoming a member of the BBBC, Robertson played in a Brass Band in Central Florida and the all-female Athena Brass Band. She also has played with the Boston Symphony Orchestra at Carnegie Hall in March.
She is among one or two female euphonium players in the world who also play jazz. Her success, she says, has a lot to do with timing.
"I've had a very good career path and was never really unemployed," Robertson said. "You can be a great musician, but if there's not an opening, there's no job."
The advice she gives her students is to not buy anything they can't afford. She said she enjoys teaching because she gets to inspire young people on a daily basis. Robertson hopes she is saving the future of euphonia and brass instruments by creating new players.
But even with all of those other experiences under the belt, Robertson's membership in the BBBC remains one of her proudest accomplishments.
"You can't wish, pay or pray to be in that band. You have to be asked," she said. "I get to play with the best brass musicians in the world."