Can't make it to Times Square for New Year's Eve? Hop in your car and enjoy one of West Michigan's biggest ball drops only 90 minutes from Grand Rapids instead—the Ludington New Year's Eve Ball Drop. Celebrating 10 years of lighting up the night on New Year's Eve, Ludington packs a punch for its most famous annual event and one of its biggest annual celebrations.
This is your quintessential New Year's Eve celebration, complete with outdoor beer garden, live music, fireworks and the ball drop with 6,000 LED lights—all set against the charming backdrop of downtown Ludington. Think of it as one giant street party, as Ludington's main intersection of James Street and Ludington Avenue is open only to pedestrians that night after 9 p.m.
Shopping, Dining & Entertainment
Book dinner earlier in the evening at one of Ludington's many unique downtown eateries—from brewpubs like Jamesport Brewing and Ludington Bay Brewing, to fine dining standouts like P.M. Steamers and Table 14. (See dining options at PureLudington.com/Dining.) Many stores are open until midnight, so peruse the downtown and pop in for some shopping and a warm-up.
At 9 p.m., head toward the large, heated entertainment tent and beer garden at James Street Plaza, featuring live music by local band White Rabbit. Domestic and craft beer, wine and champagne are available for purchase, along with commemorative light-up drink glasses. Since Ludington's main street shuts down to car traffic at that time, thousands of pedestrians will spill onto the street to get a good view of the New Year's Eve Ball—one of the largest in West Michigan. At the stroke of midnight, look skyward and watch the ball drop, followed by confetti and a dazzling fireworks display over the rooftops of downtown. The event is free though drinks are available for purchase.
For the Kids
Got kids in tow? Check out Ludington's nearby family-friendly New Year's Eve events earlier in the evening, before the ball drop. The New Year's Eve "Balloon Drop and Stomp," which runs 5 to 8 p.m. at Sandcastles Children's Museum, lets families with young children ring in the New Year a few hours early with an indoor balloon drop featuring more than 500 balloons plus live music, food, favors, ice cream sundaes, crafts and a photo booth ($10 per person or $40 per family). Mason County District Library also hosts its free "Light up the Lake Family Party" from 7 to 11:30 p.m. with crafts, games and activities for partygoers of all ages.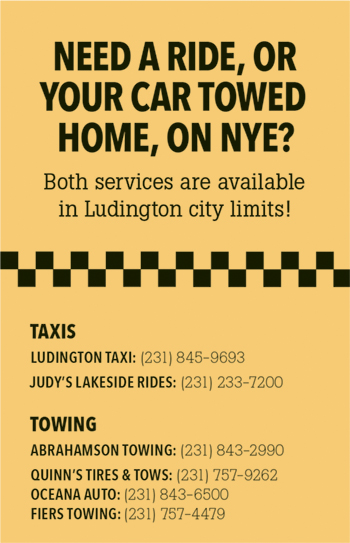 Lodging & Transportation
Make a safe, walkable evening of it and book lodging within walking distance of downtown Ludington such as Stearn's Hotel, Ludington Beach House, or one of the historic bed and breakfasts lining Ludington Avenue. (See lodging options at PureLudington.com/Accommodations.) While Uber isn't in Ludington yet, area businesses are sponsoring free rides and towing services that evening. Ludington Mass Transportation Authority also provides free rides to-and-from downtown from 8 p.m. Dec. 31 through 4 a.m. Jan. 1 by reservation at 231-845-6218.
The Next Day
Start the New Year on the right foot (and burn off those partying calories) Jan. 1 with Ludington's Resolution 5K at 11 a.m. through downtown. The $25 entry fee includes a custom die-cast finisher's medal and a #RunLudington Fandana. Register online at downtownludington.org/runludington or on race day at Ludington Pub from 10 to 11 a.m.
For more information on planning a perfect New Year's Eve getaway in Ludington, visit PureLudington.com andDowntownLudington.org/nye.
Ludington New Year's Eve Ball Drop
December 31, 2018
9 P.M. - 12:30 A.M.
Downtown Ludington
North James Street Plaza
FREE
Pureludington.com/NYE