Pritzker Prize-winning architect Zaha Hadid once said, "there are 360 degrees, so why stick to just one?" She applied that attitude literally in the design of the Eli and Edythe Broad Art Museum at Michigan State University (MSU Broad), but since we opened in 2012, we've sought to utilize every angle in an effort to push the boundaries of what a museum can be.
Angles are all about perspective. Each time you view a work of art, your identity shapes the way you see it. Your background, your interests, your upbringing—everything that makes you who you are plays a role. Centrally located right in the heart of East Lansing, we invite you to bring your own unique angle to the MSU Broad. We're a dynamic contemporary art museum that proudly serves as both a teaching institution and a cultural hub for our beloved state of Michigan, and we can't wait to meet you.
Through a rotation of exhibitions featuring local, national, and international artists and a permanent collection of nearly 8,000 works, the MSU Broad seeks to provide increased access to art which inspires curiosity, lifelong learning, and civic engagement with issues of local relevance and global concern.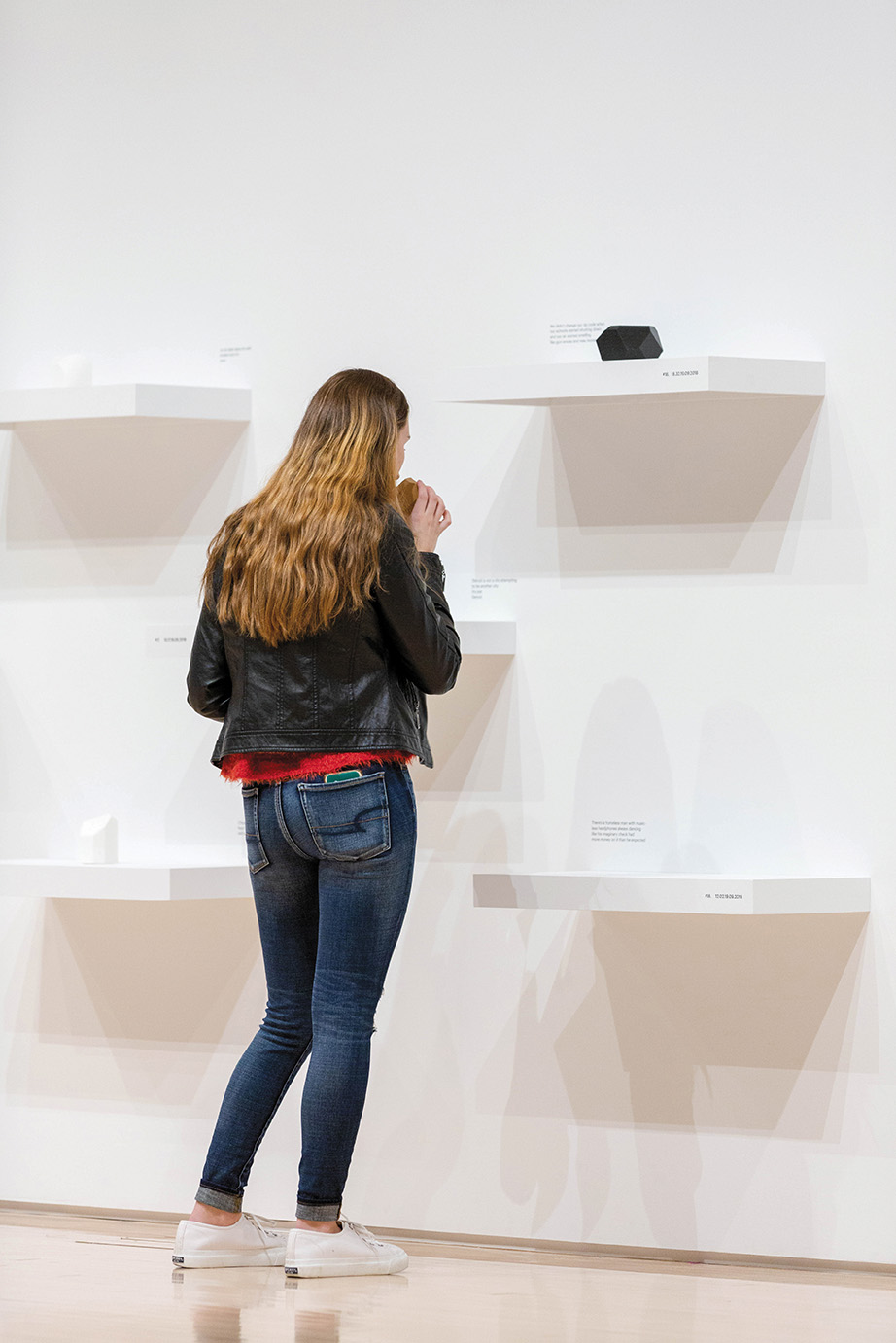 You're invited to visit this space and engage with it in ways that are right for you. Beyond its galleries, the MSU Broad acts as a gathering space, nestled right at the gateway between campus and community. Enjoy a visit to the café, where you can sip your coffee surrounded by an abundance of natural light that filters through angular windows. Shop an eclectic mix of goods at our store, where the proceeds go back into supporting the museum. Engage in an extensive variety of programs and events ranging from Family Days to onsite yoga, library partnerships to live performances. There are countless unique ways to experience the MSU Broad.
Located on the campus of Michigan State University, the MSU Broad connects the students and the general public to art in ways that serve the university's mission to advance the common good in uncommon ways. As one of the top research universities in the world, Michigan State University provides a framework for the MSU Broad to bring exhibitions that encourage questioning, inspire critical thinking, and foster interdisciplinary collaboration with creative minds and experts across campus. Come experience exhibitions that explore how artistic processes can help us better understand our world. We've partnered with artists and campus resources to address themes such as sustainability, land rights, advances in technology, and complex scientific phenomena through the lens of creativity.
Above all, the MSU Broad is an engaged public institution that prioritizes serving its community. This is at the core of what we do—and because we feel so strongly about providing access to meaningful art experiences, admission to the MSU Broad is always free.
Multiple angles make up our exterior, but that's equally true for what's inside too. Plan your trip to the MSU Broad today at broadmuseum.msu.edu.
Eli and Edy the Broad Art Museum
at Michigan State University
(MSU Broad)
547 E. Circle Dr., East Lansing
(517) 884-4800
broadmuseum.msu.edu