On par with our incredible summers, fall in West Michigan is tough to beat. Leaf color tours, the warm glow of campfires and the roar of fans watching college football signal the turn of our favorite season. There's a deep-rooted belief here at New Holland Brewing that life is found in savored moments, which are enhanced by the perfect beer. Every one of our beers captures a flavor, harvest and moment in time that we hope you can taste and appreciate with us.
Fall is peak time for connecting with family and friends. The moments we share in this season can last a lifetime, and we craft our brews to be the perfect complement. Our lineup features some of our most legendary beverages in popular styles and flavors that beg to be enjoyed during crisp nights outdoors.
Whether you are looking for a traditional pumpkin ale, something dark and roasty, or even something a bit lighter, we brew offerings that appeal to every taste:
One of fall's most sought-after beer brands, Ichabod was first brewed in 1997 and continues to set the mood for the season with the perfect blend of malted barley, real pumpkin and bewitching notes of cinnamon and nutmeg. The label of this delicious and inviting brew was inspired by the iconic "Headless Horseman" character with a wicked pumpkin in hand.

To celebrate the Halloween season, we will be hosting two screenings of Tim Burton's film Sleepy Hollow while tapping Ichabod at the events. Attendees are encouraged to wear their favorite Halloween costume as a door prize will be awarded to the best in show. Further details can be found at newhollandbrew.com:
Oct. 12 - The Park Theatre in Holland, Mich.
Oct. 30 - The Wealthy Street Theater in Grand Rapids, Mich.

Our top craft Bourbon Barrel-Aged Stout, Dragon's Milk, is the perfect accompaniment for storytelling around the fire. Its legendary name extends from a story shared during medieval times. The stout is known for its roasty malt character intermingled with deep vanilla tones. Dragon's Milk pairs well with late evenings around a campfire with friends.

Dragon's Milk White is a nod to our 20 years of barrel-aging expertise and commitment to innovation in the name of flavor. The next legend to unfold in the Dragon's Milk family, this lower-alcohol, hazy-gold version of Dragon's Milk creates a stout experience that presents familiar flavors in a completely unexpected way. It pairs perfectly with tailgating.

Some other comforting fall flavors of chocolate, roasted nuts, and coffee can be enjoyed with our oatmeal stout, The Poet. A complement for cozy fall evenings, the oats bring a creaminess and soft mouth-feel to the roast malt character in this classic oatmeal stout. One of America's leading oatmeal stouts (and brewery favorite), The Poet is a perfect representation of balance.

Each of our beers can be found on tap at pubs across the Midwest, including our Holland and Grand Rapids brewpubs. They're also sold in cans or bottles at major and specialty craft beer retailers. To find a New Holland Brewing product near you, visit newhollandbrew.com/find-our-beer.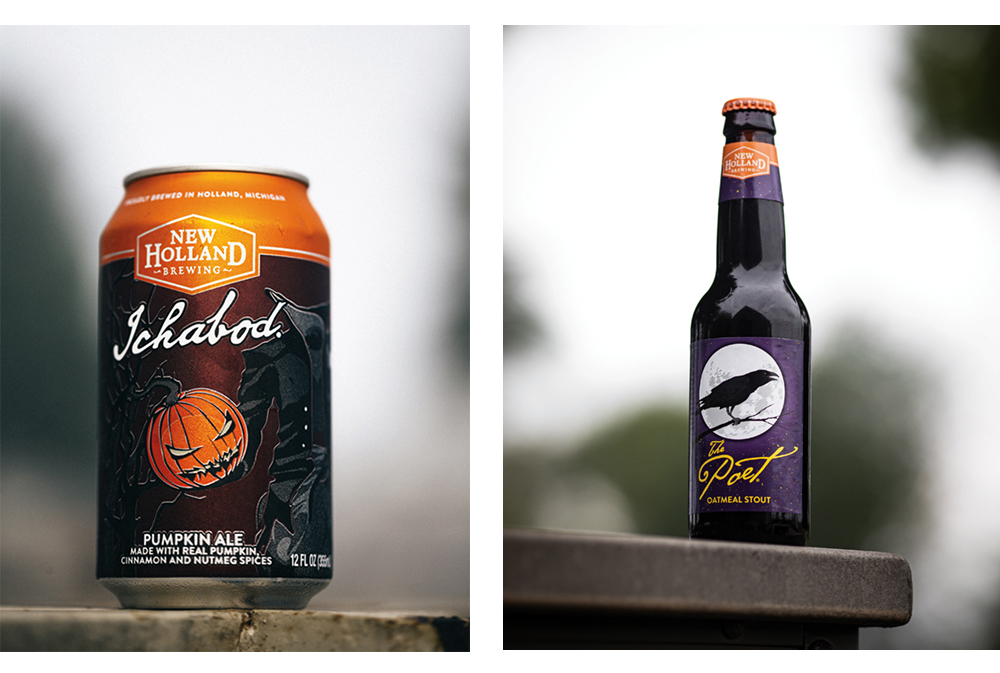 Left: Ichabod Right: The Poet