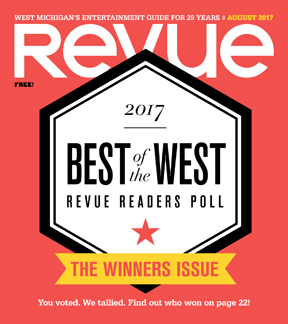 Letter from the Editor

Hear ye, hear ye, West Michigan! Gather around, for Best of the West hath reached its thrilling conclusion yet again, and thy results art upon us.
For two months, you voted for your favorite people, places, drinks, services and whatever else West Michigan has to offer — unless you didn't vote, but that's hard to imagine. We put 128 categories on the ballot, covering everything from your go-to barbershop to your preferred IPA and favorite local band. Thousands of you came out, casting tens of thousands of votes. Many of you even spread the word, asking your family, friends and fans to vote for you or your business.
I can't lie: We appreciate it. Without you, Best of the West would be nothing.
All we did was sort out the bad eggs (Ruth's Chris is a national chain, y'all) and tally the votes. Now we offer those results to you in a beautiful buffet of top-three winners and staff picks. If you need any guidance, we also analyze the aftermath, giving context and unsolicited opinions.
It must be pointed out that, yes, this is a popularity contest. But there is no way to judge the objective quality of new restaurants, or art museums, or bartenders. All we have is our opinions, and those opinions en masse count for something. So feel free to yell about how upset you are with the results, or how happy you are that things went your way — we're doing the same. The whole point of Best of the West is to spur conversation while supporting local people and businesses.
And if you're not happy this year, just remember: 2018 isn't too far off.
'Til next time,
Josh Veal, Managing Editor
---
What's inside this month:
On the Cover(s):
Revue's Best of the West Winners Issue: Find out who won Revue's readers poll on page 22!



Revue Arts: How art museums shape their permanent collection displays. See page 4A.
(Pictured: Pierre Bonnard's painting, La Porte de la Villa du Bosquet au Cannet, courtesy of Muskegon Museum of Art)
Music: Breakaway Music Festival, All Is Well
Dining & Drinking: Restaurant Week GR, Beer & Booze: Up north road trip, Last Call: Donkey
- July 2017
- June 2017
- May 2017
- April 2017
- March 2017
- February 2017
- January 2017
- December 2016
- November 2016
- October 2016
- September 2016
- August 2016
- July 2016
- June 2016
- May 2016
- April 2016
- March 2016
- February 2016
- January 2016
- December 2015
- November 2015
- October 2015
- September 2015
- August 2015
- July 2015
- June 2015
- May 2015
- April 2015
- March 2015
- February 2015
- January 2015
- November 2014
- December 2014
- November 2014
- October 2014
- September 2014
- August 2014
- July 2014
- June 2014
- May 2014
- April 2014
- March 2014
- Feb. 2014
- Jan. 2014
- Dec. 2013
- Nov. 2013
- Oct. 2013
- Sept. 2013
- Aug. 2013
- July 2013
- June 2013
- May 2013
- April 2013
- March 2013
- Feb. 2013
- Jan. 2013
- Dec. 2012
- Nov. 2012
- Oct. 2012
- Sept. 2012
- Aug. 2012
- July 2012
- June 2012
- May 2012
- April 2012
- March 2012
- Feb. 2012
- Jan. 2012
- Dec. 2011
- Nov. 2011
- Oct. 2011
- Sept. 2011
- Aug. 2011
- July 2011
- June 2011
- May 2011
- April 2011
- March 2011
- Feb. 2011
- Jan. 2011