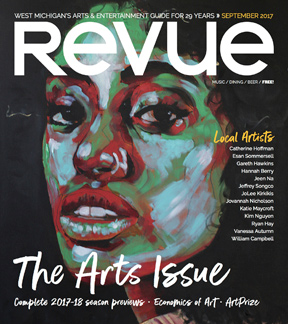 Letter from the Editor

One year ago, we announced the beginning of something new: Revue Arts.
The goal was to fill a hole in local journalism, a hole created when various local media outlets squashed their arts beats in favor of year-round prom coverage. It was a new adventure, one that would require bringing on new writers and searching for all the amazing stories we knew were there, just waiting to be told.
A year later, we're happy to toot our own horn — we've found no shortage of stories to tell, in large part thanks to aid from the very arts organizations we wanted to support.
We work hard to get the word out about quality, important shows, whether that be through our monthly previews or our honest, critical theater and music reviews. We've also done some deep dives into bigger issues that affect the arts community, from the effect of development on art to the state of music education in the region (see Samara Napolitan's look at Grand Rapids' art collector scene in this issue). And finally, we look to tell the stories of the performers, artists, directors and everyone else who makes the art community what it is — without them, none of this would be possible.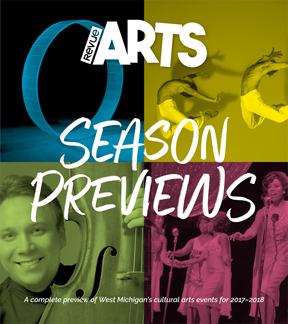 Those people have been what the Arts Issue has been about for the last nine years. In this annual issue, we focus on the artists themselves, but most especially the inspiring (and inspired) visual artists of our community. We have illustrators, photographers, collagists, tattoo artists and more.
You'll also definitely want to take some time to check out our collaboration with Creative Youth Center, featuring stories from Grand Rapids elementary and middle schoolers. Their writing is a delightful breath of fresh air, as the youngest journalists notice details no one else would ever think to.
In the end, as important as it is to appreciate and discuss art, the best way to improve the arts scene in our city is through direct support. That means caring about art outside of ArtPrize, getting more art in front of more people, and, quite frankly, putting your money where your eyes are.
'Til next time,
Josh Veal, Managing Editor
---
What's inside this month:
On the Cover: Art by local artist Esan Sommersell. (More about the artist on page 44.)
The Arts Issue: A baker's dozen of local visual artist profiles, Grand Rapids' art collector scene, ArtPrize Nine, Creative Youth Center students' Grand Rapids travel guide
Arts Season Previews: A complete preview of West Michigan's cultural arts events for 2017–2018
Music: Steve Earle, Audiotree Music Festival, Judah & The Lion
Dining & Drinking: Thornapple Brewing Co., Dining Review: Ando Asian Kitchen & Bar
- August 2017: Best of the West winners
- July 2017
- June 2017
- May 2017
- April 2017
- March 2017
- February 2017
- January 2017
- December 2016
- November 2016
- October 2016
- September 2016
- August 2016
- July 2016
- June 2016
- May 2016
- April 2016
- March 2016
- February 2016
- January 2016
- December 2015
- November 2015
- October 2015
- September 2015
- August 2015
- July 2015
- June 2015
- May 2015
- April 2015
- March 2015
- February 2015
- January 2015
- November 2014
- December 2014
- November 2014
- October 2014
- September 2014
- August 2014
- July 2014
- June 2014
- May 2014
- April 2014
- March 2014
- Feb. 2014
- Jan. 2014
- Dec. 2013
- Nov. 2013
- Oct. 2013
- Sept. 2013
- Aug. 2013
- July 2013
- June 2013
- May 2013
- April 2013
- March 2013
- Feb. 2013
- Jan. 2013
- Dec. 2012
- Nov. 2012
- Oct. 2012
- Sept. 2012
- Aug. 2012
- July 2012
- June 2012
- May 2012
- April 2012
- March 2012
- Feb. 2012
- Jan. 2012
- Dec. 2011
- Nov. 2011
- Oct. 2011
- Sept. 2011
- Aug. 2011
- July 2011
- June 2011
- May 2011
- April 2011
- March 2011
- Feb. 2011
- Jan. 2011