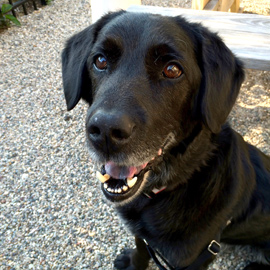 Letter from the

Editor

DOG
I'm paws-itively excited that Revue has an entire section in this issue about fur-peoples like me. They've covered trees to sniff, stuff to roll in, and territory that needs marking, as well as featured all the hottest trends in cookies and bones. (Pro tip: It's time for the real farm-to-bowl cooking, none of this bagged stuff.) There are also tips on places to shop for the latest in haute couture, like some stylish leash-and-collar combos.
At least that's what they tell me is in the issue: I never learned how to read, let alone earned any dogtorate degrees. I really have it ruff.
While I have you on point, please allow me to discuss a most important personal topic. You see, my people sometimes take me to my Grand-paw-rents and then leave me there for a few days. It makes me very pupset to know that they're out having fun without me, but what's worse is their stories about how other areas treat fur-peoples like me.
Even a cat could tell you that Michigan's got it all backwards with its rules and regulations. In cool cities like Asheville and Denver, many restaurants and breweries welcome my friends onto their patios and even pour them a drink. It's water, but hey, I'd take it.
Some Portland restaurants, I'm told, will let my friends inside. One place called Tin Shed even serves special dishes like Ham-Barker Helper, Paw Lickin' Good and Kibbles-n-Bits, each made with pork, chicken or beef along with a choice of rice or sweet potato. It sounds so good, I just want to roll over.
However, it seems my begging could finally be paying off. In May, the Michigan Senate passed a bill by a 32-6 margin that would create a framework for restaurants and bars to invite me on their patios. But I'll be doggone if the state House has yet to give the legislation a hearing. If we keep pup the fight, maybe those lawmakers will finally hear us speak. (Let's hope we don't have to bribe them with peanut butter just to earn their votes.)
In any event, this has been almost as much fun as doin' a zoom. If we've not sniffed butts before — and even if we have — please stop by Revue as I'd love to introduce myself. My muzzle may be graying, but I always like making new friends. It's a wag!
Sincerely yours,
Levon-dog
---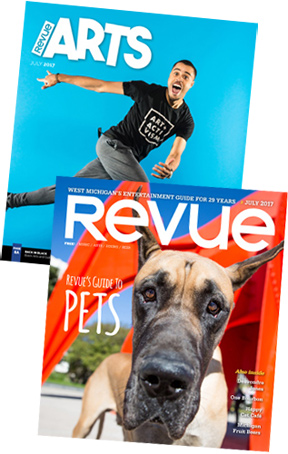 What's inside this month:
On the Cover(s):
Revue's Guide to Pets, featuring Valentino the Great Dane at Calder Plaza. Photo by Grumpy Pups Pet Photography. (See page 17.)



Revue Arts: Deavondre Jones of DanceSpire. Photo by Seth Thompson. (Story on page 4A.)
Music: Kalamazoo Blues Festival, Mitski, Muskegon Festivals, The Zannies
Dining & Drinking: Table Talk at One Bourbon, Tea shops, Beer Taste-off: Michigan Fruit Beers, Last Call at Bier Distillery
- June 2017
- May 2017
- April 2017
- March 2017
- February 2017
- January 2017
- December 2016
- November 2016
- October 2016
- September 2016
- August 2016
- July 2016
- June 2016
- May 2016
- April 2016
- March 2016
- February 2016
- January 2016
- December 2015
- November 2015
- October 2015
- September 2015
- August 2015
- July 2015
- June 2015
- May 2015
- April 2015
- March 2015
- February 2015
- January 2015
- November 2014
- December 2014
- November 2014
- October 2014
- September 2014
- August 2014
- July 2014
- June 2014
- May 2014
- April 2014
- March 2014
- Feb. 2014
- Jan. 2014
- Dec. 2013
- Nov. 2013
- Oct. 2013
- Sept. 2013
- Aug. 2013
- July 2013
- June 2013
- May 2013
- April 2013
- March 2013
- Feb. 2013
- Jan. 2013
- Dec. 2012
- Nov. 2012
- Oct. 2012
- Sept. 2012
- Aug. 2012
- July 2012
- June 2012
- May 2012
- April 2012
- March 2012
- Feb. 2012
- Jan. 2012
- Dec. 2011
- Nov. 2011
- Oct. 2011
- Sept. 2011
- Aug. 2011
- July 2011
- June 2011
- May 2011
- April 2011
- March 2011
- Feb. 2011
- Jan. 2011