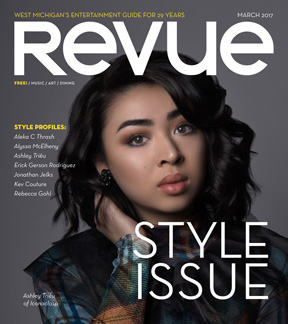 Letter from the Editor
Style is an art, and like any art, you really don't have to be an expert to appreciate it.
Even if your typical workday outfit is a thrifted button-up with a mysterious stain near the bottom that you tuck in some clearance-rack slacks (not that I've ever been there), you likely know style when you see it.
Really, it's not so much about what you wear, but how you wear it. That's what we learned when talking to our local fashion experts for this year's Style Issue. On the cover is Ashley Triêu, owner of Iconoclasp. She said style is all in how you carry yourself. Wear whatever makes you comfortable and wear it with confidence — that's how you turn heads.
If those button-ups and slacks are what make you feel good, own it. If you're into bright rompers, high heels and wide-brim hats, rock those. Personally, I currently like to wake up and piece together an outfit from the pile of seven black garments on my floor, slip into some five-year-old Doc Martens, and put on a hat for 10 seconds before deciding not to wear it that day.
The seven fashionistas we talked to (and took pictures of) this year come from all walks of life and each has their own extremely unique look. They're the kind of people you'll recognize from a distance by their signature style alone.
Also in this issue, check out our interview with Laura Bell, the new CEO of Bell's Brewery. Her father founded the Kalamazoo brewery when she was just 2 months old, and now she's taking the reins of what's become the largest craft brewery in Michigan. That's what we call a legacy.
'Til next time,
Josh Veal, Managing Editor
---
What's inside this month:
On the Cover(s):
Ashley Triê
u of Iconoclasp (Photo: Nicole Rico). Story on page 30.
Special Section: The Style Issue
Revue Arts:
Inflatables fill the Muskegon Museum of Art, Filmmaker Racheal Floyd
breaks through the 'industry of privilege'
Music: Dawes comes to Kzoo, Local:
Turkuaz helps bring funk to the mainstream
Dining & Drinking:
Laura Bell takes over as CEO of Bell's Brewery, Madcap Coffee's new location, Last Call at SpeakEZ Lounge
- February 2017
- January 2017
- December 2016
- November 2016
- October 2016
- September 2016
- August 2016
- July 2016
- June 2016
- May 2016
- April 2016
- March 2016
- February 2016
- January 2016
- December 2015
- November 2015
- October 2015
- September 2015
- August 2015
- July 2015
- June 2015
- May 2015
- April 2015
- March 2015
- February 2015
- January 2015
- November 2014
- December 2014
- November 2014
- October 2014
- September 2014
- August 2014
- July 2014
- June 2014
- May 2014
- April 2014
- March 2014
- Feb. 2014
- Jan. 2014
- Dec. 2013
- Nov. 2013
- Oct. 2013
- Sept. 2013
- Aug. 2013
- July 2013
- June 2013
- May 2013
- April 2013
- March 2013
- Feb. 2013
- Jan. 2013
- Dec. 2012
- Nov. 2012
- Oct. 2012
- Sept. 2012
- Aug. 2012
- July 2012
- June 2012
- May 2012
- April 2012
- March 2012
- Feb. 2012
- Jan. 2012
- Dec. 2011
- Nov. 2011
- Oct. 2011
- Sept. 2011
- Aug. 2011
- July 2011
- June 2011
- May 2011
- April 2011
- March 2011
- Feb. 2011
- Jan. 2011