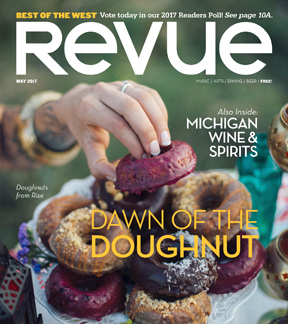 Letter from the Editor
When it comes to West Michigan, everyone's always talking about Beer City. But what about Wine Country?
From New Buffalo down by the Indiana border to the Leelanau Peninsula, grapevines line the countryside, bringing dozens of wineries with them (nearly 80, to be more precise).
Not that beer and wine are exactly competitors. It's rare that someone is debating heavily between cracking open a cold one and uncorking a vintage bottle. Wine historically has been seen as offering a different experience — slower, more romantic and more nuanced.
While that's changing with the rise of craft beer, winery tasting rooms still offer a very different experience. A wine tour means standing at a well-lit bar and being talked through small sips of many varieties. It means scenic drives through grape-filled hills and along rocky freshwater shores. It means ordering a spread of aged cheeses and cured meats, rather than a thick burger and fries.
That's not to mention mead and cider, both of which fall under the category of wine and are increasing steadily in popularity across the region.
So in this month's issue, coinciding with the 2017 Michigan Wine Month, we tackle it all. From grapes to apples, honey and spirits, we have the lowdown.
But all that aside, let's not forget the most important (I'm joking… kind of) part of May: Revue's second annual Best of the West. Last year's contest was a bigger success than we ever expected, but this year we're aiming even higher. We want more votes, more nominations and more conversation. If you have a restaurant, band, hair stylist — anything local at all — that you think deserves praise, now is the time to make that known.
Head to revuewm.com/bestofthewest starting May 1 and check out our new contest engine and new categories.
"Nobody will ever deprive the American people of the right to vote except the American people themselves, and the only way they could do this is by not voting." —Franklin D. Roosevelt
'Til next time,
Josh Veal, Managing Editor
---
What's inside this month:
On the Cover(s):
Doughnuts from Rise. Photo by Devin Hendrick. (Story on page 50.)
Michigan Wine & Spirits Guide: A rundown of wineries along the west half of the state (plus mead and cider), rosés to try, how to enjoy local spirits, and more
Revue Arts: H
igh-school theater productions are inspiring students to pursue the stage as a career, Rube Goldberg at the GRAM, Failure:Lab, and more
Music: Mark Lavengood, Mike Posner, Jessica Hernandez
Beer: Try before you buy: Stores where you can sample brews
- April 2017
- March 2017
- February 2017
- January 2017
- December 2016
- November 2016
- October 2016
- September 2016
- August 2016
- July 2016
- June 2016
- May 2016
- April 2016
- March 2016
- February 2016
- January 2016
- December 2015
- November 2015
- October 2015
- September 2015
- August 2015
- July 2015
- June 2015
- May 2015
- April 2015
- March 2015
- February 2015
- January 2015
- November 2014
- December 2014
- November 2014
- October 2014
- September 2014
- August 2014
- July 2014
- June 2014
- May 2014
- April 2014
- March 2014
- Feb. 2014
- Jan. 2014
- Dec. 2013
- Nov. 2013
- Oct. 2013
- Sept. 2013
- Aug. 2013
- July 2013
- June 2013
- May 2013
- April 2013
- March 2013
- Feb. 2013
- Jan. 2013
- Dec. 2012
- Nov. 2012
- Oct. 2012
- Sept. 2012
- Aug. 2012
- July 2012
- June 2012
- May 2012
- April 2012
- March 2012
- Feb. 2012
- Jan. 2012
- Dec. 2011
- Nov. 2011
- Oct. 2011
- Sept. 2011
- Aug. 2011
- July 2011
- June 2011
- May 2011
- April 2011
- March 2011
- Feb. 2011
- Jan. 2011