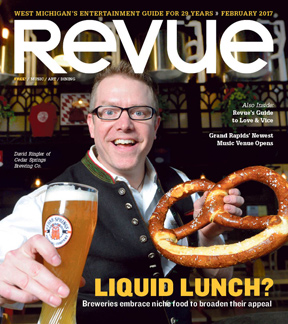 Letter from the Editor
In this issue of Revue, you'll find plenty of ways to treat yourself or pamper your significant other — or maybe even meet "the one."
It all reminds me of a true personal story.
Back in the dark ages when I was senior at Aquinas College, I received perhaps the scariest assignment of my life.
On Valentine's Day in 2003 during Professor Gary Eberle's 400-level Shakespeare class, he instructed us on a Friday that if we really wanted to understand the Bard's comedies, we needed to fall in love over the weekend.
That came as a tall order for even this studious English major, not to mention the timing fell during production for what was then known as the Aquinas Times, the student newspaper for which I served as assistant editor.
Fall in love — yeah, right. That'll happen. (Editors are such cynics.)
After class, as I worked in the makeshift newsroom tucked away in the basement of the Wege Center, I realized I'd need help over the weekend to meet our next deadline for the Times. So I emailed Claire, a fellow English major in the Shakespeare class who'd expressed an interest in writing and editing for the paper, to see if she had time to lend a hand.
That Saturday morning, we met at the office, pored over copy and designed and proofed pages. We made for quite the efficient team. Then sometime around noon, she got hungry and asked if I wanted to go upstairs to the cafeteria to have lunch with her.
I froze. I got really nervous.
You see, we had been classmates for four years. I knew her as an incredibly smart, funny and attractive young woman who really liked Elton John. But I suffered from an acute shyness when it came to dealing with the opposite sex and never took the risk.
This time, however, something possessed me to bargain with her. I told her that I'd love to go to lunch, but then I tacked on a question: "Would you like to go on a date with me this week?"
Her answer: Yes.
From there, it just clicked between us. We fell head-over-heels for each other, got engaged later that year and married in 2005 in an intimate ceremony on the Aquinas campus. After all these years, we're still going strong.
And yes, we both aced Shakespeare class.
Cheers,
Joe Boomgaard, Editor
---
What's inside this month:
On the Cover(s):
We're sporting two covers this month: Nicholas Schultz and Laura McQueen Schultz of Grand Rapids Ballet (Photo by Isaac Aoki, story on page 15A in Revue Arts) and David Ringler of Cedar Springs Brewing Co. (Photo by Katy Batdorff, story on page 42).
Special Section: Revue's Guide to Love & Vice
Revue Arts:
UICA rings in 40th birthday with two massive multimedia exhibitions, 'Hand to God' handles death with puppets, plus more upcoming arts events
Music: Grand Rapids' newest music venue (

20 Monroe Live)

opens, Cloud Nothings, Alley Door Club
Dining & Drinking:
Breweries embrace niche food to broaden their appeal, big beer events ahead in February, Q&A with West Michigan Farmlink
- January 2017
- December 2016
- November 2016
- October 2016
- September 2016
- August 2016
- July 2016
- June 2016
- May 2016
- April 2016
- March 2016
- February 2016
- January 2016
- December 2015
- November 2015
- October 2015
- September 2015
- August 2015
- July 2015
- June 2015
- May 2015
- April 2015
- March 2015
- February 2015
- January 2015
- November 2014
- December 2014
- November 2014
- October 2014
- September 2014
- August 2014
- July 2014
- June 2014
- May 2014
- April 2014
- March 2014
- Feb. 2014
- Jan. 2014
- Dec. 2013
- Nov. 2013
- Oct. 2013
- Sept. 2013
- Aug. 2013
- July 2013
- June 2013
- May 2013
- April 2013
- March 2013
- Feb. 2013
- Jan. 2013
- Dec. 2012
- Nov. 2012
- Oct. 2012
- Sept. 2012
- Aug. 2012
- July 2012
- June 2012
- May 2012
- April 2012
- March 2012
- Feb. 2012
- Jan. 2012
- Dec. 2011
- Nov. 2011
- Oct. 2011
- Sept. 2011
- Aug. 2011
- July 2011
- June 2011
- May 2011
- April 2011
- March 2011
- Feb. 2011
- Jan. 2011