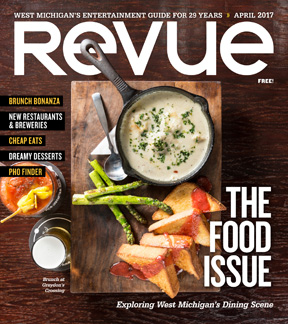 Letter from the Editor
Music lovers probably already have April 22 penciled into their calendars.
And for good reason: It's the tenth-annual Record Store Day, a celebration of independent music stores around the country and the day when audiophiles can comb through dozens of newly released, rare or limited-run goodies in search of their next favorite vinyl.
The full list of releases planned for this year is posted at recordstoreday.com, and it's chock full of interesting music from mainstream and obscure artists alike, everyone from Prince and David Bowie to Thelonious Monk and Jaco Pastorius.
I'm hoping to find copies of Alice in Chains' Get Born, a double seven-inch single featuring some of the last recordings the band made with the late Layne Staley, and Born Again by the late Notorious B.I.G.
(Both of the albums I want to score have the word "born" in their titles and feature dead singers. Go figure.)
If nothing else, Record Store Day is as good excuse as any to shop locally, look through the stacks and try to feed my growing LP collection. As a relative latecomer to rediscovering vinyl, I'm still in the mode of filling in gaps in the discographies of some of my favorite artists, in particular for New Wave Of British Heavy Metal (NWOBHM) giants like Diamond Head, Tygers of Pan Tang and Tank.
Happy wax hunting to all, and if you happen to find a good copy of Lightning to the Nations, you'll have to let me know its whereabouts.
Cheers,
Joe Boomgaard, Editor
---
What's inside this month:
On the Cover(s):
Brunch at Graydon's Crossing. Photo by Jeff Hage/Seth Thompson. (See page 32.)
The Food Issue: Cheap Eats, Brunch Bonanza, Pho Finder, New Restaurant & Brewery Report, and more
Revue Arts:
From College to Collage —
KCAD master's grad Eana Agopian wins UICA's Fresh Pick award.
(
See page 4A.)
Music: ConvoTronics, Joe Hertler, Hunter Hayes
Beer: Haze Craze: Michigan-made New England-style IPAs take the market by storm
- March 2017
- February 2017
- January 2017
- December 2016
- November 2016
- October 2016
- September 2016
- August 2016
- July 2016
- June 2016
- May 2016
- April 2016
- March 2016
- February 2016
- January 2016
- December 2015
- November 2015
- October 2015
- September 2015
- August 2015
- July 2015
- June 2015
- May 2015
- April 2015
- March 2015
- February 2015
- January 2015
- November 2014
- December 2014
- November 2014
- October 2014
- September 2014
- August 2014
- July 2014
- June 2014
- May 2014
- April 2014
- March 2014
- Feb. 2014
- Jan. 2014
- Dec. 2013
- Nov. 2013
- Oct. 2013
- Sept. 2013
- Aug. 2013
- July 2013
- June 2013
- May 2013
- April 2013
- March 2013
- Feb. 2013
- Jan. 2013
- Dec. 2012
- Nov. 2012
- Oct. 2012
- Sept. 2012
- Aug. 2012
- July 2012
- June 2012
- May 2012
- April 2012
- March 2012
- Feb. 2012
- Jan. 2012
- Dec. 2011
- Nov. 2011
- Oct. 2011
- Sept. 2011
- Aug. 2011
- July 2011
- June 2011
- May 2011
- April 2011
- March 2011
- Feb. 2011
- Jan. 2011