Revue Magazine is West Michigan's most comprehensive free entertainment guide covering music, arts, film, beer, dining and family-centric entertainment. Each month, we distribute more than 15,000 copies at 500-plus locations throughout Grand Rapids, Kalamazoo, Muskegon, Holland, Grand Haven, Saugatuck, Battle Creek and other towns throughout the region.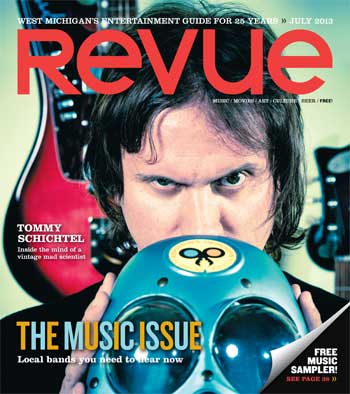 Submit news, information or story ideas
Send us what you've got. Seriously, Revue is always looking for news, story ideas, listings of things to do, CDs to review, movies to watch (and write about), tickets, merch, etc. While some people consider us a magazine, we have a variety of ways to get the word out there via our website, social networking and enewsletter. So, whether you're a venue or a band trying to get the word out, or a freelance journalist looking to get published, we're interested.
Shoot us an e-mail at josh@serendipity-media.com. Or, you can mail press kits, CDs, books, records, or payola to:
Serendipity Media
535 Cascade W. Pkwy, Grand Rapids, MI 49546
P: (616) 458-8371