Letter from the Editor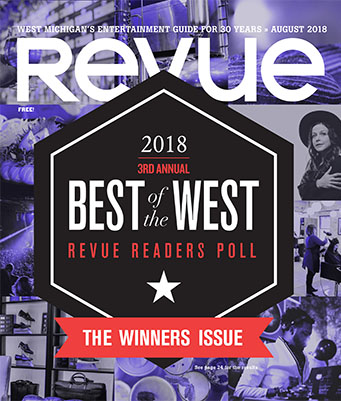 There are few battles so fiercely fought as a debate among friends over the best pizza in town.
The cheese, the sauce, the crust, the pepperoni radius, the GSI (grease per square inch) — all potential weapons in a fiery contest of taste and fidelity. It can get ugly, but at the end, you get to sit down and make amends over some gooey, saucy slices.
Now multiply this by 130 categories, ranging from food to drinks, people, services and music, and you have the spirit of Best of the West, Revue's annual reader poll. The best way to go over the results is with a group of friends. You can review whether you think the winners are well-deserved or not, and who your picks would've been.
It's interesting — well, to me, anyway — to consider why some people and places fare so well year after year. When we look at certain results and say, "Well, that's not surprising," why is that?
Quality is arguably the most important factor, but that's pretty subjective. However, the quantifiable common factors seem to be:
Longevity. With time comes recognition, greatly increasing your chances of winning just through sheer numbers of voters actually knowing who you are.
Location. First off, GR nominees tend to fare better than the Kalamazoo or lakeshore, due to a larger population. But a restaurant surrounded by other cool joints on a busy street also will infiltrate the collective consciousness more than anywhere off the beaten path.
Social media. It's simple — not everyone in West Michigan knows about Best of the West. It's not a surefire path to victory, but if you're out there making sure your fans are voting, your chances increase.
Actually, now that I think about it, these are pretty good strategies for just succeeding as a business. Maybe I'll write a book!
OK, I've imparted my priceless sage wisdom, now it's time to go forth and read the results. You'll also find our Restaurant Week preview, a new IPA tasting, the heart-wrenching story of local band Pink Sky, a profile on local comedy troupe Plant Parenthood, and much more.
'Til next time,
Josh Veal, Managing Editor
---
What's inside this month:
On the Cover: 2018 Best of the West (See Page 24.)
Music: Pink Sky, Cowpie Music Festival
Dining & Drinking: Restaurant Week GR, IPA Taste-off
Scene: Leo Fashion Forecast
Comedy: Nikki Glaser, Plant Parenthood
Revue Arts
On the Cover: Memories of Mayer: Hope College honors a beloved professor's life
Renovation Renaissance: Grand Rapids art centers' major upgrades offer the latest in acoustics, technology
Trust, Passion and Relevance: Kalamazoo Symphony's new music director discusses his philosophy
Killing Time: Assassins takes a look back at history's most famous murders
Love Song: Mason Street Warehouse's Once is a special kind of musical
At World's End: How Barn Theatre finds success in variety and disaster
- July 2018: Summer Fun Issue
- June 2018: Music Issue
- May 2018: Wine & Spirits Issue
- April 2018: Food Issue
- March 2018: Cooking Issue
- February 2018: Wintertime Blues
- January 2018: Revue turns 30
- December 2017: Guide to the holidays
- November 2017
- October 2017: The Beer Issue
- September 2017: The Arts Issue
- August 2017: Best of the West winners
- July 2017
- June 2017
- May 2017
- April 2017
- March 2017
- February 2017
- January 2017
- December 2016
- November 2016
- October 2016
- September 2016
- August 2016
- July 2016
- June 2016
- May 2016
- April 2016
- March 2016
- February 2016
- January 2016
- December 2015
- November 2015
- October 2015
- September 2015
- August 2015|
- July 2015
- June 2015
- May 2015
- April 2015
- March 2015
- February 2015
- January 2015
- November 2014
- December 2014
- November 2014
- October 2014
- September 2014
- August 2014
- July 2014
- June 2014
- May 2014
- April 2014
- March 2014
- Feb. 2014
- Jan. 2014
- Dec. 2013
- Nov. 2013
- Oct. 2013
- Sept. 2013
- Aug. 2013
- July 2013
- June 2013
- May 2013
- April 2013
- March 2013
- Feb. 2013
- Jan. 2013
- Dec. 2012
- Nov. 2012
- Oct. 2012
- Sept. 2012
- Aug. 2012
- July 2012
- June 2012
- May 2012
- April 2012
- March 2012
- Feb. 2012
- Jan. 2012
- Dec. 2011|
- Nov. 2011
- Oct. 2011
- Sept. 2011
- Aug. 2011
- July 2011
- June 2011
- May 2011
- April 2011
- March 2011
- Feb. 2011
- Jan. 2011