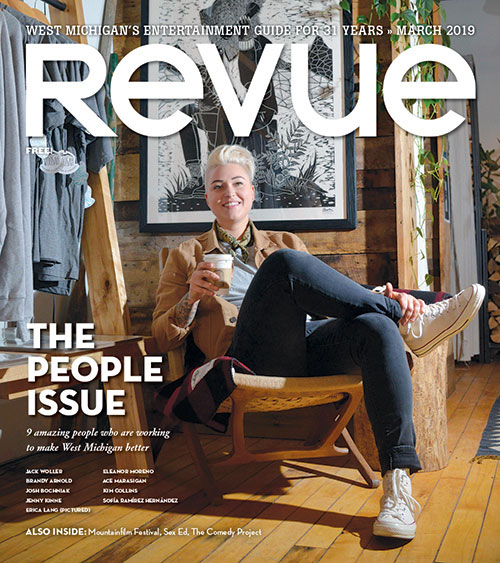 Letter from the Editor
Nothing just happens.
There's always an outside force. Buildings don't build themselves, businesses don't suddenly open with no employees, and neighborhoods don't appear out of thin air. In a community, that driving force is the people.
When we talk about what makes a city great, we aren't talking about the brick and mortar, the pavement and street lights. We're talking about the culture, the community, the food, the nightlife, the arts scene — all created entirely by the people who live there.
Every single person in a neighborhood, city or state is part of what makes that region what it is, including you! Like an atomic structure, a community fundamentally changes every time even a single person joins or leaves.
Still, some people just happen to be particularly fascinating. Whether by choice or not, they've moved into a position where they're having an especially large effect on the community — which is to say, on the people around them. They're the kind of people you don't forget, because their passion is infectious and their stories are captivating.
Those are exactly the kinds of people we wanted to highlight with our first-ever People Issue. We talked to some of the movers and shakers of West Michigan working hard to make a difference, connect with the community and give a platform to those around them.
These are not spotlight-seeking folks. In fact, some of them nearly said no to being included at all, so don't think them vain by any means. That's not going to stop us from singing their praises, however, because we know you'll benefit from their stories. Hopefully, you'll even feel inspired to make a difference yourself, however you can.
'Til next time,
Josh Veal, Managing Editor
---
What's inside this month:
On the Cover: Erica Lang, Founder of Woosah Outfitters. Photographed by Katy Batdorff.
Scene: Whats Going on, Biz Beat, Potshots, Teach The Children Well: The uphill climb to teach comprehensive sex ed in West Michigan
The People Issue:Brandy Arnold, Erica Lang, Eleanor Moreno,Jack Woller, Jenny Kinne, Josh Bochniak, Ace Marasigan, Kim Collins, Sofía Ramírez Hernández
Music: Local: Michigan House
Dining & Drinking: Hot Dogs
Sights: The Comedy Project
Revue Arts
Visual arts, classical and jazz music, theater, arts event previews and more. (See the center of this issue)
- February 2019: The Cheap Issue
- January 2019: 50 Things to Do in 2019
- December 2018: Rearview Mirror
- November 2018: Holiday Gift Guide
- October 2018: The Beer Issue
- September 2018: The Arts Issue
- August 2018: Best of the West
- July 2018: Summer Fun Issue
- June 2018: The Music Issue
- May 2018: Wine & Spirits Issue
- April 2018: Food Issue
- March 2018: Cooking Issue
- February 2018: Wintertime Blues
- January 2018: Revue turns 30
- December 2017: Guide to the holidays
- November 2017
- October 2017: The Beer Issue
- September 2017: The Arts Issue
- August 2017: Best of the West winners
- July 2017
- June 2017
- May 2017
- April 2017
- March 2017
- February 2017
- January 2017
- December 2016
- November 2016
- October 2016
- September 2016
- August 2016
- July 2016
- June 2016
- May 2016
- April 2016
- March 2016
- February 2016
- January 2016
- December 2015
- November 2015
- October 2015
- September 2015
- August 2015|
- July 2015
- June 2015
- May 2015
- April 2015
- March 2015
- February 2015
- January 2015
- November 2014
- December 2014
- November 2014
- October 2014
- September 2014
- August 2014
- July 2014
- June 2014
- May 2014
- April 2014
- March 2014
- Feb. 2014
- Jan. 2014
- Dec. 2013
- Nov. 2013
- Oct. 2013
- Sept. 2013
- Aug. 2013
- July 2013
- June 2013
- May 2013
- April 2013
- March 2013
- Feb. 2013
- Jan. 2013
- Dec. 2012
- Nov. 2012
- Oct. 2012
- Sept. 2012
- Aug. 2012
- July 2012
- June 2012
- May 2012
- April 2012
- March 2012
- Feb. 2012
- Jan. 2012
- Dec. 2011|
- Nov. 2011
- Oct. 2011
- Sept. 2011
- Aug. 2011
- July 2011
- June 2011
- May 2011
- April 2011
- March 2011
- Feb. 2011
- Jan. 2011