Letter from the Editor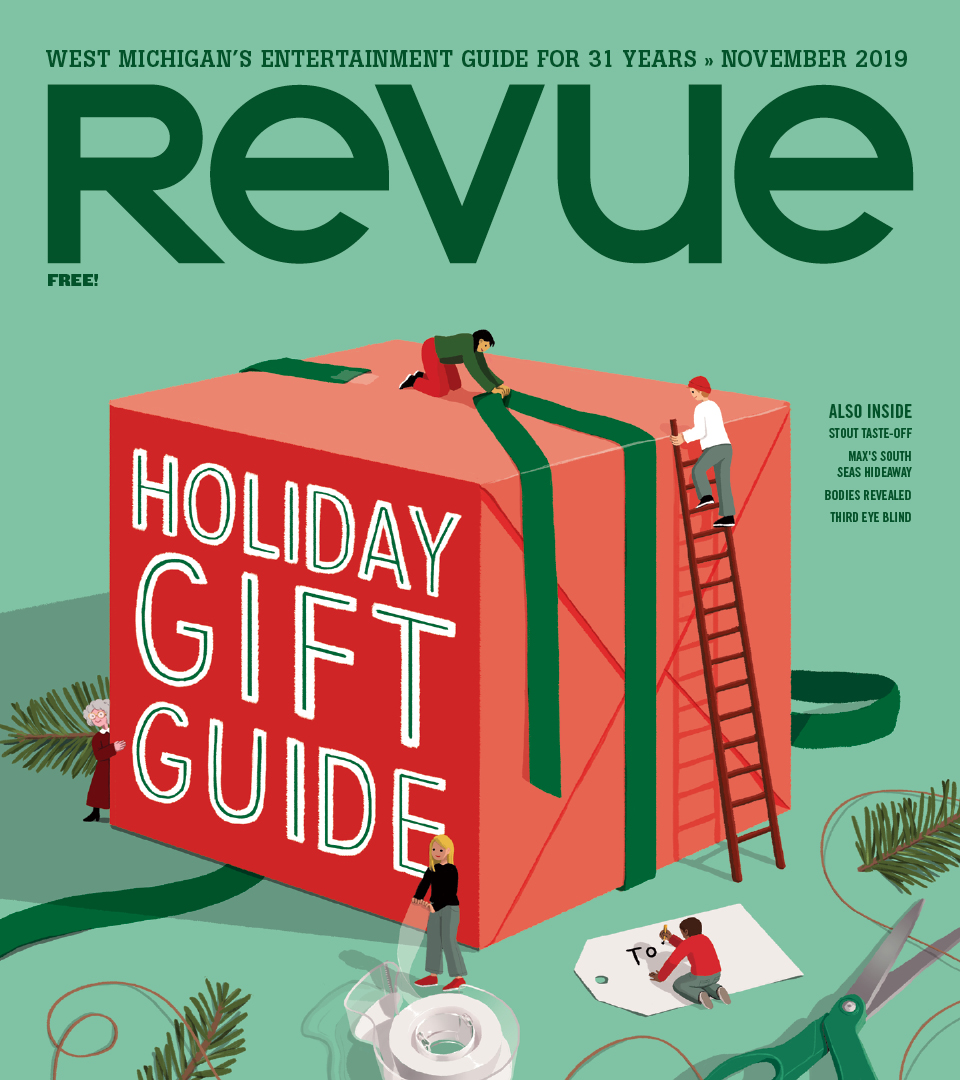 The holidays are a time of many ups and downs.
Taking days off? Good. Having less time to do your work? Bad. Enjoying fires, soup and hot coffee? Good. Stepping out into progressively colder weather? Bad. Seeing certain family members? Good. Seeing other family members? Bad.
Getting gifts? Good. Giving gifts? Depends.
That's contingent on who the person is, what their tastes are, and when exactly you start shopping. That's why we release our Holiday Gift Guide in November: to help you out before you're in over your head.
We take a look at 10 kinds of people we know in our lives — excellently illustrated by local artist Kim Nguyen — and give you gift ideas of all kinds. You'll find local events, restaurants, bars, breweries and much more inside.
We also have a small guide for stocking stuffers, just to give you an idea of what's available at the many amazing little shops around West Michigan. It's way more fun to browse, buy, and experience gift-shopping in person than just staring at a screen and calculating shipping costs online. Gift-giving doesn't have to be a chore!
Of course, the holidays don't have to take over the next two months completely. We hosted a stout taste-off with two local beer lovers, interviewed Third Eye Blind, and visited Grand Rapids' new tiki showstopper, Max's South Seas Hideaway.
Don't let holiday stress consume your life: Get shopping early and you can spend November and December cooking delicious meals and watching holiday movies by the fire. That's what I'll be doing, anyway.
'Til next time,
Josh Veal, Managing Editor
---
What's inside this month:
On the Cover: Holiday Gift Guide. Illustration by Kim Nguyen.
Scene: What's Going On, Biz Beat, Potshots
Sounds: Third Eye Blind, Listening Room
Local Holiday Gift Guide: Aging Hipster, Nutrition Nut, Fashionista, Folk Fanatic, Homeowner, Overworked Parent, Sports Superfan, Influencer, Gamer Geek, Craft Connoisseur, Stocking Stuffers
Dining & Drinking: Beer: Stout Tasting, Dining: Max's South Seas Hideaway
Revue Arts
Visual arts, classical and jazz music, theater, arts event previews and more. (See the center of this issue)
- October 2019: The Beer Issue
- September 2019: The Arts Issue
- August 2019: Best of the West Winners Issue
- July 2019: The Pet Isuue
- June 2019: The Music Issue
- May 2019: The Drinking Issue
- April 2019: West Michigan Dining Guide
- March 2019: The People Issue
- February 2019: The Cheap Issue
- January 2019: 50 Things to Do in 2019
- December 2018: Rearview Mirror
- November 2018: Holiday Gift Guide
- October 2018: The Beer Issue
- September 2018: The Arts Issue
- August 2018: Best of the West
- July 2018: Summer Fun Issue
- June 2018: The Music Issue
- May 2018: Wine & Spirits Issue
- April 2018: Food Issue
- March 2018: Cooking Issue
- February 2018: Wintertime Blues
- January 2018: Revue turns 30
- December 2017: Guide to the holidays
- November 2017
- October 2017: The Beer Issue
- September 2017: The Arts Issue
- August 2017: Best of the West winners
- July 2017
- June 2017
- May 2017
- April 2017
- March 2017
- February 2017
- January 2017
- December 2016
- November 2016
- October 2016
- September 2016
- August 2016
- July 2016
- June 2016
- May 2016
- April 2016
- March 2016
- February 2016
- January 2016
- December 2015
- November 2015
- October 2015
- September 2015
- August 2015|
- July 2015
- June 2015
- May 2015
- April 2015
- March 2015
- February 2015
- January 2015
- November 2014
- December 2014
- November 2014
- October 2014
- September 2014
- August 2014
- July 2014
- June 2014
- May 2014
- April 2014
- March 2014
- Feb. 2014
- Jan. 2014
- Dec. 2013
- Nov. 2013
- Oct. 2013
- Sept. 2013
- Aug. 2013
- July 2013
- June 2013
- May 2013
- April 2013
- March 2013
- Feb. 2013
- Jan. 2013
- Dec. 2012
- Nov. 2012
- Oct. 2012
- Sept. 2012
- Aug. 2012
- July 2012
- June 2012
- May 2012
- April 2012
- March 2012
- Feb. 2012
- Jan. 2012
- Dec. 2011|
- Nov. 2011
- Oct. 2011
- Sept. 2011
- Aug. 2011
- July 2011
- June 2011
- May 2011
- April 2011
- March 2011
- Feb. 2011
- Jan. 2011