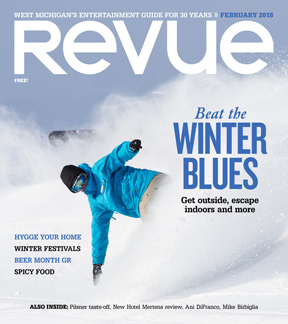 Letter from the Editor
Winter isn't exactly the kindest season. In fact, it can be a bit rude, if not standoffish. But that doesn't mean we have to let it bully us around. There are ways to fight back, or at least find shelter until our good friend spring comes to the rescue.
This month, we want to help you beat winter with its own weapons: cold and snow. Without the white stuff, snowshoeing would just be hiking, but harder, and snowboards would be planks that are too short to walk off. And there really is no other season to ice skate in the open air. For every punishment winter doles out, it also grants a gift.
As for the cold, winter is by far the best time to marinate in a hot tub, and the great outdoors acts as a natural fridge for your 12-packs, which frees up shelf space. Plus, it just makes us all a little bit stronger. On the other hand, it's a great excuse to stay inside, bundle up and do absolutely nothing.
We cover all this and more in our Winter Blues section, but that's not all we have this month. Check out our expansive guide on tabletop gaming and arcades (also a good escape from the cold), our look at the spiciest food around West Michigan, and our local pilsner taste-off. Valentine's Day is coming up too, so we went to Grand Rapids' very own love expert, Dr. Megan Stubbs, for some tips for couples and singles alike.
Whether you decide to escape or embrace winter's icy grasp, just remember, there's only one, or two, or maybe three more months of this.
'Til next time,
Josh Veal, Managing Editor
---
What's inside this month:
Feature: Beat the Winter Blues with indoor escapes, outdoor adventures and events and more. (See page 30.)

Music: Pop Evil, Cheap Trick and Ani DiFranco
Dining & Drinking: Dining Review: New Hotel Mertens, Where to Get Spicy Dishes, Pilsner Taste-off, Last Call: Citizen GR
Revue Arts
Imani Winds blazes new trails for the diverse world of wind quintets
Beverly Pepper at Meijer Gardens
WMS presents Hollywood's Greatest Melodies
Fringe Festival celebrates the unusual
- January 2018: Revue turns 30
- December 2017: Guide to the holidays
- November 2017
- October 2017: The Beer Issue
- September 2017: The Arts Issue
- August 2017: Best of the West winners
- July 2017
- June 2017
- May 2017
- April 2017
- March 2017
- February 2017
- January 2017
- December 2016
- November 2016
- October 2016
- September 2016
- August 2016
- July 2016
- June 2016
- May 2016
- April 2016
- March 2016
- February 2016
- January 2016
- December 2015
- November 2015
- October 2015
- September 2015
- August 2015
- July 2015
- June 2015
- May 2015
- April 2015
- March 2015
- February 2015
- January 2015
- November 2014
- December 2014
- November 2014
- October 2014
- September 2014
- August 2014
- July 2014
- June 2014
- May 2014
- April 2014
- March 2014
- Feb. 2014
- Jan. 2014
- Dec. 2013
- Nov. 2013
- Oct. 2013
- Sept. 2013
- Aug. 2013
- July 2013
- June 2013
- May 2013
- April 2013
- March 2013
- Feb. 2013
- Jan. 2013
- Dec. 2012
- Nov. 2012
- Oct. 2012
- Sept. 2012
- Aug. 2012
- July 2012
- June 2012
- May 2012
- April 2012
- March 2012
- Feb. 2012
- Jan. 2012
- Dec. 2011
- Nov. 2011
- Oct. 2011
- Sept. 2011
- Aug. 2011
- July 2011
- June 2011
- May 2011
- April 2011
- March 2011
- Feb. 2011
- Jan. 2011