Letter from the Editor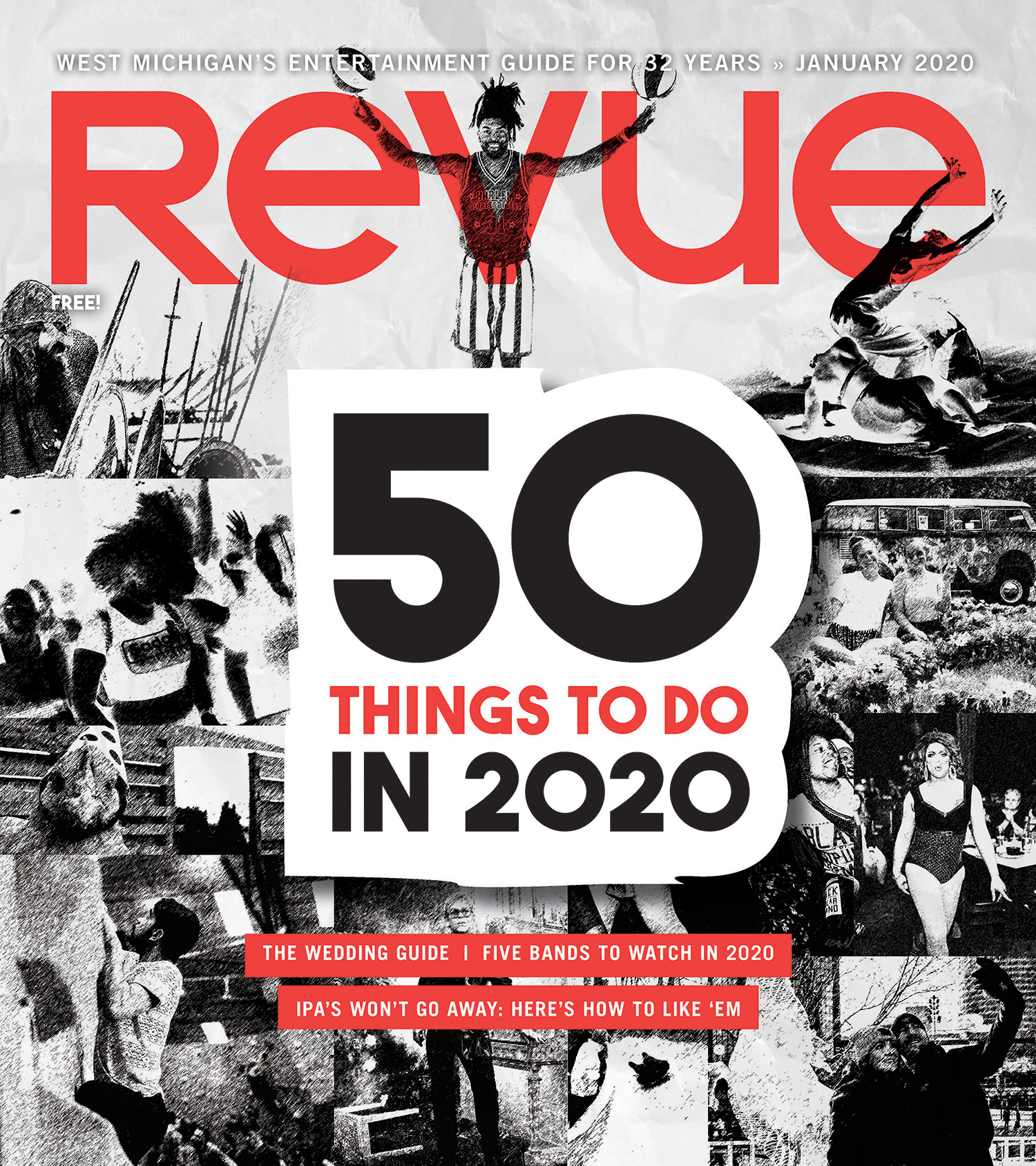 Well, there's no going back now.
We've entered a new year — a new decade even — and the 2010s are behind us.
I'll be the first to make the obvious joke: Hindsight is 2020. But who could've ever expected to end up where we are now? As individuals, as a magazine, as a country, it's been a wild ride.
I went from confidently thinking I'd be a teacher, to becoming an aimless post-grad waiter, to writing for Revue and now leading the magazine.
As a publication, we grew and grew, launched Revue Arts, recently hit 30 years old, and were purchased by Serendipity Media.
There's a good chance you personally went through big changes in the past decade — maybe you moved here, or got married, or started a family, and none of it happened how you expected.
So, what's next? There's no way to know for sure, but here are my predictions:
I'll win the lottery and maintain a full head of hair.

Revue

will become a household name across the state.

West Michigan will be known as THE cultural hotspot of the Midwest.

People, just in general, will become more kind and more compassionate.

The ice caps will stop melting and everything will be fine.
A boy can dream!
While we can't exactly see the future, we can at least make plans for the year ahead. In this issue, we rounded up 50 of our favorite events, festivals, concerts, restaurants, parks, trails and experiences for 2020.
In January, we're always motivated to turn a new leaf and try new things. Yet that feeling can fade, which is why you should make a bucket list for the year now! Let's kick the 2020s off with a bang.
Really quick, though, as long as we're looking back, I'd like to make a note: In the last issue's big Year-End Biz Beat, we accidentally stated that Kelvin & Co. BBQ's Kalamazoo location had closed. If your heart sunk at that news, fear not — it was actually their Grand Rapids store that closed. The Kalamazoo spot is waiting with open arms, as is their new Portage location!
'Til next time,
Josh Veal, Managing Editor
---
What's inside this month:
On the Cover: The Wedding Guide & 50 Things to Do in 2020!
Scene: West Michigan Biz Beats, Potshots
Sounds: Trampled by Turtles
Dining & Drinking: IPAs & Wraps
Revue Arts
Visual arts, classical and jazz music, theater, arts event previews and more. (See the center of this issue)
-December 2019: Ultimate Guide to Holiday Parties
- November 2019: The Holiday Gift Guide
- October 2019: The Beer Issue
- September 2019: The Arts Issue
- August 2019: Best of the West Winners Issue
- July 2019: The Pet Issue
- June 2019: The Music Issue
- May 2019: The Drinking Issue
- April 2019: West Michigan Dining Guide
- March 2019: The People Issue
- February 2019: The Cheap Issue
- January 2019: 50 Things to Do in 2019
- December 2018: Rearview Mirror
- November 2018: Holiday Gift Guide
- October 2018: The Beer Issue
- September 2018: The Arts Issue
- August 2018: Best of the West
- July 2018: Summer Fun Issue
- June 2018: The Music Issue
- May 2018: Wine & Spirits Issue
- April 2018: Food Issue
- March 2018: Cooking Issue
- February 2018: Wintertime Blues
- January 2018: Revue turns 30
- December 2017: Guide to the holidays
- November 2017
- October 2017: The Beer Issue
- September 2017: The Arts Issue
- August 2017: Best of the West winners
- July 2017
- June 2017
- May 2017
- April 2017
- March 2017
- February 2017
- January 2017
- December 2016
- November 2016
- October 2016
- September 2016
- August 2016
- July 2016
- June 2016
- May 2016
- April 2016
- March 2016
- February 2016
- January 2016
- December 2015
- November 2015
- October 2015
- September 2015
- August 2015|
- July 2015
- June 2015
- May 2015
- April 2015
- March 2015
- February 2015
- January 2015
- November 2014
- December 2014
- November 2014
- October 2014
- September 2014
- August 2014
- July 2014
- June 2014
- May 2014
- April 2014
- March 2014
- Feb. 2014
- Jan. 2014
- Dec. 2013
- Nov. 2013
- Oct. 2013
- Sept. 2013
- Aug. 2013
- July 2013
- June 2013
- May 2013
- April 2013
- March 2013
- Feb. 2013
- Jan. 2013
- Dec. 2012
- Nov. 2012
- Oct. 2012
- Sept. 2012
- Aug. 2012
- July 2012
- June 2012
- May 2012
- April 2012
- March 2012
- Feb. 2012
- Jan. 2012
- Dec. 2011|
- Nov. 2011
- Oct. 2011
- Sept. 2011
- Aug. 2011
- July 2011
- June 2011
- May 2011
- April 2011
- March 2011
- Feb. 2011
- Jan. 2011