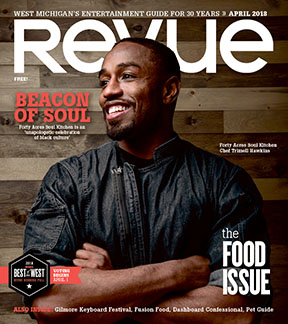 Letter from the Editor
We live in a petri dish of restaurants and breweries, with new, ambitious ideas constantly popping up and testing the limits of what can survive in West Michigan.
Sometimes, these concepts succeed and grow quickly (The Søvengård). Other times, they're forced to adapt to the environment and evolve into something different (The Waldron). And others, sadly, just don't quite make it (Lazy Susan).
But more often than not, West Michigan has shown it's hungry for a colorful variety of cuisine from around the world, whether it be amazing sushi, a twist on Puerto Rican food, upscale American classics or just about anything else.
This month, Revue explores those who've made it already and the new kids making a splash in town. We talk with Forty Acres Soul Kitchen about what it means to be a "beacon" of soul in a city and an industry that have not always included everyone in their success. We chat with Wikiwiki Poke Shop about the unexpected combination of raw fish, loud hip-hop and predominantly middle-aged customers. We look at fusion food, bar food, food with a mission and more.
You'll also notice that voting has begun for our third annual Best of the West. Last year, we improved the system and gathered far more votes than before. This year, we want to keep that momentum rolling, but we need your help. Don't just vote for your favorite brewery, hair stylist and restaurant — tell all your friends to cast their votes, too. Head to revuewm.com/bestofthewest for more details.
And finally: You're bound to flip past a nice, big new section in the middle of the magazine. I don't want to spoil the surprise, but just know we put some serious TLC into making this issue special, celebrating one of the most rare, unparalleled events West Michigan has to offer.
'Til next time,
Josh Veal, Managing Editor
---
What's inside this month:
On the Cover: Forty Acres Soul Kitchen Chef Trimell Hawkins, photo by Seth Thompson. (See page 24.)
Feature: The Food Issue. (See page 23.)
Music: X Ambassadors, Dashboard Confessional and Major Murphy
Dining & Drinking: Hazy IPAs, Last Call: Social Bar & Kitchen
Revue Arts
On the Cover: Artemis Quartet
Feature: Gilmore Keyboard Festival. (See page 43.)
Back to New York: With second Carnegie Hall trip, the Grand Rapids Symphony looks to the future
You Can Go Home Again: New West Michigan Symphony executive director happy to be back in Michigan
Thawed Out and Fired Up: Columbinus looks back on 19 years of school shootings, and how today's students have changed
First Shift at Neverland: Lost Boy in Whole Foods examines why refugees come to America and how we treat them
Seeing Other People: No Exit explores what true Hell is, while opening doors for students
Worth a Thousand Words: Language Artists improves writing, equity and accessibility for third graders.
- March 2018
- February 2018
- January 2018: Revue turns 30
- December 2017: Guide to the holidays
- November 2017
- October 2017: The Beer Issue
- September 2017: The Arts Issue
- August 2017: Best of the West winners
- July 2017
- June 2017
- May 2017
- April 2017
- March 2017
- February 2017
- January 2017
- December 2016
- November 2016
- October 2016
- September 2016
- August 2016
- July 2016
- June 2016
- May 2016
- April 2016
- March 2016
- February 2016
- January 2016
- December 2015
- November 2015
- October 2015
- September 2015
- August 2015
- July 2015
- June 2015
- May 2015
- April 2015
- March 2015
- February 2015
- January 2015
- November 2014
- December 2014
- November 2014
- October 2014
- September 2014
- August 2014
- July 2014
- June 2014
- May 2014
- April 2014
- March 2014
- Feb. 2014
- Jan. 2014
- Dec. 2013
- Nov. 2013
- Oct. 2013
- Sept. 2013
- Aug. 2013
- July 2013
- June 2013
- May 2013
- April 2013
- March 2013
- Feb. 2013
- Jan. 2013
- Dec. 2012
- Nov. 2012
- Oct. 2012
- Sept. 2012
- Aug. 2012
- July 2012
- June 2012
- May 2012
- April 2012
- March 2012
- Feb. 2012
- Jan. 2012
- Dec. 2011
- Nov. 2011
- Oct. 2011
- Sept. 2011
- Aug. 2011
- July 2011
- June 2011
- May 2011
- April 2011
- March 2011
- Feb. 2011
- Jan. 2011