When it comes to lunch, spending more than $10 feels almost decadent. It's like biting into a forbidden fruit, except the fruit is actually two rolls of sushi with a side of crab puffs. For dinner, on the other hand, eateries seem almost hesitant to drop below the double-digits. Maybe it's because we restaurant-goers tend to associate price with quality, if not quantity. Whatever the reason, we're here to prove that's not the case. Here's 10 delicious, filling dinners in West Michigan that all cost $10 or less (before your generous tip, of course).
Brick Road Burger - $9.50
Brick Road Pizza, 1017 Wealthy St. SE, Grand Rapids
While the restaurant is certainly carnivore-friendly, excellent vegan and vegetarian options abound at Brick Road Pizza. The eponymous burger is a vegan, house-made patty topped with BBQ sauce, veganaise, French-fried onions and Daiya cheddar, with tomato and lettuce on the side. It's big, saucy and smokey — everything you want in a burger.

Veggin' Out - $10
One Well Brewing, 4213 Portage St., Kalamazoo
This is not your typical quesadilla: Zucchini, summer squash, eggplant, roasted red pepper, spinach, avocado, goat cheese, and mozzarella fill the grilled tortilla, with chips and salsa on the side. If you're feeling flush, toss some smoked pork, pulled chicken or bacon in for another $2. It's the perfect complement to Zeus' Sexual Appetite (One Well's session IPA).
Best of the Wurst - $7.95
Territorial Brewing Company, 256 Helmer Rd., Springfield
We've already ranted and raved about how stunning Territorial's German-inspired beers are, but the brewery's food is equally worth the trip and overall light on the wallet. While you could spring for an incredible half-pound burger ($9.45), here's your chance to try something new. The Best of the Wurst platter offers the chef's choice of three authentic German sausages with sauerkraut, caramelized onions, two dips and German fries.
Fried Green Tomato BLT - $10
Grand Rapids Brewing Co., 1 Ionia Ave. SW, Grand Rapids
This BLT takes an at-home classic to the next level, with pepper bacon, arugula, fried green tomatoes and red tomatoes making up the heart of the sandwich. Toss in some rosemary-tarragon aioli and put it all between Nantucket Baking Co. sourdough grilled toast for a sandwich that reaches the upper limits of our budget, but worthily so.
Burger + Chili Dog + Fries - $8.89
Jonny B'z, 701 Wealthy St. SE, Grand Rapids
This one almost feels like cheating. How you choose to combine items at Jonny B'z is up to you, and this burger ($3.75), all-beef chili dog ($2.89) and fries ($2.25) meal is just one of many possible dinners. The point is: It's easy to fill up without breaking the bank here, even after the restaurant last year converted to a sit-down establishment and brought in alcohol.
Three Tacos - $6
Taqueria San Jose, 1338 S. Division Ave., Grand Rapids
Tacos are only $2 here, but I'd easily pay twice that when my San Jose cravings are at their worst. The taqueria has developed a reputation for being possibly the best in the city. Each taco is nothing more than fresh cilantro, diced onion and your choice of juicy, expertly-prepared meat (or cactus) — it's truly all you need. I've always filled up on just three tacos, but even then, it's hard not to head back to the counter for more.
Sami's Gyro - $7.99
The Pita House, 1508 Wealthy St. SE, Grand Rapids
Nearly 20 sandwiches (all less than $8) line the menu of this Eastown staple, but Sami's Gyro is the only one mentioned right on the store's logo. The basics are there — meat cooked on a vertical rotisserie, served in pita bread — but the most economical aspect of Pita House is the truly massive amount of fresh veggie toppings available, free of charge.
Green Curry - $8.25
Erb Thai, 950 Wealthy St. SE, Grand Rapids
Most Thai places will up the price (and portion size) when dinner rolls around, but Erb Thai sticks to its guns with all kinds of noodle, traditional and curry dishes that are cheap as heck. We're partial to the green curry with rice, coconut milk, carrots, broccoli, mushrooms, pea pods, baby corn, bamboo shoots, celery, eggplant, AND your choice of protein. Chicken and tofu are the cheapest options here, coming in at $8.25.
Chronic Rice Wrap - $9.25
Logan's Alley, 916 Michigan St. NE, Grand Rapids
Not enough people know about Logan's food, so let us just break down one dish that veg-heads and carnivores alike will love. You start with your choice of grilled chicken or tempeh, then lay down some sauteed red onion, jalapenos, banana peppers, cilantro rice, arugula and cracked-pepper aioli on a warm flour tortilla. All that comes with potato chips and giardiniera (pickled vegetables). Alright, we're getting hungry…
Pork Butt Burrito - $8
Righteous Cuisine, 211 N. 7th St., Grand Haven
Righteous Cuisine out by the lake crafts burritos and tacos the likes of which you've never seen. Sweet potato and brussels sprouts are common ingredients, but the Pork Butt Burrito specifically comes loaded up with pineapple salsa, queso fresco, guajillo barbecue sauce and cilantro. Split a $3 side of chips and salsa with a friend and you're still under budget.

---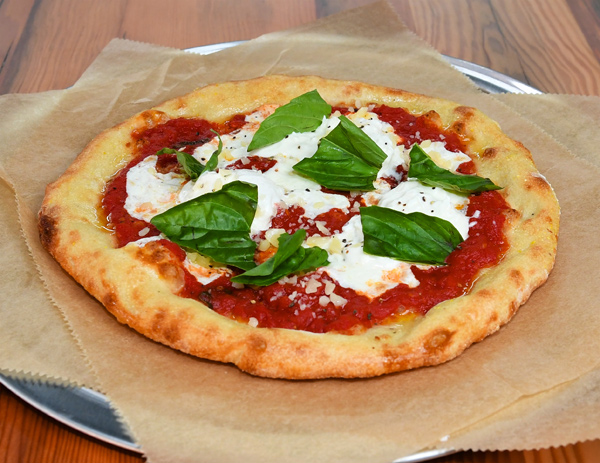 Happy Hours
There's a lot more to being happy than drinking adult beverages. Knowing that, plenty of eateries have made food deals an integral part of their happy hour menu. We've managed to find a batch of bargains that are reason enough to leave work early.
Social Kitchen, 435 Ionia Ave. SW, Grand Rapids
Mon.-Fri., 3-6 p.m.
The half-off pizzas (pictured above) alone would be reason enough to visit Social for happy hour, but then they threw in half-off apps (like hummus with spiced lamb or chicken and waffles), sides and select burgers.
Rockwell Republic, 45 S. Division Ave., Grand Rapids
Mon.-Fri., 3-6 p.m., Sat.-Sun., 11:30 a.m.-5 p.m.
There's nothing better than cheap sushi. Rockwell Republic has a whole menu of $6 sushi rolls (and apps) for happy hour, some of which typically cost twice that.
Gravity Taphouse, 3210 Deposit Dr. NE, Grand Rapids
Mon.-Fri., 3-6 p.m., Fri.-Sat., 10 p.m.-close
Gravity goes all out: $3 tacos, $2 sliders, $2 off select apps, and a Michigan Flight N'Bite, which gives you four Michigan beer samples and a snack for $8 total.
Terra, 1429 Lake Dr. SE, Grand Rapids
Daily 4-6, p.m.
I have definitely raced from work to Terra specifically for half-off salads and $10 pizzas, which typically average $17. Of course, $2.50 off cocktails, beer and wine doesn't hurt either.
The Green Well, 924 Cherry St. SE, Grand Rapids
Mon.-Fri., 11 a.m.-3 p.m.
The hearty Green Plate lunch special (always $9.99) changes daily, but Roasted Miller's Amish Chicken was a recent item, consisting of a roasted leg and thigh, rice, corn, tomato, serrano pepper, black bean puree, roasted peppers, and BLiS sour cream.
Central City Taphouse, 359 S. Kalamazoo Mall, Kalamazoo
Mon.-Sat., 9-11 p.m.
If you can hold off on dinner until 9 p.m., Central City's Devour Hour will treat you to half-off pizzas, which are typically about $13.
---
Deals of the Day
Say it's Tuesday, you're desperate to go out to eat with your friends, but everyone's broke. Oftentimes, the solution is to spend an hour combing every local establishment's website for their best Tuesday bargains. Well comb no further — we've compiled the finest daily deals around for you.
Sunday
Blue Dog Tavern (638 Stocking Ave., Grand Rapids): $4 Blue Dogs until 5 p.m.
Birch Lodge (732 Michigan St., Grand Rapids): Free tacos and bloody mary/mimosa bar.
Crooked Goose (355 Wilson Ave., Grand Rapids): $4.99 Roo 2.0 Burgers.
Holiday Bar (801 5th St., Grand Rapids): $4 build-your-own burgers.
Monday
Graydon's Crossing (1223 Plainfield Ave., Grand Rapids): Meatless Mondays. Half-off select vegetarian dishes.
Peppino's Pizza Downtown (130 Ionia Ave., Grand Rapids): 10-inch, one-topping pizza for just $2.99.
Rezervoir Lounge (1418 Plainfield Ave., Grand Rapids): 10-inch, two-topping pizza for $5.
Tuesday
J. Gardella's Tavern (11 Ionia Ave., Grand Rapids): Burger and pint of craft beer for $7.
Tip Top Deluxe (760 Butterworth St., Grand Rapids): $2 off food.
Wednesday
Elk Brewing (700 Wealthy St., Grand Rapids): Sandwich and any $4.50 beer for $10 total.
Pints & Quarts (950 W. Norton Ave., Muskegon): Half-off salads, which typically cost $10.
Thursday
Stella's Lounge (53 Commerce Ave., Grand Rapids): $5 off all burgers w/ purchase of drink.
Friday
Bob's Bar (725 Michigan St. NE, Grand Rapids): $2 tacos, choice of beef, chicken, chorizo, pulled pork.
Saturday
Fulton Street Pub (801 W. Fulton St., Grand Rapids): $6 fishwich.