Some of the best patios, beer gardens, and outdoor scenes to get your summer on.
Ahhh... finally, it's beginning to look a lot like summer. And not the pretend summer that pops up between surprise snowfalls in April and sometimes May—it appears to be the real thing this time! That means, all around West Michigan, eateries and imbiberies are feeling confident about putting out chairs and umbrellas and opening up their outdoor spaces to those who want to soak up the sun while they dine.
On the next warm day, where will you pull up a seat? We have some suggestions!
Archival Brewing | 6266 W River Dr. NE, Belmont
This is another spot for patios upon patios, with its large biergarten, as well as wraparound, covered deck. As the afternoon winds down to evening, families begin to filter in to enjoy a place where they can relax with friends around a firepit and their littles can run around. There are also yard games, including corn hole and bocce ball.
Cottage Bar | 18 La Grave Ave. SE, Grand Rapids
About as polar opposite as you can get from The Deck, the Cottage Bar patio is a small, urban space tucked away in the alley next to the restaurant itself. What it lacks in size, it makes up for in intimacy and vintage charm. Grab one of the best burgers in GR and chill out in this casual, old-school spot.
Brewery Vivant | 925 Cherry St. SE, Grand Rapids
An East Hills institution, Vivant's patio serves up European-inspired beers, plus eats that are as modest as pomme frites and beer cheese or as outré as duck nachos, bone marrow, and oysters. Sit in the shadow of the historic structure that was once a chapel and funeral home while enjoying the energy of the often-bustling Cherry Street.
Cedar Springs Brewing Company | 95 N Main St. NE, Cedar Springs
Worth the short drive, this Cedar Springs hotspot is known for its German-influenced fare and brews. They have a covered—and heated—patio/bier garden for cooler weather that opens up as warmer days roll in. They offer bier hall-style counter service and put on special events, such as Jeep Nights on Thursday evenings during the summer.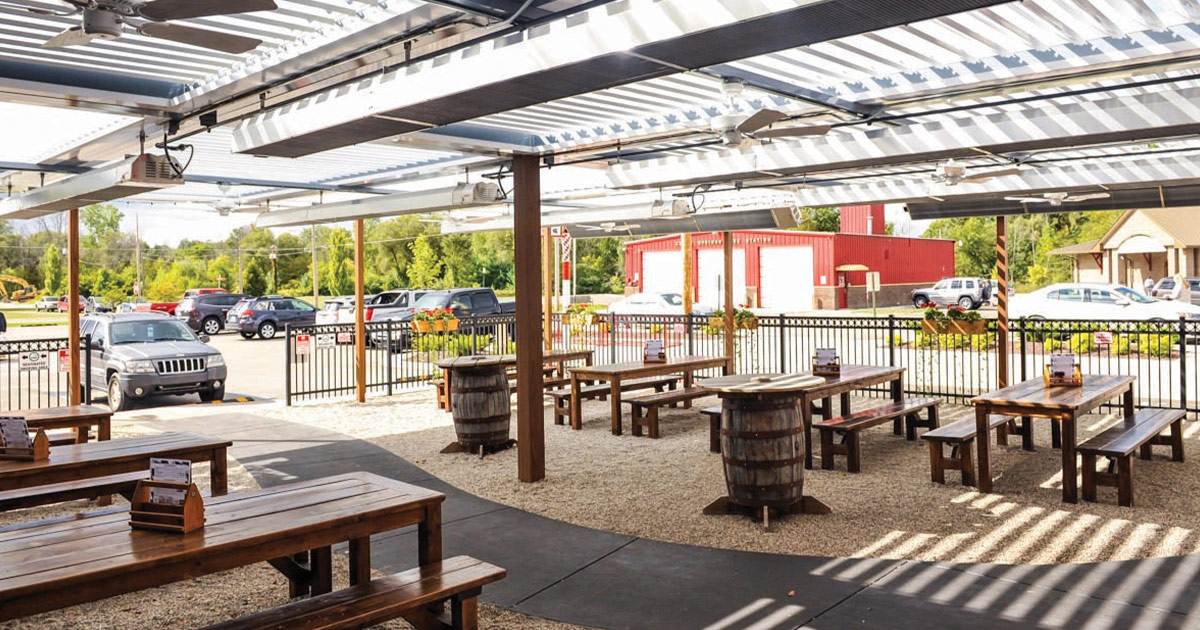 Horrocks | 4455 Breton Rd. SE, Kentwood
The best thing this specialty market ever did, in our opinion, was grow its space to include a tavern and beer garden. Get your shopping done, then grab a table or Adirondack chair and relax outside in the sun or shade with one of their roughly 50 rotating craft beers, ciders, and meads on tap. You can even take home a growler to go, to enjoy on your own patio!
Graydon's Crossing | 1223 Plainfield Ave. NE, Grand Rapids
One thing we love about Graydon's is that it's almost always possible to get a seat—in a city where the dining scene is always packed. This is thanks to not one, but two large patios; one on the ground level and one on the upper deck. The food has a British pub vibe with Indian flair, and their beer selection is as expansive as the space.
Farmhaus Cider Co. | 5025 Stanton St., Hudsonville
This is definitely one of those hidden gems, as it is, in fact, a little hidden. But, once you get around the bend, it opens up into sizeable grounds with communal-style picnic tables and pockets of smaller seating all around. The perfect setting for sipping on craft ciders! They don't serve food directly, but they have a rotating selection of local food truck on most days.
Rockford Brewing Company | 12 E Bridge St. NE, Rockford
If you're into people watching, you'll get your fill from the patio of this popular spot where locals flock. Situated in downtown Rockford near the Rogue River Dam and the White Pine Trail, the beautiful surroundings draw everyone out for dog walking, kid strolling, and beverage sipping within the Rockford Outdoor Refreshment Area (RORA).
The Toasted Pickle | 17 Squires St. Square NE, Rockford
Right near Rockford Brewing Company, The Toasted Pickle offers many of the same appeals. It has a nice-sized deck overlooking the Rogue River and the menu is as interesting as the name. More than just a sandwich joint, they also serve beer, wine, cocktails, and fresh-squeezed lemonade in more than a dozen flavors—and you can even add boba!
The Holiday Bar | 801 5th St. NW, Grand Rapids
This Westside/Bestside favorite has been in business for more than 115 years, so they've had some time to figure out what the people want. Ask anyone—really, we asked!—and they'll tell you to hit the patio and bier garden at The Holiday if you're looking for a great place to have a delicious meal in the open air.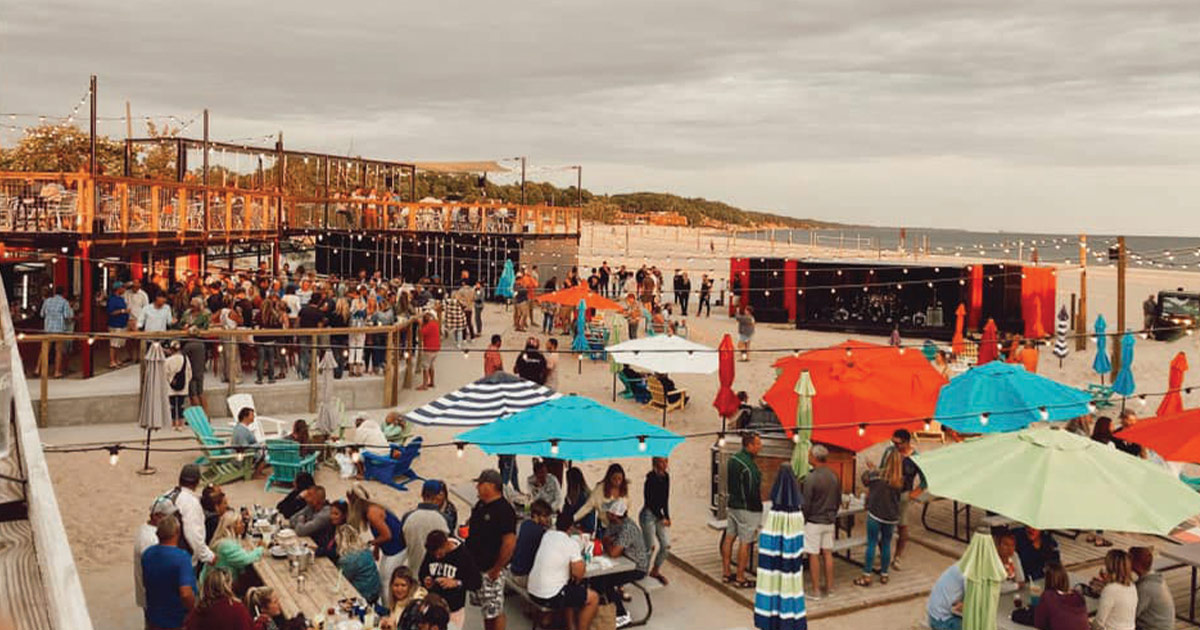 The Deck | 1601 Beach St., Muskegon
Located in Muskegon, The Deck is really the granddaddy of patios. It's incredibly spacious with decks that wrap around the restaurant and sprawl out toward the shores of Lake Michigan. The upper deck is full service for food and beverages, while the lower deck is self-serve. There are swings, games, and volleyball, as well as live music at select times. What's not to love?
The Friesian | 720 Michigan St. NE, Grand Rapids
A Midtown neighborhood gastro pub, The Friesian has a covered, lower-level patio that's enclosed and heated during colder months, as well as a gorgeous rooftop deck that opens in warmer weather. It has a laid-back energy and eclectic menu—and desserts you'll want to save room for!
We don't have the space to name them all, but these are some of our top picks in the region. Summer's short; get out here and soak it all in!