For decades, the Mackinac Bridge served as a cultural time machine, transporting visitors back to a bygone era.
Michigan's Upper Peninsula was the place where lumberjacks roamed the forests, miners donned their hardhats to search for copper and pasties were part of the daily cuisine. Until recently, Yooper drinking habits also seemed stuck in a forgotten age when choices amounted to various iterations of macro lagers — especially Wisconsin-made staples such as Blatz, Schlitz and PBR — often consumed in mass quantities.
No one can fault them for drinking. After all, there's not much to do during the eight months out of the year when the snow is elbow deep.
But over the last few years, the same craft beer movement that's taken hold in so many cities and towns across Michigan has started to revolutionize the Yooper beer culture. Spurred on by the Finnish cultural DIY ethos, Yoopers wholeheartedly have come to embrace the craft of brewing.
"I learned how to deconstruct beers and do it for myself," said homebrewer turned pro Matt Burling, head brewer at Ishpeming-based Jasper Ridge Brewery & Restaurant. "For a lot of people up here, that kind of attitude resonates with them. There's a lot of that do-it-yourself attitude up here and the craft beer scene evolved from that notion.
"There's a lot of passion that goes through the beer scene up here."
Now it's also become easier for Trolls from below the bridge to access Yooper breweries thanks to higher speed limits of 65 mph on select two-lane roads and 75 mph on many sections of highway throughout Northern Michigan and the Upper Peninsula. That means spirited drivers can go door-to-door from Grand Rapids to Marquette in 6 hours or less, so long as Johnny Law doesn't get in the way.
And there's plenty of reason to consider Yooper beer tourism, as evidenced by the quality of the offerings produced by breweries across the U.P. sampled on a recent trip along the M-41 corridor from Escanaba north to Marquette and then west to Ishpeming.
Here are some highlights.
Upper Hand Brewery
3525 Airport Road, Escanaba
upperhandbrewery.com
You'd never know it from the industrial exterior, but Upper Hand's taproom is equal parts a cozy Yooper camp and a tribute to the U.P.'s brewing heritage. The Bell's-owned operation functions separately from its downstate parent company, brewing its own unique beer brands — none of which are available below the bridge. They skew toward the sessionable end of the spectrum with Upper Hand Light (a crushable 4.2-percent ABV light lager), Yooper Ale and UPA (both well-balanced pale ales) and Laughing Fish (a refreshing Kolsch). However, the brewery also experiments with brawnier styles. A favorite from our stop was The Sermon, an oaky and complex 9-percent ABV Belgian strong ale aged in French chardonnay barrels.
Side note: Drinking craft beer in the U.P. is incredibly affordable. Most pints at Upper Hand cost $3.50, with the most expensive pour on the 12-beer tap list clocking in at $4.50. The same goes for retail: Meijer stores in the U.P. were selling Upper Hand beers starting at $6.99 per six-pack.
Blackrocks Brewery
424 N. 3rd St., Marquette
blackrocksbrewery.com
Allow me to editorialize for a moment: Blackrocks has what I profess to be one of the best brewery taprooms in the country. Whether snuggled up under the heaters on the front porch or bellied up to the bar, patrons will feel welcomed into the Blackrocks community. Co-owners Andy Langlois and David Manson — both "reformed corporate lackeys" — have built an operation that takes pride in its high-quality beers and embraces the lifestyle afforded by living in the U.P. "With Yoopers, you have a commonality, you want to talk to people and share your endeavors and talk about your enjoyment of … the lifestyle here," Manson said. "We wanted to create an atmosphere where people can do that." According to Langlois, the local craft beer scene has helped put Marquette on the map for outdoors enthusiasts who also come to the area to hike, mountain bike, kayak, ski, fish, hunt or just visit waterfalls. More people are also paying a visit to the burgeoning city specifically for beer tourism, he said. "There are definitely breweries that have grown faster than us, but we grew a lot faster than we thought we would," Langlois said. "We're not in a race here; we're just trying to put out good beer." Recommended pours: Whatever's on the tap that day (you won't find any duds on the menu), although I'm always partial to the Classic Pilsner.
Ore Dock Brewing Co.
114 W. Spring St., Marquette
ore-dock.com
While craft beer often takes hipster snootiness to the extreme, another benefit most U.P. breweries share is their unpretentious atmospheres. That's certainly true at Ore Dock's taproom. Nestled in an old building just off the main drag in downtown Marquette, Ore Dock offers a friendly vibe that encourages interaction — you're almost certain to engage total strangers in interesting conversation. Additionally, most Yoopers are incredibly affable, but the bartenders and staff at Ore Dock really take that quality to another level. To an outside observer, they appear to pay attention to company culture, which pays dividends in the customer experience. Favorite beers during our stop included the Queen City Kolsch, Brut Spring Street IPA and Loose Juicy IPA.
Jasper Ridge Brewery & Restaurant
1075 Country Lane, Ishpeming
jasperridgebrewery.com
Jasper Ridge is yet another unpretentious Yooper watering hole that invites you in with its friendliness. Within seconds of pulling up a stool at the bar, we were introduced to a colorful cast of characters, including Knute, a proud Norwegian well into his ninth decade who enjoyed spinning yarns of the old days. Call it the quintessential U.P. experience. On our visit, head brewer Matt Burling was bartending and talked us through his various creations. While the brewpub often brews beers to style, Burling — also a former homebrewer — has been able to push boundaries with additions ranging from coffee to peppers. "The thought was that drinkers would be more closed-minded and just want wheat beers and blondes, but they've really opened up," he said. "Their palates are more open to try new things." As a newer brewer on the scene, Burling says he loves all the learning that's involved in the brewing process, as well as being able to get behind the bar, "talk to people and shoot the shit" with regulars. "It's always nice to be able to talk about the product you're producing," he added.
Cognition Brewing Co.
113 E. Canda St., Ishpeming
cognitionbrewingcompany.com
"The Cog" is one of those places that you just happen upon while on an adventure and it leaves you with a lasting impression. Tucked away in the basement bar of the historic Mather Inn in downtown Ishpeming, Cognition's dimly lit taproom featuring dark wood feels snug and comfortable, like a favorite leather glove. Like with so many breweries, Cognition was founded to give a platform for homebrewer Brian Richards to showcase his creations, according to owner Jay Clancey. The 7-barrel brewery launched with a sophisticated reverse osmosis water filtration system that allowed Richards to "build the water we wanted to start with" and produce clean beers — often to great acclaim. "We've been proud to serve everything we've brewed here," Clancey said. "The beer has been just fantastic." The company specializes in offering a mix of the traditional — pilsners and lagers, ESBs, etc. — and the exotic. The rotating tap list — and the addition of a 1-barrel pilot system — also allows the brewery to get creative and play around with "super interesting" foraged ingredients while also brewing mainstays like Gnome Wrecker Belgian Pale and Deep Scream Cream Ale. "Experimentation is something we love to do," said Clancey, who added the brewery has become a gathering place for Ishpeming locals and visitors alike. "For me personally, one of the most satisfying things has been meeting the people from around the state and in the brewing community. Everybody wants you to succeed."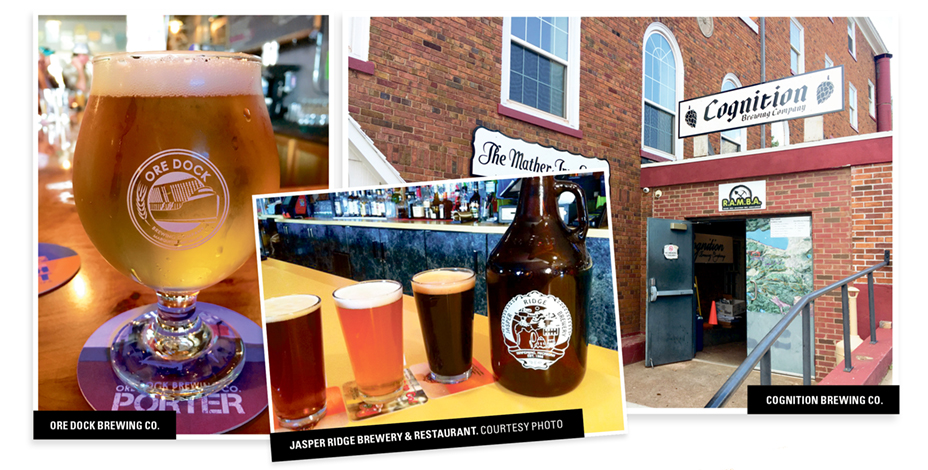 Other Choices:
The Vierling Restaurant & Marquette Harbor Brewery
119 S. Front St., Marquette
thevierling.com
This O.G. of the Michigan brewing scene has been around since 1995. The Blueberry Wheat is legendary.
Barrel + Beam
260 Northwoods Road, Marquette
barrelandbeam.com
Fresh on the scene in Marquette, Barrel + Beam specializes in delicious farmhouse ales. Look for bottles in select stores in West Michigan.
Hereford & Hops Steakhouse And Brewpub
624 Ludington St., Escanaba
herefordandhops.com
This award-winning brewpub serves up killer beer and gourmet dishes.